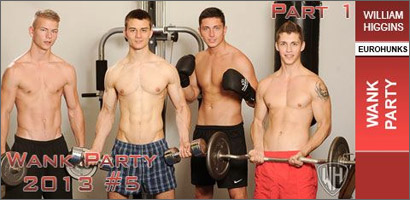 Studio: William Higgins Productions
Directed by: William Higgins & staff
Year of Production / Release: 2013
Country of Production: Czech Republic

CAST:
Robert Drtina
Jan Faust
Lukas Pribyl
Borek Sokol


INFORMATION FROM WILLIAM HIGGINS PRODUCTIONS:
We have a wonderful line-up for Wank Party 2013 #5, Borek Sokol, Jan Faust, Robert Drtina and Lukas Pribyl. In this first part we find all 4 guys in the fitness room. Borekis holding the punch bag for Robert as Jan and Lukas exercise. The Jan asks Lukas to help him with his pull ups. Lukas moves over and assists his friend. Then they swap places so that Lukas can do some pull ups too. Borek changes places with Robert as well, on the punch bag. As Robert encourages Borek the other two stop and watch. Robert calls across to them and they all start to chat, as Lukas takes a turn on the punch bag. As they chat about what else they might try Lukas suggests some "special" exercises. With that they begin to touch each other and start to kiss. Soon hands are in each other's shorts and then cocks are out and being wanked. Jan gets hard very quickly and Borek drops to his knees and sucks on that dick. Lukas does the same for Robert, his mouth eagerly gorging on a rock hard cock. Borek sucks on Jan's dick and his own cock gets very hard. He stands and moves, with Jan, over to the others. Lukas, spies them and turns to suck on Borek's cock as Jan wanks Robert. Lukas is eager for more and turns to suck Jan's cock too. In fact he quickly takes turns on all three throbbing cocks. He really works hard, keeping all those cocks nice and hard, as he takes turns. Then the guys pair up with Jan on his knees sucking Robert's big cock, and Borek servicing Lukas. Robert is keen to suck too and he drops to his knees, as Jan stands, and takes sucks his new friend. Lukas takes hold of Borek's head, pushing it further down his cock shaft. The guys then all stand close together wanking each other as Lukas and Robert kiss. Then Robert turns and kisses Jan as well as he wanks both guys. They all move again, with Lukas bent over, presenting his ass so that Jan can rim his tight hole. Robert lays on his back, with his legs in the air for Borek to tongue his hole too. Robert loves the feel of that hot tongue on his hole and wanks himself as he feels it. This first part has been a wonderful beginning to the wank party, with four very good looking guys. Part 2 cannot come soon enough for me.
Wank Party 2013 #5 has four really good models, in Jan Faust, Lukas Pribyl, Robert Drtina and Borek Sokol. In this second part we find Lukas leaning over the weights machine, with Jan's dick deep inside him. Robert is laying on the training bench, legs in the air as Borek fucks him. Borek and Jan are new tops and are really doing a great job. They move around so that Borek is laying down with Lukas sitting his ass right down on that hard cock. As he rides that dick Robert does the same for Jan's throbbing dick. Borek fucks his cock right up into Lukas hot hole. Then they all move again, with Lukas and Robert on their knees, facing each other and kissing as Borek and Jan swap partners again. As they get fucked nice and hard Robert and Lukas wank themselves. Robert keeps on wanking as he is getting fucked, until his shoots a very nice load. He is followed by Lukas who quickly dumps his cum as well. Jan and Borek then sit next to each other, kissing as they wank their hard cocks, with Robert and Lukas behind them, kissing as well. As they wanks themselves faster and faster it is a race to see who will cum first. Borek is the winner, he cum squirting out of his rock hard dick. Then Jan is ready too, his big, upward curved cock throbbing as his balls get so tight. Then his cum erupts out of his cock too. Having all spent their loads our horny guys go off to the shower to help each other clean up.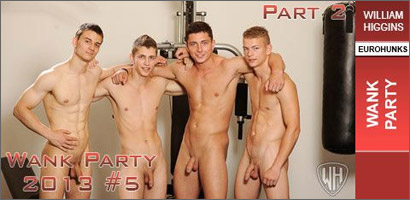 WATCH / DOWNLOAD THE SCENES AND IMAGES AT:
WILLIAM HIGGINS PRODUCTIONS
Members can download the High Definition and other versions of this film. Extensive Photosets are always offered to members as well.