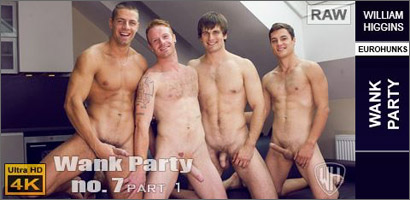 Studio: William Higgins Productions
Directed by: William Higgins & staff
Year of Production / Release: 2014
Country of Production: Czech Republic

CAST:
Viktor Burek
Arny Donan
Jirka Mendez
Tom Vojak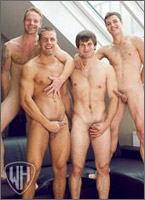 INFORMATION FROM WILLIAM HIGGINS PRODUCTIONS:
In part one of our latest Wank Party Arny Donan has visitors to his new apartment. They are Tom Vojak, Victor Burek and Jirka Mendez. He proudly starts to give them a tour, starting with his hot tub. Tom and Jirka quickly get naked and into the tub as Arny takes Viktor to show him more of the apartment. As they continue Vitor and Arny start to kiss. Tom and Jirka have similar ideas, and are soon all over each other, kissing and with Jirka wanking on Tom's big cock. The cock looks so good as Jirka begins to suck it. With Tom lifted out of the water, and Jirka bobbing his head up and down on the throbbing cock it all looks so good. Then Jirka sits back and wraps his feet around Tom's cock, with him holding them to wank himself. Jirka is hard too and he lifts himself up, so that Tom can suck him. That sexy body looks so good as Tom works on the cock. He really does a great job on it and then turns around, presenting his hot ass, for some tongue. Jirka gets to work, dipping his tongue in that tight hole, as Tom wanks himself. Meanwhile Arny is working on Viktor, stripping his clothes down, and finding a big, hard dick He takes the cock in his mouth, sucking it all the way. Viktor sits on the stairs and Arny continues to work on his dick. When Arny stands his boxers are bulging and Viktor pulls them down, so that he can taste some cock too. By now Tom and Jirka are standing, kissing and wanking each other. They climb out of the tub and go to join Viktor and Arny. Tom sits and is joined by Arny as Viktor gets together with Jirka. They all kiss and then Tom gets to work on Arny's cock with Jirka doing the same for Viktor. Then they change so that Arny and Viktor are sucking, with Tom's big cock standing so pround as Arny's mouth slides up and down on it. Viktor's mouth licks up and down on Jirka's thick pole and opens to take the head in. Jirka pushes Viktor down again and they kiss and wank each other as Arny sits so that Tom can suck him some more. Arny just loves cock and looks so good as his mouth is open, with Tom's long cock fucking in and out of it. Viktor does a great job on Jirka's cock again, sucking him ready good.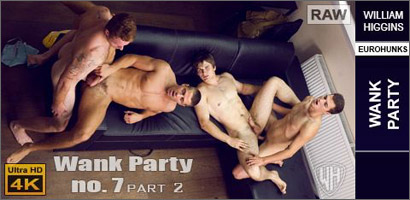 We rejoin WANK PARTY 2014 #7, for the second part, as Tom Vojak and Jirk Mendez are rimming Viktor Burek and Arny Donan. Jirka is working on Viktor's ass, while Tom is busy with Arny. Tom spanks Arny's ass as he laps at his hairy hole. Then Tom's rock hard cock is deep in Arny's eager hole. Arny moans as he takes that cock deep. Viktor, meanwhile, is taking a ride on Jirka's cick. Tom really slams his cock in and out of Arny's ass going right in up to the balls. Jirka fucks his throbbing cock up into Viktor's ass too. Arny wanks his cock as he is fucked, and Viktor's cock stays fully hard while Jirka works his hole. Jirka leans over and kisses Arny and then it is all change, as Tom gets to fuck Viktor and Arny slides his hot ass over Jirka's rock hard cock. Jirka really stretches Arny's ass before switching back to fuck Viktor in a new position As he takes that cock Viktor wanks himself. Arny wanks too as Tom's massive tool pounds his hole again. With Jirka really banging away at his ass Viktor's wanking speeds up, and when he has cum Jirka pulls out and dumps his cream over him. Then Arny, wanking hard, cums too, followed by Tom, who pulls out of his ass and shoots his load all up that sexy body. He leans over to kiss Arny to end a great Wank Party.

WATCH / DOWNLOAD THE SCENES AND IMAGES AT:
WILLIAM HIGGINS PRODUCTIONS
Members can download the High Definition and other versions of this film. Extensive Photosets are always offered to members as well.