Studio: Raging Stallion / Hard Friction
Directed by: Steve Cruz
Year of Production / Release: 2015
Country of Production: U.S.A.

CAST:
Dario Beck
Theo Ford
Clark Franco
Alex Greene
Sebastian Kross
Hunter Marx
Adam Ramzi
Trelino
XL


INFORMATION FROM RAGING STALLION:
eXsquisite men, eXceptional fucking, eXplosive cum shots fill the screen in the 30th Hard Friction feature XXXPOSURE. With this milestone release, Hard Friction delivers on its steamy mission of capturing intense, one-on-one, connected sex like never before. Director Steve Cruz rounds up nine super sexy, horny dudes and pairs them together for maximum sexual chemistry in the four amazing fuck scenes and a spectacular bonus oral scene found in XXXPOSURE. Adam Ramzi and Dario Beck opt for a bout of sixty-nine before Dario invites Adam to dick dive into his hot hole. Alexander Greene, whose huge balls precede him, demonstrates his sexual versatility in a flip-fuck with muscle-bear Hunter Marx. Huge XL and hungry Trelino connect for some energized rimming and a ferocious fuck that builds to a frenzy and a facial. With hard on in hand, smooth, olive-skinned Clark Franco fastens his mouth onto the nearest cock, belonging to ultra-sexy stud Sebastian Kross. These guys are so hot for each other that the taste of dick and the smell of ass suffice to push them over the edge of climax. Alexander Greene returns for a heated exchange with Theo Ford and they fuck up a thirst that can only be quenched by cum. XXXPOSURE is monumental testament to Hard Friction's commitment to giving you the hottest guys and celebrating their strong sexual attraction to each other.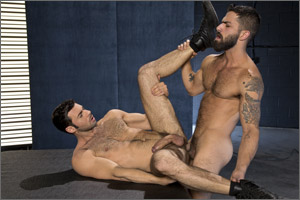 SCENE 1: Adam Ramzi fucks Dario Beck
Cocks jutting skywards, Adam Ramzi and Dario Beck make a furry connection as they kiss. Adam, lean and full-bearded, strokes himself with one hand and Dario with the other. Dario, though, would rather have his mouth on Adam's cock. While Dario sucks, Adam uses his displaced hand to rub Dario's hairy butt and guide his head. Legs swivel, muscles flex and they regroup for a hand-holding, jaw-breaking sixty-nine. Saliva drips and murmurs of pleasure rise. Adam cranes his neck and plunges his tongue into Dario's hole. Once it's well warmed up and spit-lubed, Adam fucks him. Missionary follows doggie as Dario shakes his booty and Adam works his hip flexor muscles. Dario sprays his hairy abs with cream and Adam adds his own to the clots of white dripping down Dario's flanks.

SCENE 2: Alexander Greene & Hunter Marx flip-fuck
The stubble on Alexander Greene's jaw matches the fur on his chest. He and Hunter Marx grapple tongues, stroking each other's cocks. Hunter has a full beard and packs lots of muscle on his beefy frame. Alexander is athletic and flexible. He gives Hunter first go at sucking. Even with Hunter's hand wrapped around Alexander's shaft, there's still more than a handful of cock to swallow, not to mention a pair of super-sized balls. They swap, and Alexander deep-throats Hunter's extremely veiny cock until the juices run down over his nut sack. Turning the other cheek, Hunter offers his muscle-butt for rimming, getting his hole chewed. Alexander tests the tightness of that hole with his thumb, then rams his huge cock in to the base. Hunter grunts and rolls his head as the endorphins flow. Fuck turns to flip-fuck. Hunter uses long, slow strokes to drill Alexander, whose long legs open wide for the taking. They cum simultaneously, and Hunter licks the creamy pool off Alexander's abs.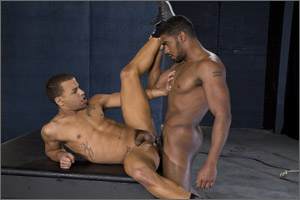 SCENE 3: XL fucks Trelino
XL's 9.5" cock has a mushroom head and a serious right hook. Trelino's hand ensures it's at its maximum length and girth. This encounter begins with a lip-smacking make out session. Trelino applies his mouth to XL's cock until his cheeks are hollow with suction. XL pinches the nipples on his broad, smooth chest. His dick glistens with spit. XL rewards his boy toy by eating his smooth bubble butt. Trelino eagerly spreads his hot thighs, arching his back to feel the maximum sensation from XL's tongue electrifying his hairless hole. He clenches his buns: left, right, left. XL buries his face deeper. Trelino orders, "stick out your tongue and fill me." They fuck fiercely, rock the table, slam their bodies together. Trelino rolls onto his back, displaying a hard gymnast's torso, crying to be fucked faster and harder. Beads of sweat drip from XL's brow, pooling at his cock, making it wetter, until it spews into Trelino's mouth just as Trelino shoots his cum onto the floor and They snowball XL's load.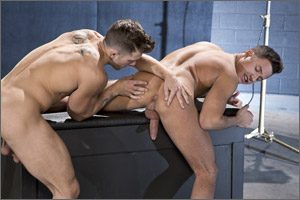 SCENE 4: Sebastian Kross & Clark Franco
Besides their hard ons, Sebastian Kross and Clark Franco have something else in common: they are smooth from their ears to their toes. Kross' body is a sculpted masterpiece, with muscles so defined they cast shadows on themselves. Clark is on one knee, providing a blow job that gets Sebastian's motor revving. Sebastian has to make him stop or he'll shoot, so he pushes Clark face-down onto a bench, his cock protruding backwards, and begins devour his ass. Clark has smooth, unblemished olive skin and the hard, tight body of an athlete. He grunts and hums. His own tongue flicks in and out, as if imitating what Sebastian's tongue is doing to his hole. Sebastian is so turned on that he has to cum. Clark leaps up to catch the hot load in his mouth, triggering his own milky explosion. Sebastian leans over and licks the stray droplets of his semen off Clark's face.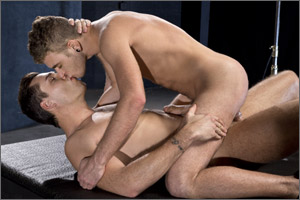 SCENE 5: Theo Ford fucks Alexander Greene
The meeting of Alexander Greene and Theo Ford produces instant erections. Foreskin meets foreskin, gently massaged by Theo's hand as they embrace and kiss. Both dudes are tall, toned and moderately furry. Alexander's balls are huge, but they recede from view when he kneels to suck Theo, using his tongue to tease and his lips to squeeze. Alexander's ass is the object of Theo's desire. Theo probes the crevice with his tongue and with the edge of his hand, individually sucking those massive balls and Alexander's cock. Spreading the fuzzy globes of Alexander's ass, Theo grasps and kneads, pressing a thumb and a finger into the spit-lubed hole. Alexander succumbs to his anal hunger by sitting on Theo's cock and robustly pumping his hips, swiveling so that he gets poled facing in both directions and ending up on his back. Each guy cums in the other's face and mouth, Alexander shooting a load that does justice to those big balls.

WATCH THE SCENES AT:
RAGING STALLION'S MEMBERS SITE
Members at RAGING STALLION'S MEMBERS SITE can watch these scenes and download extensive Photo Content from this production and get discounted pricing on all DVD and Print purchases..