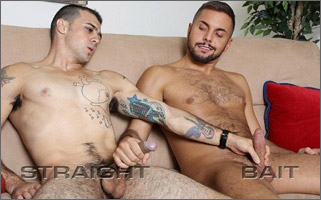 Studio: Bait Buddies
Directed by: Gio Caruso
Year of Production / Release: 2013
Country of Production: U.S.A.

CAST:
Straight: Zack Taylor
Straight: Jake Jammer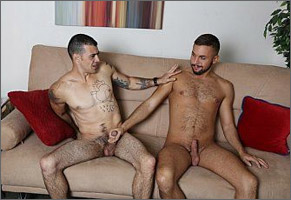 INFORMATION FROM BAIT BUDDIES:
"BILF"
Jake is a cutie, he has these smooth, hunky pecs that just beg to played with, licked and sucked, not to mention an 8+ inch cock with a big fucking mushroom head. He tells us that he likes to fuck big titted MILFs – today he's going to have sex with what we'll call a BILF, 'Bait I Like to Fuck', and Zack, our very cute BILF tells us he loves straight guys, but they're tough for him to get and that's why he loves BaitBuddies.com. The boys strip down and Caruso notices that Jake has lots of tatts on his left chest and arm and mentions this to him. Without prompting, Zack reaches over to touch the Straight boy's left nipple and asks if he got the tattoos in prison – Zack's quick retort "I'm too pretty for prison". And, he probably is, we know from what we hear on 'Lockdown' that someone as cute, built and hung as Zack is would be servicing his cellmate 'Bubba' before the end of the first day What Jake doesn't know is that he will be servicing another dude for the first time before the end of this day, but instead of being forced by Bubba, he'll be incentivised with lots of cash by Caruso. The guys are now watching some pussy porn and working their cocks into boners. Once they are up and ready, Caruso leaves them to "get the girl". Caruso reports back that the poor girl was in an and unfortunate accident with a Thanksgiving turkey – burnt from grease splattering during a test run turkey fry. Unable to perform on camera and with no other girls available on this busy holiday week, there is only one option for these guys to make money – have sex with each other. Jake seems pretty sickened by the idea, but eventually seems to be convinced by the fact that if Zack is willing to do it 'just for the money', hen he can too. Caruso tells the guys that they have to do it all. When Jake asks for clarification, Caruso tells him sucking and fucking. Well, Jake is very clear about this "I won't get fucked" and further, he won't fuck a dude in the butt. Caruso has no choice but to go along with this and has Zack initiate things by reaching over and playing with his new buddy's big cock. It doesn't take long to put the starch back into Zack's big tool. Then Zack grabs Jake's hand to put it on his cock for a reciprocal handy Andy and Jake pulls back in disgust. Jake soon realizes that if he doesn't cooperate, he's not going to get paid. At that point he pretty much gives him and starts jacking Zack. Next Zack starts sucking Jake's big mushroom cock and Jake seems to be OK with it. Jake is then told to return the favor, which he does for a little while. Next we see Zack on his back with Jake servicing his cock once again. When Jake is getting close, he grabs his own cock and starts jacking while Zack licks his hunky pecs and nipples. When Zack realizes that Jake is getting into the end zone, his timing is great, he bends down and starts making out with Jake – tongue and all. Jake accepts and the boys keep it up the kissing session as Jake continues to flog his cock – later Jake will tell us that in that moment it felt comfortable and that's why he let it happen. Jake is now flailing his cock like a madman and his cock is whipping back and forth so quickly when he cums, that it's difficult to see anything but the slimy remnants of his strong ejaculation on his hand and cock. This triggers Zack to get on his knees, straddle Jake and start furiously jacking his cock and before you know it he is moaning loudly and shooting his hot, creamy load all over Jake's hairy thigh. In the final interview, Caruso asks Jake if he'd do it again and as most of our straight guys answer "if the price is right". Well Caruso thinks Jake is hot enough to make the price right and gets Jake to return for another shoot shortly after. This time the ante is upped and Jake knows that he must go all the way if he wants to get paid… stay tuned!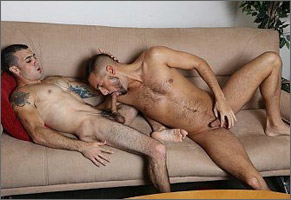 WATCH IT / DOWNLOAD IT NOW AT:
BAIT BUDDIES
On-Line Only Presentation, Members can Download the presentation for later for "off-line" viewing.