Studio: Hot House Entertainment
Directed by: Christian Owen
Year of Production / Release: 2015
Country of Production: U.S.A.

CAST:
Luke Adams
Jimmy Durano
Colton Grey
Alexy Tyler
Tyson Tyler
Johnny V
Sean Zevran


INFORMATION FROM HOT HOUSE:
The hunger for man-on-man sex is a burning desire inside the minds and cocks of seven hot, horny men, and 'After Glow' is the ecstasy of release when those explosive urges are finally fulfilled. Jimmy Durano fills up Alexy Tyler from both ends in a blazing display of power topping. Luke Adams takes a heavy pounding from Colton Grey's thick tool. Sean Zevran takes Alexy Tyler's supercock fantasies to the next level. Johnny V and Tyson Tyler collide in an incredible display of muscle, power, and pure sexual intensity. Give in to the power of sexual desire, find release, and experience the 'After Glow' for yourself.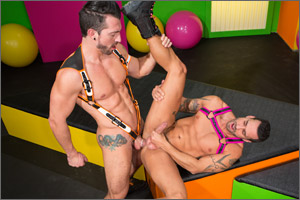 SCENE 1: Jimmy Durano fucks Alexy Tyler
Nothing gets Jimmy Durano turned on faster than a hot, juicy hole to rim, and Alexy Tyler has exceptional assets to offer! Jimmy's spit glistens on Alexy's tan ass cheeks as he buries his scruffy bearded chin in Alexy's crack. Alexy turns around to suck on Jimmy's rock hard cock, but Jimmy is the one who takes control by giving Alexy an energetic face fucking. Their muscular asses and toned bodies are on display as Jimmy uses his hips to thrust his cock inside Alexy's hole. Flipping over on his back, Alexy throws his legs in the air to maximize the depth and the pleasure. With an expression of ecstasy on his face, Alexy dumps his load on his abs. Jimmy shoots his wad all over Alexy's dick and ass, and Alexy eagerly tastes Jimmy's hot, white load.

SCENE 2: Sean Zevran fucks Alexy Tyler
For Alexy Tyler, there's no greater pleasure than getting his ass filled, and if there's no one around to help, he'll take matters into his own hands! With his legs raised in the air, he fucks himself with a giant butt toy. When he's not pummeling his own hole, he sucks on the toy, savoring his own taste. But it seems Alexy's about to get some very BIG help when Sean Zevran appears; he knows Alexy want the real deal! It's a dream come true for Alexy; he swallows Sean's cock to the base in an eager and impressive deep throating display. Rolling on his back, it's time for Alexy to get his hole filled to the max. Sean fucks him missionary, then from behind; he's a dynamo of sexual energy. Alexy sticks out his pierced tongue to receive Sean's milky load. It shoots forth in massive jets, covering his face and quenching his sexual thirst.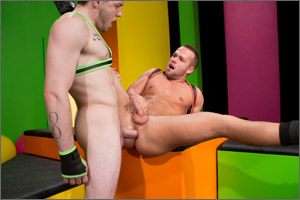 SCENE 3: Colton Grey fucks Luke Adams
Colton Grey has edgy tattoos, a lithe, defined body, and a big thick dick: it's an irresistible package for Luke Adams, who eagerly services Colton's thick meat in preparation for fucking. These two young studs want each other bad! Colton knows how to give Luke what he wants: he presses his thick cock into Luke's hole from behind, pauses to deliver a wet, slurpy blowjob, and then resumes fucking with even greater intensity. Luke jerks his cock while he's getting fucked and pumps out a load onto his abs. Luke catches Colton's load in his mouth, savoring every drop.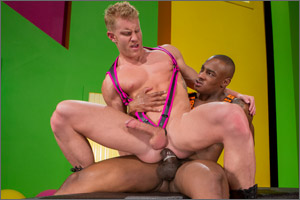 SCENE 4: Tyson Tyler dildo-fucks / fucks Johnny V
With his godlike physique and his tight, willing hole, Johnny V is one of the hottest power bottoms ever, and he's giving top stud Tyson Tyler full access! With a giant yellow dildo – ribbed for his pleasure! – Tyson makes sure that Johnny's hole gets a good workout. If there's anything Johnny likes as much as bottoming, it's sucking dick, and he gives Tyson a blowjob for the ages! Tyson returns the favor, and spit drips like a waterfall off Johnny's huge cock and balls. The foreplay has both of them craving the ultimate sexual satisfaction, and Tyson delivers his ramrod to Johnny's clenching hole for a pummeling doggy style fuck. Sweat shines on Tyson's washboard abs and his muscular pecs as he delivers his spectacular cock to Johnny's ass. Craving even deeper penetration, Johnny squats down and rides Tyson's big, meaty cock while jerking himself off. Johnny shoots his huge load while he's still getting fucked, and after Tyson empties his balls they exchange a final, passionate kiss.

WATCH IT NOW / MORE INFO AT:
HOT HOUSE & HOT HOUSE BACKROOM
Hot House Backroom Members can see this film anytime online.
With extensive additional photography from every scene.