Studio: AlphaMale Media
Directed by: Jack Jones
Year of Production / Release: 2012
Country of Production: Great Britain

CAST:
Sam Barclay
Tom Colt
Aitor Crash
Pete Finland
Adam Killian
Dominic Pacifico
Nathan Price
Spencer Reed
Marco Sessions
Tiko
INFORMATION FROM ALPHAMALE MEDIA:
The men of the toolbox love attention, and when it's mixed with hot and sweaty sex on stage, there's nothing that can stop them! Invited to join in the musclebound sexploits with stars such as Spencer Reed and Adam Killian, we're the adoring fans taking in the sights of their hard hairy bodies working the dancefloors and stages as they strip off their clothes to awe us with huge biceps and torsos, bubble butts and huge thick shafts being pumped into one another to the roar of the crowd across the London club circuit!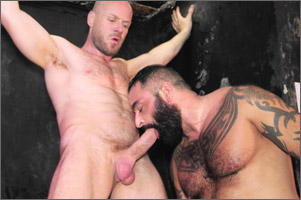 SCENE 1: Nathan Price & Tom Colt
The cameras never lie and they never miss a thing as hairy muscled men Nathan Price and tattooed Tom Colt get down and dirty in a club toilet. Butt naked and sucking hard dick they then jock-strap themselves up for some hard fun on the dancefloor and then the stage! Keen to show off their buff bodies they play with their huge bulges in front of us all, with Nathan especially showing what a cock hungry man he is! Never too shy to suck dick in front of a very horned up audience, Nathan loves every second but wants to move things to a higher level as Tom eats his arse, pushing his bearded face deep into his crack as he gets him ready for that nice thick dick of his, fucking him into a wall until he's about to explode, letting his spunk spray all over his bottom man's face, swiftly moving him to orgasm, dripping all over the clubs dance floor!!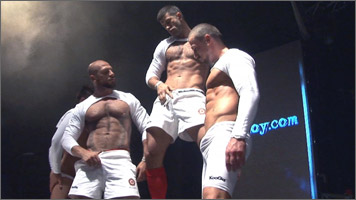 SCENE 2: Hustlaball Stage
It's the night of the HustlaBall and the scent in the London air is all about beef! With the American stars of Alphamales getting it on on stage in some fucking sexy outfits, Adam Killian and Spencer Reed are joined by European hotties sucking stiff dick and eating from very tasty bubble butts all to the delight of the London crowd! Not knowing where to look, it's either a jock-strapped butt in your face, and huge dick bouncing on stage or some very heavy fingering from above courtesy of the bottom stud Dominic Pacifico! If you missed the live show, then this really will make you buy your ticket for next years, it's fucking awesome!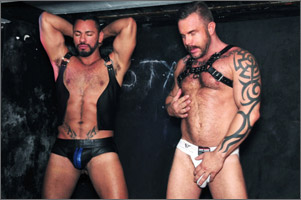 SCENE 3: Tiko & Pete Finland
Kitting themselves out for a heavy night on the dancefloor and stage, gorgeous mixed race Tiko, tattooed and hairy and bound in leather teams up with Pete Finland, the hulk of man muscle looking great in a white jock and very little else! Getting themselves suitably turned on before the big show in the toilets, it's very close quarters and very hot and sweaty, so much even the camera gets steamed up! Partying hard and getting even harder, Pete can't help but have his dick on show to all the audience and TIko fucking loves the taste of it, jerking it off whilst sucking it dry, these leather men are performing for your pleasure, and we all love it!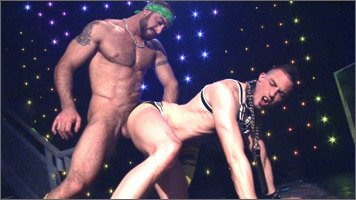 SCENE 4: Spencer Reed & Sam Barclay
It's the HotRods night and the awards are in full swing. With young stud Sam Barclay getting his harness on and socks pulled up, he's getting ready for one hell of a heavy fucking by US superstar Spencer Reed live and in front of the entire club! Collared and chained, there's a reason why Spencer is Best Top 2012 and this is it! With Sam getting throat fucked and arse eaten by our daddy in charge, he's swiftly bent double in front of everyone and ploughed hard by Spencer's famous thick cut cock! Pushed and pulled all the way in and all the way out, there's no denying Sam is feeling every rock hard inch playing with his insides as his neck is pulled back and tight body contorted with each heavy thrust until both men spunk hard, leaving the stage awash with man juice.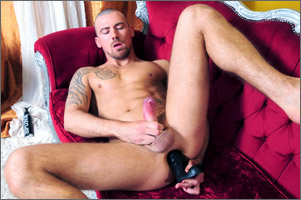 SCENE 5: Marco Sessions
Laying back and having the time of his life on the sumptuous sofa, tattooed hottie Marco Sessions gives us a step by step blow of how much he loves his new ice-jack. Clear and sleek, so we can see just what his dick looks like as it's fucking inside, Marco fills it with his meat, teasing the opening and his own slick shaft, as hard as possible so he must be enjoying it! From hs dick to his ass, Marco spreads those cheeks and lets us have an unrestricted view of his stretched butt as he fingers and dildo's his hole, leaving it gaping as he pulls it out of him – proving he can take more than one up that peachy butt, but not at the same time.. yet!

BEHIND THE SCENES
Taking us Behind the Scenes at the HustlaBall and Hot Rods Awards, we've been given exclusive access to the models on and off stage, treated to sexy interviews, voyeuristic angles we'd all be guilty of in person! With the ultimate Alphamale Trojan Rock himself hosting the awards show and some very exclusive shots of US stars Morgan Black and Dominic Sol getting down and dirty after the awards are all handed out and the mood turns towards the sweaty business of man on man sex!

WATCH IT ONLINE AT: ALPHAMALES
Members at ALPHAMALES can watch the scenes from this DVD anytime online.
Extensive Photography for download, and many bonus scenes and outtakes are available to members.