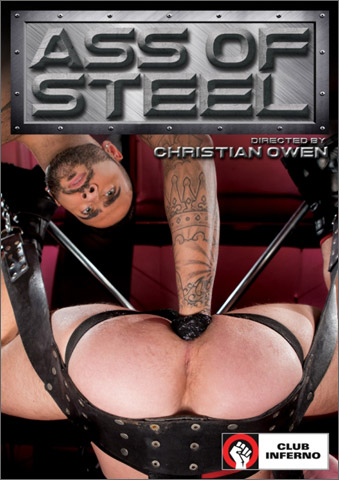 Studio: Hot House Entertainment / Club Inferno
Directed by: Christian Owen
Year of Production / Release: 2015
Country of Production: U.S.A.

CAST:
Brian Bonds
Brandon Moore
Rogue Status
Dylan Strokes
Dakota Wolfe
Rikk York
INFORMATION FROM HOT HOUSE:
Able to take a brutal pounding from a huge toy, able to receive severe punishment from a punching fist, it's Ass of Steel, and you'll find every eager hole here is worthy of the title. Director Christian Owen has found a lineup of super asses that are insatiable and welcoming to all worthy opponents, whether it be a massive toy or a heavy hand, they all have an Ass of Steel and they will take whatever is thrown their way. Rogue Status gets his Ass of Steel butt-plugged and fisted hard by Brandon Moore. Brian Bonds show why he's got super ass powers when he takes the fist plunge from sexy Dylan Strokes. Rogue Status and Dakota Wolfe do Ass of Steel double duty when Rogue toys and fists Dakota and gets his hole stretched by Dakota with multiple toys. Rikk York tests the limits of Brandon Moore's Ass of Steel by opening him up with a toy and finishing him off with a hand deep inside. See these fisting and toy heroes and each Ass of Steel win the day with super human feats that will make your dick feel like it has super powers of its own.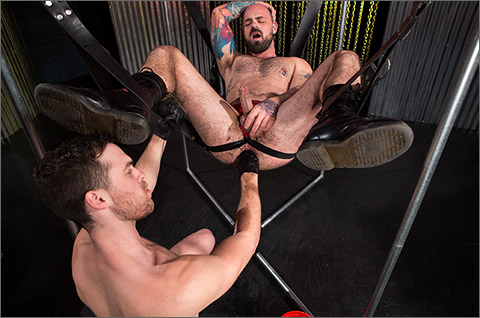 SCENE 1: Brandon Moore fists Rogue Status
Bearded and jock strapped pig boy, Rogue Status legs are spread wide open in a sling as sexy, muscled stud Brandon Moore stretches his hairy hole with a huge, lubed-up butt plug. Pushing it deeper and deeper, Brandon puts more muscle behind the massive toy he's using to prepare and loosen Rogue's hole. As Brandon gets deeper, Rogue pushes out his rosebud more and more to show the progress of the attempt plug him up. But Rogue really doesn't want to be filled up with the plug, he's really after Brandon's fist. Once Brandon has poked, prodded and teased Rogue's sloppy opening enough with the plug, Rogue signals he's ready to be handled by Brandon's fist. The woofs begin to come out of Rogue's mouth as Brandon probes deeper and Rogue rocks back and forth over Brandon's fist with his gaping entry. The intensity of Brandon's thick first and wrist entering and exiting has Rogue jerking his meat and then urges Brandon to suck his cock while Brandon's hand is planted deep in his ass. The intensity builds, and Rogue squeezes out a load with Brando's fist deep inside him.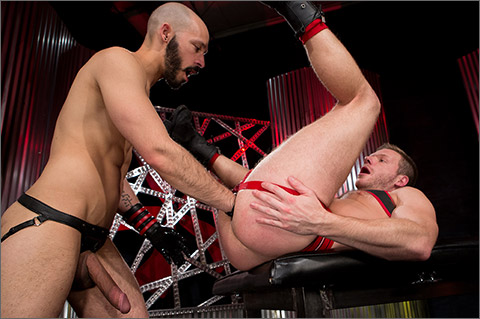 SCENE 2: Dylan Strokes fists Brian Bonds
Sexy Southern cock whore and super pig Brian Bonds is excited by huge dicked, bearded and smooth bodied Dylan Strokes, has his meat hanging out of his leather jock strap. Skipping the foreplay, they make out for only moments before Brian is on Dylan's cock. As loads of spit a globs of saliva stream down Dylan's cock, he starts to toy with Brian's ass smacking it and fingering it. Brian urges Dylan to eat his ass hard and wet and get it ready for Dylan's fist. It's not long before Dylan gloves and lubes up and starts by adding digit by digit until his full hand is in. Brian is a pro fisting bottom to rival all fisting bottoms, and his ass quickly accepts Dylan's entire fist, and Brian pushes his hungry hole back on both Dylan's hands. The deep strokes have Brian hard as a rock and on his back. Dylan's standing, stroking himself with one hand and with the other firmly planted in Brian's hot greedy center. Dylan bends over to blow Brian while he fists his hole with rapid jabs until Brian spurts multiple streams of cum that send Dylan over the edge, spraying a load right at the camera.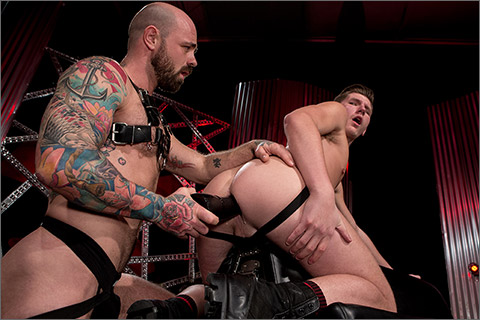 SCENE 3: Rogue Status dildo-fucks & fists Dakota Wolfe
In perfect position, Dakota Wolfe's tasty ass fills the frame while harnessed Rogue Status fills him with a humongous black dildo the size of a soda can. Dakota's insatiable asshole eagerly consumes it as Rogue easily continues to pummel his hole with faster and faster strokes, punishing Dakota's hole as streams of lube flow out. This extensive toy play is just the warm up preparing Dakota for Rogue's tatted forearm to be firmly planted deep in the darkest corners of Dakota's guts. Twisting deep and punching fast, Rogue kneads Dakota's hole with ferocious demand while watching the pleasure he's giving the piggy bottom.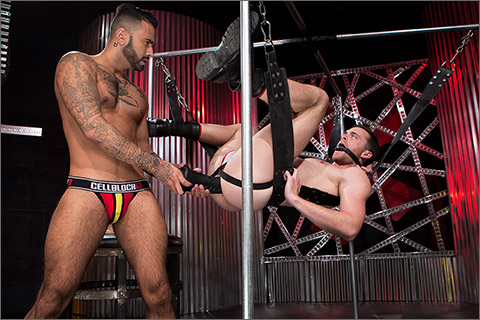 SCENE 4: Rikk York dildo-fucks & fists Brandon Moore
Brandon Moore is in a sling begging to be serviced and in comes sexy Rikk York who's up to the task. He gives Brandon a hot kiss and then places a ball-gag in his mouth before he starts to stretch his welcoming hole with a massive, wide toy. Brandon spreads his hot ass, and it's taking all this punishment like a champ. Rikk is taking pride in pounding the toy, glistening with lube, further and further in until Brandon is ready to take his fist. Brandon wants it and he wants to take as much of Rikk's arm as he can. Rikk gently enters at first, but then starts to really massage Brandon's insides as Brandon strokes Rick's free arm. With his hole stretched to the max and closed first firmly planted inside him, Brandon's body is writhing with ecstasy. Rikk removes the ball gag with his free hand and kisses Brandon as a reward for being such an amazing fisting bottom.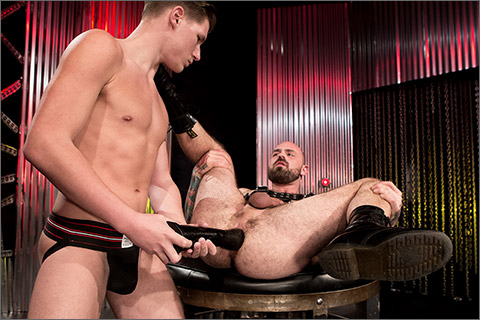 SCENE 5: Dakota Wolfe dildo-fucks & fists Rogue Status
Rogue Status is on his back spread wide for Dakota Wolfe to ram him with a 10′ dildo. Dakota prods deeply, only letting up to give Rogue an opportunity to push out and bloom his rosebud with creamy ass juice flowing out. Dakota toys and toys with Rogue's hole, plunging and twisting every long stroke of the toy. Every time Rogue pushes out the lube be expels gets creamier and creamier, and his dick gets harder and harder. Then Dakota brings in the big gun: an even longer and thicker toy that Rogue can't get enough of. As he's getting stretched wider, and his cock is rock hard, one of Dakota's strokes sends Rogue over the edge and cum leaks out of his dick without him touching it. After shooting out a mini-load and with Dakota still working the toy, Rogue jerks out a full spray of man juice.

WATCH IT NOW / MORE INFO AT:
HOT HOUSE CLUB INFERNO DUNGEON
Hot House Club Inferno Dungeon Members can see this film anytime online.
With extensive additional photography from every scene.