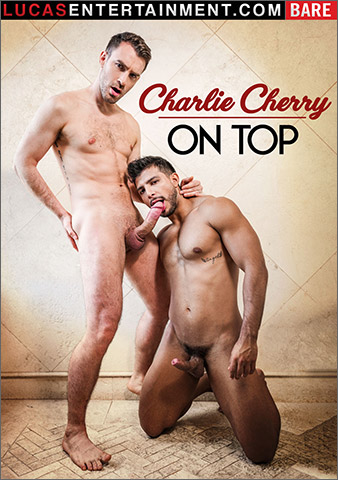 Studio: Lucas Entertainment
Directed by: Michael Lucas
Year of Production / Release: 2023
Country of Production: U.S.A.

CAST:
Leo Bacchus
Charlie Cherry
Rudy Gram
Derek Kage
Adam Killian
Jeffrey Lloyd
Jerry Toriz
INFORMATION FROM LUCAS ENTERTAINMENT:
When you're in the presence of a guy like CHARLIE CHERRY, there is only one place you want him to be, and that's ON TOP of you in the bedroom! First up to take on Charlie's manhood is Rudy Gram, who gets fucked deep and hard. Rudy is followed by Jerry Toriz, who gets his hole seriously stretched by Charlie's huge uncut girth. Last is Adam Killian, who turns total bottom for opportunity to feel Charlie's huge cock inside of him. Later on, Leo Bacchus takes over the camera by flip fucking with Jeffrey Lloyd and Derek Kage!

SCENE 1: Charlie Cherry Fucks Rudy Gram Raw
When you're in the presence of a guy like Charlie Cherry, there is only one place you want him to be, and that's ON TOP of you in the bedroom! Charlie tore his way through the asses of the Lucas Men when he was on set with them in Puerto Vallarta in November 2022, and Rudy Gram was first on the list of guys to take it deep in his hole. The uncut cock of Charlie Cherry is huge and throbbing; it's easily one of the nicest cocks every filmed at Lucas Entertainment. Rudy is one of the most versatile performers the studio has filmed in several years — he can truly take dick just as well as he can give it. But here he is all bottom since Charlie is all top. Rudy stuffs his face with Charlie's godly man meat before stuffing it into Rudy's ass balls-deep. Charlie Cherry is so big that Rudy Gram's eyes are practically popping out of his head with each pump and thrust!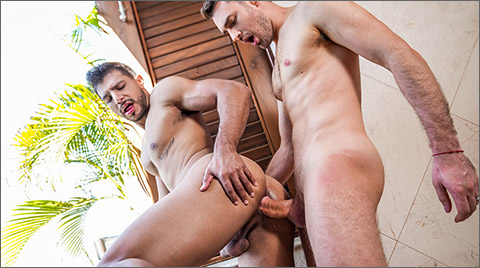 SCENE 2: Charlie Cherry Pounds Jerry Toriz
Charlie Cherry really does have it all in the physicality department. He's so drop-dead good looking, his body is perfectly trim and sculpted, and his cock… his cock is a masterpiece if you like big, fat, uncut works of art. And what self-respecting gay man does not? Jerry Toriz, a newcomer to Lucas Entertainment, completely agrees, and he's thrilled at the chance to take on Charlie Cherry as a total top. Jerry is a muscular and masculine looking guy, and that's exactly the type of man Charlie likes to make his bitch in the bedroom. Jerry Toriz opens his mouth as wide as possible as he sucks on Charlie's huge cock. And if you like to see as ass stretch around a big, fat uncut cock, then watching Charlie Cherry fuck and breed Jerry Toriz will make your head explode — both of them!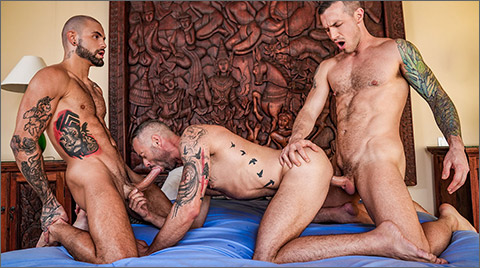 SCENE 3: Leo Bacchus, Jeffrey Lloyd, And Derek Kage Flip Fuck
Charlie Cherry needs to take a bit of a breather from the action, so Leo Bacchus steps in front of the camera to take on not one, but two uncut cocks. The first uncut member is huge and fat and it belongs to Jeffrey Lloyd. The second throbbing uncut erection belongs to Derek Kage, and both he and Jeffrey are ready to pound and slam Leo Bacchus until he can't handle it anymore. But Jeffrey and Derek better have plenty of stamina, because Leo's is almost limitless. So much does he have that he gets his dick wet by flipping Derek Kage around and barebacking him too!

SCENE 4: Adam Killian Bottoms For Charlie Cherry Bareback
Adam Killian is a masculine and handsome silver daddy who has never ceased at having an incredible body. On top of that, his cock is big and fat and always ready for action. Charlie Cherry caught his eye and he wanted to pounce on him when they first met. Charlie felt the attraction and wanted Adam Killian bad. The only catch was Adam needed to be a total bottom for Charlie Cherry and his top cock in the bedroom. That's zero problem at all. Here we see Adam Killian service Charlie Cherry and his huge uncut cock with some good, hard sucking before getting his hole pounded and slammed!

SEE THIS NOW / MORE INFO:
LUCAS ENTERTAINMENT
Scenes Premier online prior to DVD release and are available to view anytime in the Members Area.
Members can watch scenes from all Lucas Entertainment releases anytime online.

VIDEO ON-DEMAND: Lucas Entertainment @ AEBN SMUTJUNKIES THEATER
DVDs & ON-DEMAND: Lucas Entertainment @ TLA VIDEO