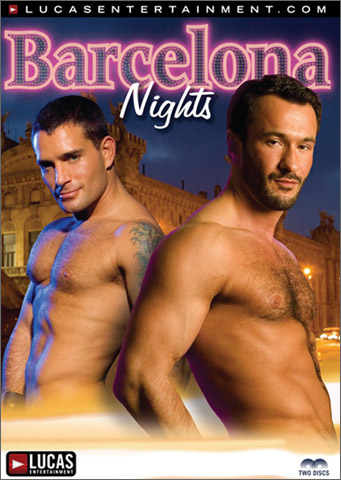 Studio: Lucas Entertainment
Directed by: Michael Lucas
Year of Production / Release: 2006
Country of Production: U.S.A. / Spain

CAST:
Bruce Beckham
Edu Boxer
Matt Colmar
Marcos DeSilva
Eduardo
Milan Gamiani
Wilfried Knight
Michael Lucas
Manu Maltes
Ricky Ramos
Francisco Reyes
Leo Rocca
Ross Stevens
FROM LUCAS ENTERTAINMENT:
The complete and unedited Director's Cut version features additional content, including fisting and watersports sequences.
Director Michael Lucas' acclaimed International Series finally hits the shores of Spain… where the Barcelona days are hot and the Barcelona Nights are even hotter. Join Wilfried Knight and Bruce Beckham as they hit the town with Michael Lucas and Ross Stevens, from the underground leather bar Eagle Barcelona to the renown mega-club Space. Kinky sex, sweaty hook-ups, and plenty of raunchy drama make Barcelona Nights a trip you'll never forget.
   After a hilarious opening sequence with Edu Boxer, Manu Maltes, and Francisco Reyes that hints of the hot action to come, the story begins at leather bar Eagle Barcelona, where the hottest guys in Barcelona are drinkin' it up and having a good time. Two of the guys – newly muscled-up Wilfried Knight and cutie Francisco Reyes – cruise each other and head to the back room for some hot sucking and fucking on a pile of beer kegs. Bruce Beckham, Knight's boyfriend, is pissed, even though the two have an open relationship.
   Tired of all the smoke in the bar, Michael Lucas – sporting a sexy new shaved head – goes to the dimly-lit bathroom where he discovers strikingly handsome Milan Gamiani and well-endowed Ricky Ramos fooling around in the tight little area between the urinals. Lucas starts playing with himself while watching Gamiani blow the well-hung Ramos, and he ends up jacking off in Gamiani's mouth, too. Lucas then abruptly leaves, leaving Gamiani and Ramos to eat and pound each other's monster dicks in the confined space.
Back at the bar, it's time to close up. Bartenders Edu Boxer and harness-wearing Manu Maltes are about to clean up, but a well-sculpted bar patron, Marcos DeSilva, has stayed behind. The guys get down to business in a sweaty threesome, doing it on the bar, on the stools, on the floor… everywhere! Boxer and Maltes take their turns fucking DeSilva, jacking their loads all over him at the end.
   It's morning and in their gorgeous hotel room, Bruce Beckham is still bitter with Knight about his hook-up from the night before. Knight tries to console him, and the doorbell rings with a surprise peace offering – hot student Eduardo. Beckham and Eduardo head to the Jacuzzi, where they hit it off over wine and bubbles in this beautifully shot scene. After some suds-soaked sucking, the two eat ass and flip-flop fuck to a splashy, wet conclusion.
   Furry club bouncer Leo Rocca is at home with boyfriend Matt Colmar, eating jam and croissants in bed. They get pretty imaginative with their food, rubbing it all over each other before licking and munching it off. Food fetishists are gonna love this! The real–life boyfriends then start fucking to intense exclamations of "Si!" (The Director's Cut version of this scene includes extensive watersports play footage.)
   It's another wild night in Barcelona, and the guys hit mega-club Space where they party up a storm with chupito shots and the hottest dance music around. (This scene was beautifully shot by Tony Dimarco with the club and crowd's enthusiastic permission). At the end of the night, Beckham, Knight, Lucas, and Ross Stevens head back to their apartment and kick up the heat with a fun-filled foursome. After swapping spit in the living room, they swap partners in the bedroom. Soon the action becomes and all-out orgy of poking and stroking. An explosive cum-fest leaves the guys exhausted, happy, and looking forward to their next stop – Madrid!

SEE THIS NOW / MORE INFO:
LUCAS ENTERTAINMENT
Scenes Premier online prior to DVD release and are available to view anytime in the Members Area.
Members can watch scenes from all Lucas Entertainment releases anytime online.

BUY THE DVD: TLA VIDEO
WATCH IT ON DEMAND AT: AEBN
WATCH IT ON DEMAND AT: MALEFLIXXX