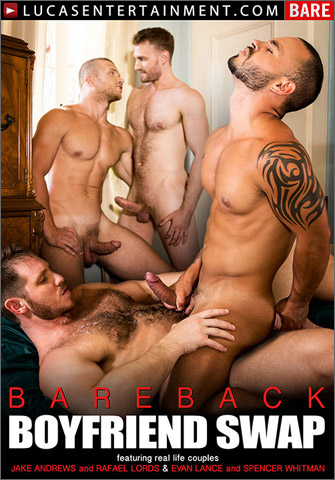 Studio: Lucas Entertainment
Directed by:
Year of Production / Release: 2015
Country of Production: U.S.A.

CAST:
Jake Andrews
Evan Lance
Rafael Lords
Ashton Summers
Spencer Whitman


INFORMATION FROM LUCAS ENTERTAINMENT:
The Lucas Men love their partners very much, but sometimes boredom in the bedroom sets in… and when it does it's time for a Bareback Boyfriend Swap! Lucas Entertainment exclusive models Jake Andrews and Rafael Lords break the ice by introducing a third into their sex life: Ashton Summers. New to the studio are two deliciously furry otters, Spencer Whitman and Evan Lance, and they will blow your mind with their bedroom performance. Later on Rafael gives his raw load to Spencer in a one-on-one encounter. To even the score, Jake fucks Spencer's boyfriend, Evan. Enjoy the sexual mischief of Bareback Boyfriend Swap!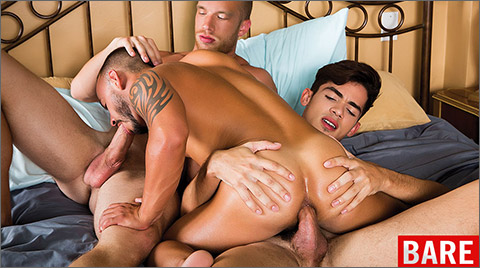 SCENE 1: Jake Andrews Shares Rafael Lords With Ashton Summers
Sharing is caring: that's a lesson Jake Andrews wants to demonstrate to Rafael Lords. The couple gets frisky on their bed when their housemate Ashton Summers "accidentally" stumbles across their fun. (Jake is performing oral sex on Rafael, so of course Ashton is going to be intrigued upon his intrusion.) Why be prudes when it's far better to have an extra body to throw around' One of the best portions of this encounter can be found at 27:10 when Rafael is being split-roasted: Jake is giving him deep and rhythmic thrusts while he swallows Ashton's cock!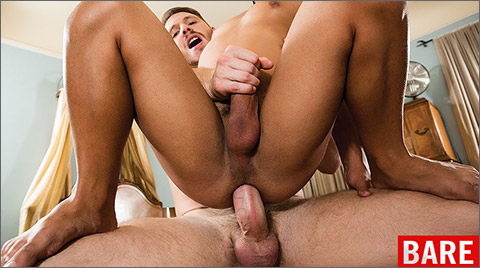 SCENE 2: Spencer Whitman Pounds Rafael Lords Bareback
A third is sometimes fun, but every once and awhile you want to experience someone new without your other half tagging along. That's how Rafael Lords is feeling, and Spencer Whitman is more than happy to help him out with the desire. He enjoys the experience: check out his face at 13:55 as he reaches for the headboard. And the torso shot that follows right after is just as visually captivating — you can't miss Spencer Whitman's gorgeous furry chest at 14:05.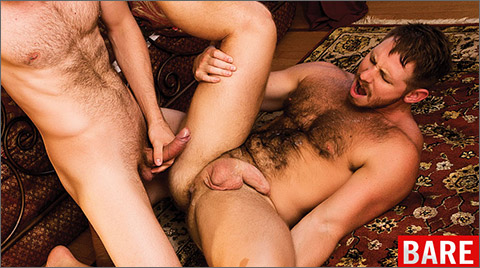 SCENE 3: Evan Lance Gives Spencer Whitman His Raw Load
Spencer Whitman returns home to his boyfriend Evan Lance after he and Rafael Lords fucked each other's brains out. Spencer can get it up and come easily easily, and he's feeling some guilt over his adultery… that's why he wakes up the napping Evan and gets his cock hard. Sure, Spencer does fuck Evan, but Spencer ultimately loves it when his man breeds his hole. If you check out 31:05 you'll see Evan playing with his nipples while he works up a load for Spencer!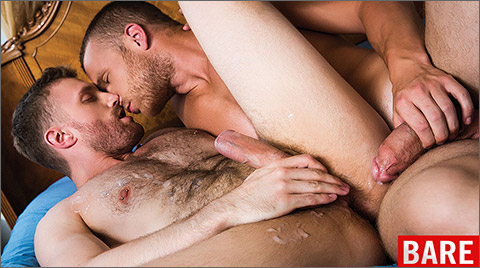 SCENE 4: Jake Andrews Breeds Evan Lance
Jake Andrews and Evan Lance aren't idiots — they know what's been going on between Rafael Lords and Spencer Whitman. But they're not interested in breaking up — they are interested in getting even. Jake brings out Evan's kinky and submissive side: Evan kisses and licks Jake's feet before moving on to fellatio. Evan rolls up Jake's tank top and sucks down his penis, which consistently looks like a work of art. And what should be done with a work of art like that' Rough anal sex, that's what: check out 15:30 to see Jake Andrews fuck Evan Lance like the power top he is in his heart!

SEE THIS NOW / MORE INFO:
LUCAS ENTERTAINMENT
Scenes Premier online prior to DVD release and are available to view anytime in the Members Area.
Members can watch scenes from all Lucas Entertainment releases anytime online.