Studio: Lucas Entertainment
Directed by:
Year of Production / Release: 2015
Country of Production: U.S.A.

CAST:
Leo Alexander
Zander Craze
Isaac Eliad
Bruno Fox
Dylan James
Patryk Jankowski
Josh Milk
Nick North
Joey Pele
Max Schutler


INFORMATION FROM LUCAS ENTERTAINMENT:
Is there any point to bareback sex if you're not swapping cum with the guys you're fucking? The men of Lucas Entertainment don't think so: that's why they share plenty of seed in "BAREBACK CUM SWAPPERS"! New exclusive Leo Alexander returns to fuck Zander Craze in the ass raw. Afterwards Joey Pele gives Max Schutler exactly what he needs: a big uncut cock to suck on and ride bareback. And at the climax of the movie the cum flows in a group sex scene with Dylan James, Joey Pele, Nick North, Bruno Fox, Isaac Eliad, Patryk Jankowski, Max Schutler, and Josh Milk.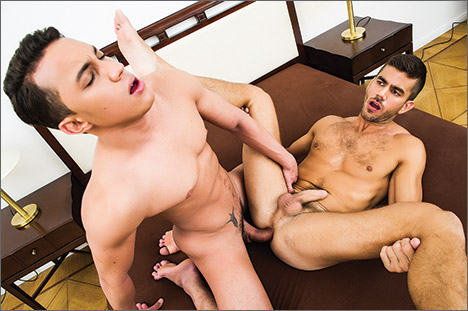 SCENE 1: Joey Pele Slams Max Schutler Raw
Remember Max Schutler's return to gay porn in the bareback orgy of "Rocco Steele's Breeding Party"' He gave a great performance that tested his mettle as a bottom, as he had to handle the meat of Rocco Steele himself. But now Max returns to give us a show where the focus is on him — and his hardcore partner, Joey Pele, who roughs up Max Schutler from the beginning of the scene. Need more proof of just how rough these two get together' Check out 08:48 — that's one hell of a ride Max is taking on Joey's huge uncut cock!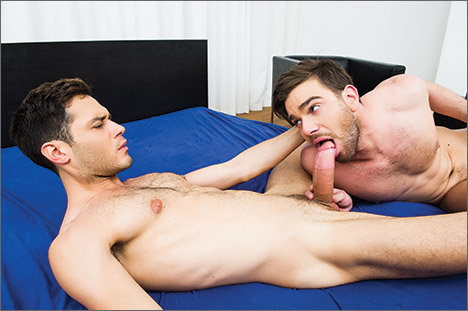 SCENE 2: Zander Craze Takes All 12 Inches Of Leo Alexander Bareback
Zander Craze takes all 12 inches of Leo Alexander bareback, and you'd think Leo would break him, but Zander loves every minute of it! (This scene starts out with an incredible make-out session, so don't skip ahead right away if it's the sucking and fucking you are usually after.) Here's what's exceptional about Leo: his sweet, puppy-dog eyes and smile. And then, of course, there's his smoking body and ridiculous dick. Zander is well aware of this, and it's why he is enamored with him for the full 38 minutes of the scene. And is Zander intimidated by Leo Alexander's 12 inches' If he is, he certainly doesn't let it stop him, because he takes the dick bareback and he takes it oh so well. Never before has the word "pounded" been deserved in a porn write-up.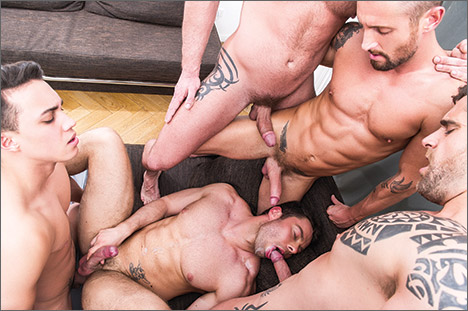 SCENE 3: Joey Pele And Nick North Take Charge Of A Raw Five-Way
Here we have one hell of a lineup: Joey Pele and Nick North set the scene for three new men showing their stuff at Lucas Entertainment: Isaac Eliad, Bruno Fox, and Patryk Jankowski. As mentioned, Joey and Nick (for the most part) set themselves up as the dominant guys in charge of the five-say bareback sex gathering, but after some time Nick can't keep himself out of the bottoming mix by getting onto his back with legs up in the air for raw cock. But that's fine: Joey Pele is always ready to be the premiere bareback top he's meant to be. Isaac Eliad stands out in this scene too as an attentive bottom ready and happy to service cock with his ass and mouth — which is an admirable trait in an encounter like this. Let's hope to see more from him at Lucas Entertainment soon.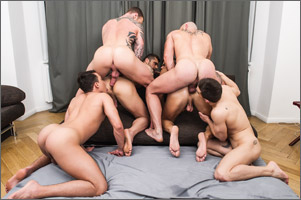 SCENE 4: Dylan James Joins Joey Pele and Isaac Eliad In A Six-Man Bareback Orgy
Dylan James joins Joey Pele and Isaac Eliad in what has grown to be a six-man orgy. We had five before, but the cast alongside Dylan, Joey, and Isaac now includes Josh Milk and Max Schutler, and Bruno Fox sticks around to taste the new meat as well. And let's be upfront about something in this scene you won't want to miss: there's a row of asses ready for a licking. Isaac, Max, and Josh have their holes pointed up in the air for the tongues of Dylan, Joey, and Bruno. You cannot miss this rimming portion, which begins at 11:30. And what starts out as some harmless ass licking turns into an incredible line up of fucking, and all six guys fulfill their roles beautifully!

SEE THIS NOW / MORE INFO:
LUCAS ENTERTAINMENT
Scenes Premier online prior to DVD release and are available to view anytime in the Members Area.
Members can watch scenes from all Lucas Entertainment releases anytime online.