Studio: EuroCreme / World of Men
Directed by: Jack Jones
Year of Production / Release: 2013
Country of Production: Germany / Great Britain

CAST:
Dirk Berger
Joe Bexter
Misha Dante
Christos Banderas
Tony Gear
Thomas Jeffersen
Michael
Robert
Wolf Wagner
INFORMATION FROM WORLD OF MEN:
Starting off in one of Berlin's best know cruising grounds we find Joe rushing to work. Unable to stop and make the most of a hot guy clearly checking him out he arrives flustered to work. Filled with thoughts of what could have been with the mystery park guy he finds himself flopping out his cock, slowing jerking himself off at the thought of his close encounter. Seeing someone walking past the office window he goes to hide what he is doing, but soon realises it is in fact the guy from the park! Not wanting to pass up the opportunity twice he beckons him in. Misha, the stud from the park, soon finds himself embroiled in a hot and horny office fuck! Using the desk to brace himself for a deep rimming and deep fucking Misha is in his element. Wanting to fuck more than being fucked he soon turns the tables and gets Joe sliding down onto his hot cock, showing off his ripped body, Misha fucks Joe as hard and deep as he can before Joe explodes a hot load on Misha's chest, then with joe rolling off, Misha shoots a horny load all over himself! Who says office work is boring?
   Heading back at night to the Tiergarten, Wolf is on the hunt! It's been raining so there aren't many people around, wandering he hears some movement so takes shelter under a tree and waits for whoever it is. He doesn't have to wait long for Dirk to walk by, seeing that Wolf isn't out for a midnight jog, he reaches for his cock and goes in for a kiss! The pair exchange blowjobs in the dark, just meters from the busy main road! The excitement and fear of being caught is high but only adds to the thrill! Wolf is good at what he does with his mouth and throat, so good in fact that Dirk shoots a load right at his face. Wanting to carry on and shoot his own load, wolf invited Dirk back to his hotel room for more than a blowjob. Back at his hotel Wolf gets to play with his new friends hole, fucking him till he shoots his load over Dirks face followed by dirks second load over his own chest! It's successful night for both!
   With 2 more scenes including two threesums in Tom's Bar, Jack was left with the best idea of what happens in Berlin and how the guys like to fuck!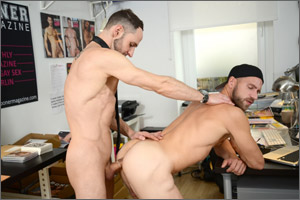 SCENE 1: Joe Bexter fucks Misha Dante
Late for work. Sexy guy cruises you in the park. Can't stop. It's gonna be one of those days. Until the sexy guy walks past your window later on and catches you playing with yourself. What to do? Invite him in, what else? So Misha walks down and knocks to the door of Joe's office. Joe opens the door and Misha walks in, lips straight on Joe's and hand firmly gripping his cock. Soon Joe is laying back on his stool slowly undressing while Misha has his lips tightly wrapped around the office worker's cock. Misha licks, sucks and plays with the big, down curved cock until Joe decides it's time to taste his blonde guest meat. So it's Joe's turn to get down on his knees and suck cock. But there's more of the blonde available to his tongue. Joe turns Misha over the desk and rims his downy ass. An ass that he's happy to spread for his tongue. An ass that's gagging to feel Joe's cock thrust deep inside him. Joe's gagging for the same and soon he fucks the brains out of Misha, slow at first but soon growing into a fast and furious ass drilling. Misha loves getting fucked hard but he loves to fuck as much as getting fucked, so he turns around and pushes Joe down on the bean bags in the corner where Joe squats over his face and Misha revels on licking the man's asshole until Joe shifts down and sits on Misha's cock and alternating between fucking himself and getting fucked fast. Joe wanks while Misha fucks him and shoots over Misha's chest then rolls off the blonde hunk and he adds another load over himself.

SCENE 2: Wolf Wagner fucks Dirk Berger
Night in Berlin, Wolf is on his way back to his hotel but he decides to check the area of Tiergarten that was marked in a magazine as a cruising ground. The rain must have kept most of the guys away, but he's seen movement and he decides to wait under a tree. Not much time passes before Dirk walks by, stops and reaches for Wolf's cock. They kiss and exchange blowjobs in the dark, mere metres away from the main road and Wolf end up getting a thick load shot right on his face. Wolf still needs to shoot his load and he's not gonna let go the blond hunk so easily. He takes him back to his hotel and they start all over again. Wolf is first to suck cock, but he took Dirk back because he wants to fuck him. So they play around and taste each other a while longer, swapping blowjobs and rimming before Wolf fucks Dirk on his back and keeps fucking him until he unloads all over his chest and Wolf shoots on Dirk's face.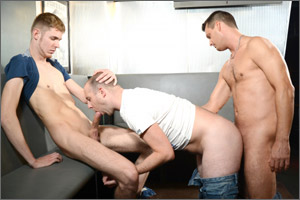 SCENE 3: Michael Steel & Tony Gear fuck Christo Banderas
Late afternoon, Tony is sent to deliver some magazines to Tom's Bar, the cruise bar of Berlin. After handing the package to the sexy barman, he stays in to have a browse, he's feeling horny. It's still fairly quiet but he spots a cute south american guy in the back room. He starts wanking his big cock in the doorway and when Christo sees him, he goes in and just shoves his cock in the guy's mouth . Christo is more than happy to dine on that meat and their fun catches the eye of Michael, that watches from afar and works his monster 10″ wrist-thick cock to full attention before joining the other two. Christo kneels between the two and eagerly works on both dicks. The guys move to the mats at the back of the room where Christo sucks on Tony's dick while Michael prepares Christo's ass. Tony leaves the trio as he's not ready to cum yet. Surprisingly, Christo takes the massive cock in one go and gets fucked on all fours, really deep at first, then turned on his back and fucked even deeper. Finally Michael pulls him up and fucks him against the wall before literally showering him in cum while Christo wanks himself and comes all over himself and the mats.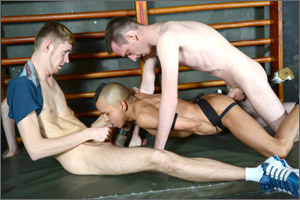 SCENE 4: Tony Gear watches Thomas Jefferson fuck Robert
Robert walks in Tom's bar, orders a drink and sits down at the end of the bar. He sees Thomas in the corner inviting him over by grabbing his crotch. Robert gets up and joins him. Within seconds he's bent over sucking on his dick. Thomas fucks his face in full view of Tony, that just got back from the back room. Tony starts wanking and when Thomas moves behind Robert to take his ass Tony watches them fuck before he joins them and fills Robert's mouth. The two spit-roast him and then exchange places. Tony fucks him until Robert shoots his load and when he leaves he sucks Thomas's dick until he shoots a load in his mouth. Tony leaves him and goes in search of more sex.

WATCH OR DOWNLOAD THIS ONLINE NOW AT:
WORLD OF MEN
Scenes from all recent releases can be viewed or downloaded in the Member's area.