Studio: Falcon Studios
Directed by: John Bruno
Year of Production / Release: 2008
Country of Production: U.S.A.

CAST:
Mason Alexander
Zeb Atlas
Tony Capucci
Rod Daily
Shane Frost
Roman Heart
Tristan Jaxx
Nash Lawler
Erik Rhodes
Matthew Rush
Dylan Saunders
Rusty Stevens
FROM THE FALCON WEB SITE: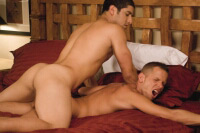 SCENE 1
Tony Capucci passes out after having too much to drink, and in this vulnerable state, Shane Frost takes control. The resourceful stripper treats the drowsy bridegroom to some TLC as he plays with Tony's cock, dragging his tongue up and down the shaft. Then he stuffs the meaty pole inside his mouth. He rims Sleeping Beauty's hole and pendulous balls, then mounts his hard cock to ride. Suddenly Tony wakes up, surprised to find Shane screwed onto his dick. Annoyed at first, he quickly takes charge and gets serious, fucking the dancing queen real hard. He pounds away making Shane shoot his load, then stuffs his cock down the boy's throat, driving it in and out until he finally cums.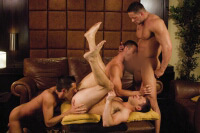 SCENE 2
Erik Rhodes joins Tristan Jaxx, Dylan Saunders and Rusty Stevens for a couple of hands of strip poker. The clothes start to come off and Erik ends up the big winner. The prize? Anything he wants! The men pair off as Dylan goes to town on Erik's cock; Rusty does likewise with Tristan. Then Dylan eats out Erik's ass while Tristan matches Rusty blow for blow, sucking him off so good he could make a straight man cum. The guys switch things around, trading cocks to suck, holes to fuck. There are no losers in this high stakes game as the four play with each other's clubs. Tristan lucks out with Dylan eating his ass, Rusty sucking his cock and Erik feeding him his own thick dick. And the final ace in the hole is Tristan pile driving his cock into Dylan's unended ass while Rusty fucks Erik until all four shoot their loads.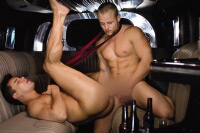 SCENE 3
Feeling happy and a bit soused, Roman Heart entices hunky valet Nash Lawler into the limo. They drink up and get comfy. After toasting each other, Roman undresses Nash. Once he's got him naked, he starts to fellate him. Roman knows how to drive Nash crazy, sucking him off like a madman. The action is so steamy, the windows are fogging up. Nash diddles with Roman's ass then starts to swallow his pole. Then Roman rims Nash's ass, kissing and licking his hole before tongue fucking the moist crack. He mounts the attendant's cock and rides, bouncing up and down. Then Roman sits back with his legs spread wide apart and Nash continues fucking him hard and fast. They jerk themselves off until Nash spritzes his partner with his jism and Roman responds in kind and excitedly shoots his wad.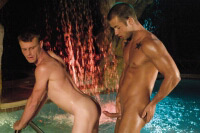 SCENE 4
Rod Daily and Mason Alexander head over to the pool to check out the action. No one's there, so they decide to create their own excitement. They strip down and dive in, splashing about before drowning in each other's arms. Mason goes down on Rod's hot rod. There is so much cock to suck he can barely keep his head above water. Then he starts to eat the big man's ass. Mason is a total submissive and his appetite is bottomless. All Rod can do is lay back and enjoy the attention. Pleasure is a two-way street so he starts to suck on Mason's dick. Next he spreads his mate's ass cheeks wide open and finger fucks the hole. Rod towers over Mason and fucks him hard; then lays him on the ground and fucks him some more until he cums. Mason finishes Rod off sucking him again until he shoots his load. They jump back into the pool to kiss passionately under the waterfall.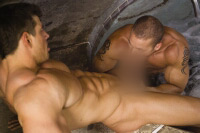 SCENE 5
Matthew Rush details all the sexual shenanigans his friends have had since they hit town to muscle stud Zeb Atlas. And all this explicit talk of non-stop partying and wild sex is such a turn-on that the two men are compelled to unleash their pent-up excitement and arousal with one another. Matthew zones in on the hefty sausage spouting out from between Zeb's massive thighs. He is in hog heaven as he suckles that cock, slavishly licking every meaty inch. Then he runs his tongue all around Zeb's sphincter, jabbing in and out of the hole like there's no tomorrow. Zeb can hold back no longer and explodes across Matthew's chest. Then he grabs Matthew's dick and strokes it until he shoots his load, the air charged with their grunts of pleasure.

WATCH IT NOW AT: FALCON STUDIOS