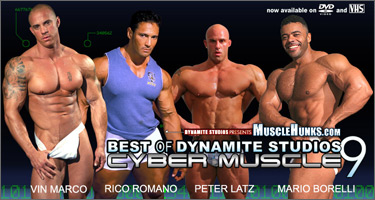 Studio: Dynamite Studios / MuscleHunks Compilation
Directed by: Dynamite Studios / MuscleHunks.com
Year of Production / Release: 2008
Country of Production: U.S.A.

CAST:
Rico Romano [Rico Dulce]
Peter Latz
Vin Marco
ADDITIONAL COMMENTS:
On-Line Presentations are downloadable and DRM free presentation.
DVD and On-Line Presentation
INFO FROM DYNAMITE / MUSCLE HUNKS:
CYBER MUSCLE! The men you've read about on the chatboards and in the blogs and seen in their online video clips – the men you just know for a fact are the best, top dollar freaky musclesex body workers around! Here they are, gathered for the first time in a single video, showing off their manly virtues, and leaving no doubt as to what they have to offer! Here's intimidating, demanding, arrogant competitive bodybuilder Peter Latz, who catches a pipsqueak spying on him, and proceeds to show him just what exactly a bodybuilder is made of…..Rico Romano, in a torn copy t-shirt revealing his huge biceps, bending over to show butt and providing not one, but two explicit scenes….manifestly hot muscleman Vin Marco, providing his own special brand of what he calls 'The Cowboy Special'….and tall, dark, huge, free and easy, dirty-talking Mario Borelli – who may have the biggest cock west of the Rockies – and is only too happy to feed it to you!
Big n' mean bodybuilder Peter Latz has a gig packing up the lights in a Florida studio, and when a pipsqueak dancing boy gets curious about the huge muscleman, and Peter catches in spying on him – well, it's the kind of worship stuff you want to see. Latz demands: "You never seen a bodybuilder before?!" – and takes it from there, stripping down to show massive pecs, ripped abs, bulging biceps, and rock-hard butt cheeks. Soon enough he presents his cock, with the burning, ageless question: "You ever touch a bodybuilder's cock before?" Muscle worship fantasy doesn't get much better than this.
Adult star Rico Romano, famed Blue Blake model who trains as seriously as any of the big boys ever did, stopped by our studios in 2000 and again in 2004 for a series of explicit scenes that guaranteed his reputation. Included here is an entirely re-edited and remastered sequence from Rico's first video….but preceeding it is the man's cop fantasy: close your eyes a moment and pretend he's your arresting officer – or you are his!
Muscle cowboy Vin Marco has come to your room to fulfill his last appointment of the day. The ripped 6′-1″ Vin is only too happy to flex, pose, turn around, bend over, and show off those rock-hard butt cheeks! Vin has such a lot to offer, that we just knew we had to give you plenty of stop-action freeze frames in his scene, just so you could more fully savor the effects of years of heavy-duty gym squatting! Got glutes?
Mario has as filthy a mouth as we've ever had the pleasure to shoot here at MuscleHunks.com, and has a great time showing off his huge cock and fabulously supple butt – all the while demanding that you get an eyeful, a handful, and a mouthload of all he has to offer! You won't believe your eyes…or your ears!…as SuperSizeMe Mario takes center stage for a client in a Las Vegas hotel suite! Mario's non-stop – and we bet you won't get 30 seconds into his scene without shooting your load!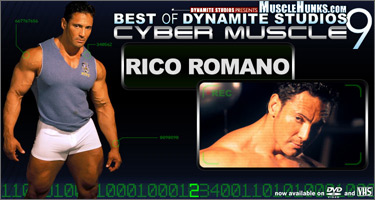 AVAILABLE FOR PURCHASE OR WATCH ONLINE AT: DYNAMITE / MUSCLE HUNKS