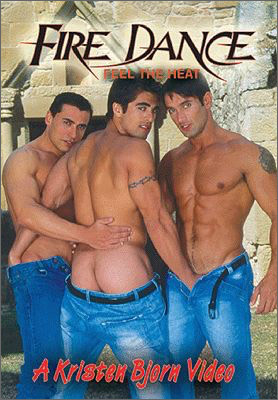 Studio: Kristen Bjorn Prod. / Sarava Prod.
Directed by: Kristen Bjorn
Year of Release / Production: 2006

CAST:
Carlos Caballero
Rocky Olivera [Rocky DeOliveira]
Bruno Duarte [Bruno Carrosa]
Jean Franko
Mauricio Goldstein
Alexandro Gonzalez
Falco Jambout
Juan Jimenez [Antonio Marquez]
Carlos Montenegro [Freddy Navas]
Eric Nogueira
Alex Ribeiro
Zeca Romeiro
Zeca Romiero
Mukhtar Safarov
Mario Segovia
Matthias Vannelli
Tibor Cernan [Tobias Vares]
Max Veneziano
SCENE 1: Falco Jambout, Alexandro Gonzalez, Tibor Cernan, Bruno Duarte
SCENE 2: Juan Jimenez [Antonio Marquez], Carlos Montenegro, Rocky Olivera
SCENE 3: Matthias Vannelli, Zeca Romeiro, Mario Segovia
SCENE 4: Jean Franko, Max Veneziano, Alex Ribeiro
SCENE 5: Carlos Caballero, Mauricio Goldstein, Mukhtar Safarov, Eric Nogueira
ADDITIONAL COMMENTS:
GAYVN Nominee 2007
THE MANNET 100: 2006
Synopsis:
Two brothers (Juan Jimenez and Carlos Montenegro) run a guest house on their family estate; a medieval chateau somewhere in Europe. Hot men from all over come to the chateau because of it's beauty, and also because it's tainted history. With the comings and goings of chateau employees and visiting guests, inevitably hot sex explodes at every turn, and the chateau's secret is finally revealed.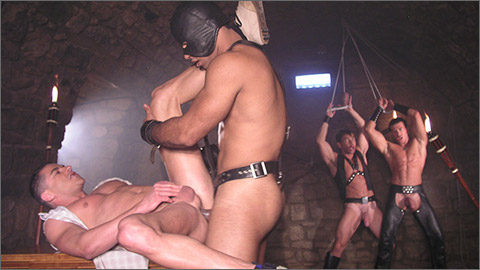 FIRE DANCE SCENE 8
Every medieval castle has a dungeon, and as Carlos Caballero is incredulous to learn, there are still prisoners (Erick Noguiera, Mauricio Goldstein and Mukhtar Safarov) being held there, and all three sport harnesses, leather, chains, cock rings and monstrous erections. Carlos takes on Erick first, loosing him from his chains while the other two watch, their dicks straining with excitement at the show. The minute Erick is freed, he takes control of Carlos, and with very few preliminaries, he's fucking him hard. Across the room, and with his hands still manacled over his head, Mauricio's cock spits out a hands-free load with such force that it rockets away from his body. The sweaty, hot and cum-soaked leather orgy is riveting as it proceeds; all of the studs produce memorable pop-shots.

WATCH / DOWNLOAD THIS NOW AT:
KRISTEN BJORN
Kristen Bjorn Members can watch / download scenes from this Release anytime. Members get discounts on all DVD and other products.