Studio: Cazzo Film Berlin
Directed by: Jörg Andreas
Year of Production / Release: 2008
Country of Production: Germany

CAST:
Carioca
David Castan
Fred Faurtin
Clark Houston
Manuel
Matthieu Paris
Josh Rubens
Axel Ryder
Ricardo Safado
Nicolas Torri
Fred Faurtin enters the MEN FACTORY finding a video camera with Clark Houston jacking off footage. He continues to explore the Factory…
SCENE 1: David Castan and Matthieu Paris fuck Nicolas Torri
SCENE 2: Axel Ryder fucks Manuel
SCENE 3: Fred Faurtin fucks Clark Houston
SCENE 4: Carioca fucks Axel Ryder
SCENE 5: Clark Houston and Fred Faurtin orally service the tag-team fuck / spit-roast Riccardo Saffado
SCENE 6: Carioca fucks Josh Rubens
INFORMATION FROM CAZZO FILM BERLIN:
In the halls of an abandoned factory the scent of decades of sweat from hardworking men still hangs in the air. It's nothing but pure sex for Cazzo star Fred Faurtin who is fascinated exploring the building. He stumbles into a sex adventure that he can only survive through the grandiose use of his hammer-hard cock.
SCENE 1: Fred Faurtin fucks Clark Houston
In the dilapidated showers Fred thinks of all the naked, muscular workers who washed the sweat off their exhausted, steeled bodies. His cock gets rock hard and practically bursts out of his pants. He finds a video camera that contains a recording of the blond Clark Houston jerking off. But just before Clark shoots his load the recording suddenly ends ? what happened? Fred immediately starts searching for the sexy stud, but he's not alone.
SCENE 2: David Castan and Matthieu Paris fuck Nicolas Torri
There are plenty of other horny men prowling about this terribly strange compound. The others suddenly appear, emerging from cellars and all corners of the building ? and waste no time in ramming their cocks down throats and up willing arses. David and Matthieu take turns ploughing their cocks into Nicolas and don't stop until they get their fists up his arse.
SCENE 3: Carioca fucks Axel Ryder; Fred Faurtin fucks Clark Houston
After losing a sword fight the brawny Alex Ryder has to let gladiator Carioca ride him long and hard, and Carioca's more than happy to be topping Alex. Eventually Fred finds Clark chained up, and like a starving animal Clark first starts getting down on Fred's feet before taking his cock to the hilt. And finally, Clark presents Fred his gorgeous arse.
SCENE 4: Clark Houston and Fred Faurtin service and fuck Riccardo Saffdo
After a chase scene through the factory halls Fred and Clark start attacking the cock of hot-blooded Brazilian Ricardo.
   Clark's well-trained mouth and throat have no problem inhaling Ricardo?s gigantic Latino meat. But proud Ricardo isn't too proud to be reduced to begging for more of Fred's steel-hard cock up his arse. In this "Men Factory" the fuck machines are running hot!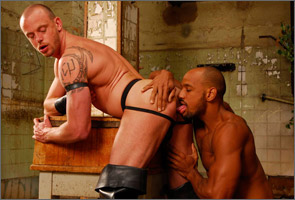 MEN FACTORY – SCENE 6: Carioca fucks Josh Rubens
Carioca showers his hard dream body. Hot blooded Josh can't resist the sight and devours Carioca's cock. He's rock hard and can't wait to feel this doozy in his hungry ass. Carioca licks the hole first before he shoves his giant fuck meat in it. His cock is just the right size for the hot fuck mattress Josh who takes the ride grunting loudly. As the cum fountain of Carioca on Josh patters down both are ready for a common refreshing shower.

WATCH IT NOW OR DOWNLOAD IT AT:
CAZZO FILM BERLIN / CAZZO CLUB
Cazzo Club members can watch or download this anytime. Scenes premier online prior to DVD Release.