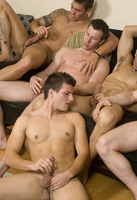 Studio: Randy Blue
Directed by: Randy Blue
Year of Production / Release: 2007
Country of Production: U.S.A.

CAST:
Derrek Diamond
Ricky Mendez
Devin Polansky
Sean Rawlings
Jarrett Rex
Clay Walker
ADDITIONAL COMMENTS:
On-Line Only Presentation
FROM RANDY BLUE:
There is always something highly erotic about a Circle Jerk. Maybe becasue you know it's pretty inocent and maybe its becasue you know its the first time these guys have ever laid hands on another guy. Maybe it's because you hope they might do more but when it's said and done the sexual tension is as high as any other scene you can think of. For this latest Circle Jerk we had 6 brand spanking new guys many of whom you have just met and certainly haven't seen them in any action. Jerret has quickly become one of our favorites here at the office as well as Derek. Shawn is an absolute dreamboat and Ricky is jut plain sexy…check out his chest! Clay has a body that is amzing and keeps everybody laughing and Devin though quiet does an amazing job. These guys except for Derek have had absolutely no experience with men so the beginning was a bit nerve racking trying to getthem to to relax but soon after them getting to know each other better the scene went really well. Here you have 6 incredibly hot guys, mostly straight doing a little exploring. I wont lie to you these guys are green so this circle jerk is not as wild as some in the past but knowing that this is all first time stuff really got my motor running! These guys are all pretty big teases but when the video is turned on and the guys are stripped down everyones eyes really start darting aorund the room and then the hands. These guys are defintly very conmfortable with each others hands and stares by the end. Stick around for the end there are some incredibly funny bloopers for you to chuckle at!

GO TO: RANDY BLUE