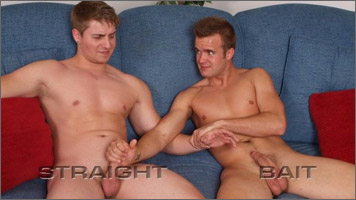 Studio: Bait Buddies online
Directed by:
Year of Production / Release: 2011
Country of Production: U.S.A.

CAST:
Straight: Logan Vaughn
Bait: Conner Patricks [Connor Patricks]
ADDITIONAL COMMENTS:
On-Line Only Presentation, Members can Download the presentation for later for "off-line" viewing.

THIS PREVIEW CONTAINS ADULT SEXUAL CONTENT


INFORMATION FROM BAIT BUDDIES ONLINE:
'Where's the beef?'
The 'beef' is in the house. If you like your boys beefy and built then you're sure to love our straight guy Logan. Logan is a big, handsome, muscle boy with huge muscular thighs and a bubble butt to die for. To top it off he has blond hair and hazel eyes. Here's the back story, so stay with me. Logan dated a girl named Janet. They broke up a while ago because she felt his sexual desires were too kinky for her – anal sex (for her), dildos and strapons (for him), etc. Now Logan is recruited by our Bait boy Conner, a blue eyed cutie who's built like jock. Still following? Well Janet, Logan's ex-girlfriend, just happens to be Conner's first cousin. And that's where their lives intertwined. They became friends and workout buddies but that didn't end when Logan's girlfriend – Conner's cousin Janet, dumped him. Conner has had the hots for this big beefy boy for quite a while and his goal was to get into his pants with the help of Caruso and BaitBuddies.com. Bottom line – Logan thinks he's here to do pussy porn with his buddy. So, now you know the story behind our video. Of course the girl doesn't show and the only option left is for the guys to have sex with each other. Logan is hesitant, but we think he loves sex and is kind of happy we're giving him the opportunity to fool around with Conner. But the real sexy thing is that he's trying it with a buddy. Well, not only does Conner fulfill his fantasy of getting into Logan's pants for some hot handjob, blowjob and kissing, but after Logan fucks Conner for a while, Caruso suggests that Logan try getting fucked. Logan agrees to it almost without thinking. His first fuck is super hot to watch as jock boy Conner bangs the cum of this big hunky straight dude while Logan blurts out that it's much better than a dildo…well of course it is. When Caruso asks Logan if he'd do it again with Patrick outside of the studio, his answer is probably. So, next time you want to know where the beef is, you might want to ask his friend Logan.

WATCH IT / DOWNLOAD IT NOW AT: BAIT BUDDIES ONLINE