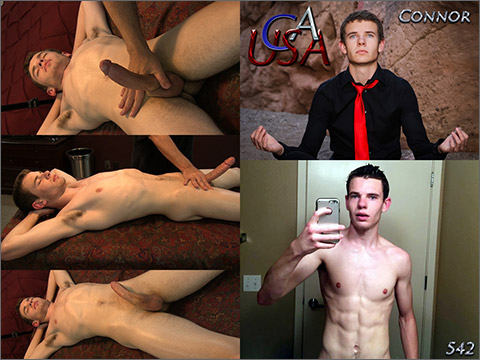 Studio: Badpuppy / Club Amateur USA
Directed by: Casey Black
Year of Production / Release: 2016
Country of Production: U.S.A.

CAST:
Connor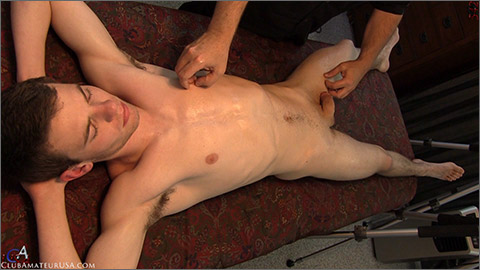 INFORMATION FROM BADPUPPY / CLUB AMATEUR USA:
5'11" | 150# | 8.5″ | Brown Hair | Blue Eyes | Straight and Sexploring
So, picture it! It's 9:30 on a Saturday night, and I've pushed the BP and CAUSA updates live, hangin' out, drinkin' vino, checkin' out what's happening on AFF, and see that a local hottie has turned on his webcam. Now, he had a couple of images on his profile (as seen in the collage), but I'd not seen what he was packin' down stairs. Within a couple of minutes, he whipped out his engorged and tingling cock, and my jaw dropped.
   Now, imagine even more of my surprise when I noticed that I had a new email.
   We moved the conversation to SMS and after confirming that he was of sound mind and body in that moment, my intuition told me that this was a spur of the moment decision on his part, and I had better drop everything and get him on the CAUSA massage table, ASAP! And that's exactly what I did.
   I've not had a spontaneous Saturday night video shoot in YEARS. So, I bagged off a friend with whom I was s'posed to chillax and vino a little later, and after a quick shit, shower, and shave, it was off to the Chase ATM for cash for the shoot. At 11:26 PM, Connor arrived.
   In all of these years producing ClubAmateurUSA, I don't know that I've man-handled more of a control freak than Connor ó as you'll soon witness. The one thing that he was unable to control was his raging hard-on and staying on the edge of orgasm throughout filming. As soon as my hands began lightly sliding across his backside, Connor went brick and stayed that way. And what a lovely brick it is.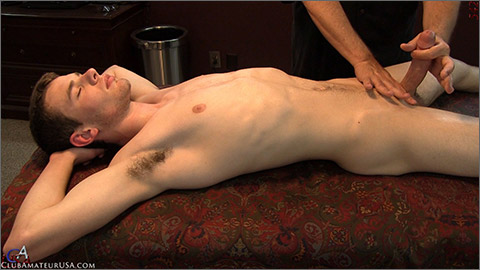 WATCH IT / DOWNLOAD IT NOW AT:
BADPUPPY / CLUB AMATEUR USA
Part of the BADPUPPY Network.
Extensive Original Video Content for members.
Watch Streaming online or Download for later viewing.
Films are Downloadable and have High Resolution Galleries.