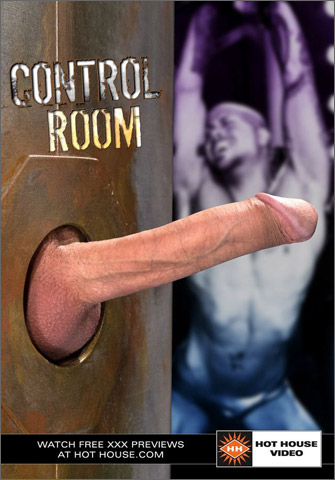 Studio: Hot House Entertainment
Directed by: Christian Owen
Year of Production / Release: 2014
Country of Production: U.S.A.
CAST:
Luke Adams
Dave Circus
Tommy Defendi
Seven Dixon
Sean Duran
Jimmy Durano
Alexander Gustavo
Tony Orion
Adam Ramzi
Marcus Ruhl
Sean XL
INFORMATION FROM HOT HOUSE:
What do you do with a hot muscular stud with a bad attitude? Take him to the Control Room, the ultimate private compound where boys are broken and men are made. Our team of masculine doms put each boy through the paces on his way to being the perfect sub. Whether forced to suck every dick through the glory hole or endure the relentless drilling from a fuck-machine, these subs learn beyond a shadow of a doubt who's in charge in the Control Room.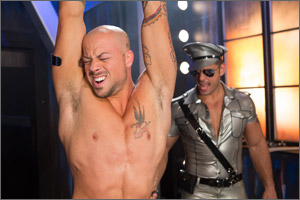 SCENE 1: Marcus Ruhl fucks Sean Duran
Sean Duran has a problem with authority so he's sentenced to the Control Room where Marcus Ruhl teaches him to respect a man in uniform. Officer Ruhl secures Duran in shackles hanging from the ceiling and flogs the arrogant young stud until he begs for mercy. Ruhl frees Duran but the training session is far from over. He forces Duran onto his knees and shoves his thick cock down his throat. Duran seems to enjoy getting his face fucked so Ruhl decides to step up his game. He pushes the tattooed young stud onto his knees and spreads his ass cheeks. He lubes up Duran's tight hole with his hot mouth and tongue then stands up and slams his cock in his ass. The more Duran complains the harder Ruhl fucks him until Duran finally surrenders by shooting his load all over his own rock-hard abs. Satisfied that Duran has finally learned his lesson, Ruhl pulls out and jerks a wad out of his cock.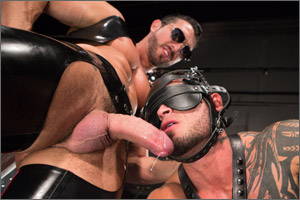 SCENE 2: Jimmy Durano fucks Seven Dixon
It takes a bad ass to break a bad ass. That's why when Seven Dixon came to the Control Room for some pig training we called in Jimmy Durano, a muscular Latino top knows how to make a man submit. Shackled and blindfolded, Dixon kneels in a prone position, completely blind to what awaits. Durano enters wielding a heavy steel fuck-rod, orders Dixon to spit on it, and shoves the fat end directly in to the helpless bottom's hole. The twisted top stretches Dixon's butthole then gets on his knees to eat out the pink meaty center. Durano rims the muscular ass then stands up and orders Dixon to suck his fat uncut cock. He blindly follows order only to have Durano grab his head and fuck his face until Dixon gags on the giant rock-hard tool. In a final act of dominance Durano mounts Dixon and shoves his cock deep in the stud's ass. Dixon finally succumbs to the training by begging Durano to pound him harder until he shoots his load. Durano feeds Dixon his own cum then jacks a load all over Dixon's face mask.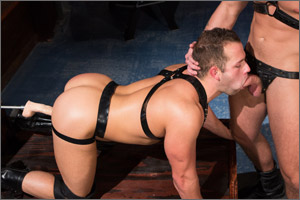 SCENE 3: Dave Circus fucks Luke Adams
Luke Adams has been resistant to getting fucked in the ass so his new dom-top boyfriend brings him to the Control Room for some hardcore bottom training. Supervisor Dave Circus hooks Adams up to one of the club's notorious fuck machines, flicks a switch, and the relentless ass-pounding begins. A metal rod with a huge dildo secured on the end drills Luke's hole incessantly, gradually picking up speed until the young stud nearly passes out from the non-stop butt-fucking. When Luke turns to beg his captor for mercy he discovers that Circus has been observing the entire ordeal stroking on his own fat uncut cock. Adams summons him over and takes Dave's cock in his mouth, moaning at the pleasure of having both holes filled. Circus orders Luke off the fuck machine so he can take over. He shoves his cock in Adam's pre-stretched hole and completes the training session by spraying his hot cum all over Luke's big round ass.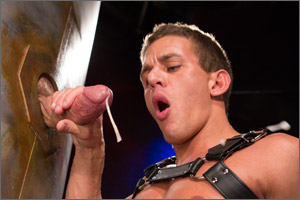 SCENE 4: Alexander Gustavo
Alexander Gustavo has been sentenced to the Control Room to master the art of giving head. He's been taught that it doesn't matter what the dick is attached to, as long as it's huge. He also knows that a true cocksucker never uses his hands and always swallows the entire cock to the base. The lesson begins when the young hunk gets on his knees before the glory-hole chamber and receives his first cock, an 8′ long, thick circumcised beast with huge balls. Gustavo takes the fat dick in his mouth immediately bobs his head up and down until the monster reaches it's fully hard 8′. Alexander licks up and down the shaft paying close attention to the goat nuts swinging through the glory hole. Gobs of thick spit gush out of his mouth, coating the cock and causing the mystery man inside the chamber to moan as he busts his load. As soon as cock #1 disappears through the hole cock #2 slides out, a shocking 10′ snake that slides down Gustavo's throat. This one proves to be more of a challenge, being one of the biggest cocks that Alexander has ever attempted to deep throat. After much gagging he succeeds, bringing his unknown friend to a gushing orgasm. Alexander begs for more as cock #3 appears, this one almost too big around to actually fit through the glory hole and as long as the ones before it. Gustavo rises to the challenge, giving his juiciest deep-throat blow job yet. The cries of ecstasy echo in the chamber as cock #3 blows – covering Gustavo and the camera lens with thick hot cum.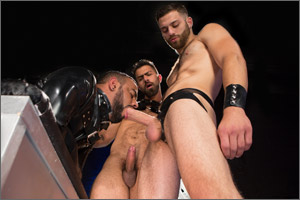 SCENE 5: Adam Ramzi, Tommy Defendi & Tony Orion
Tony Orion learns one of the hardest lessons in the Control Room: restraint. The greedy stud lies on his stomach in a full latex straight jacket begging for cock. Adam Ramzi steps up, whips out his perfect prick, and shoves it down Orion's throat. At first Orion seems satisfied but before long he's crying out for more dick. That's when horse-hung Tony Defendi answers the call. The aggressive top literally pummels Orion's face with his massive tree trunk-like cock. Even though he's gagging on the giant meat Tony begs for more so Adam slides his big cock right up alongside Defendi's dick. Even with a mouthful of two thick cocks Orion begs for more so Defendi and Ramzi pull out and leave him with none. To further torment his captive, Defendi spits on Orion and turns his full attention to Ramzi. He eats the stud's ass, sucks his cock, then rams his 10-incher deep in his hole. The fucking continues until Ramzi shoots his load followed by Defendi who pulls out and blows a massive spray of thick white cum all over Ramzi's chiseled abs.

WATCH IT NOW / MORE INFO AT:
HOT HOUSE & HOT HOUSE BACKROOM
Hot House Backroom Members can see this film anytime online.
With extensive additional photography from every scene.