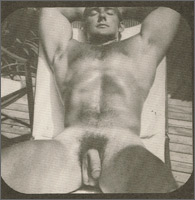 Studio: Rip Colt
Directed by: COLT Studio (8mm)
Year of Production / Release: 1971
Country of Production: U.S.A.

CAST:
Dakota
ADDITIONAL COMMENTS:
COLT Studio members can watch this presentation online.
INFORMATION FROM COLT STUDIO:
This is an informal film of one of the most popular models the COLT STUDIO has ever worked with. The footage was shot on Fire Island, the mood is casual and lit with the warmth of summer. Summer becomes the people like Dakota who wear nudity like a royal mantle. To the ancient Greeks, a paean was the name given to a hymn offered to Apollo- and that, in essence, is the idea behind this film. Can we help it if it comes out sexy!
AVAILABLE ON THESE COLT COLLECTIONS:
DVD: BEST OF COLT FILMS 7 & 8
VHS: BEST OF COLT FILMS 8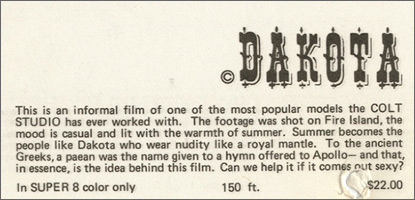 MORE INFORMATION / WATCH IT / BUY IT (if available) : COLT STUDIO