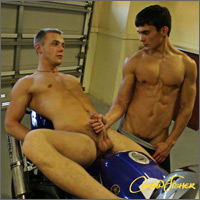 Studio: AmateurCollegeMen.com
Directed by: Corbin Fisher
Year of Production / Release: 2006
Country of Production: U.S.A.

CAST:
Cody
Dawson
ADDITIONAL COMMENTS:
On-Line Only Presentation with Full Photography Galleries.
Members Can Download the Film Presentation.
INFORMATION FROM CORBIN FISHER:
I think that one of the best ways to get some great chemistry going between two guys is to find something they really have in common and give them the opportunity to bond over it. It really helps the shoot move along and really helps things max out on the hotness scale when two guys click and are not only comfortable with one another, but totally dig eachothers' company.
   Knowing that both Dawson and Cody have a thing for sportsbikes, I decided that shared interest would offer up a great chance for the guys to get to know one another and ease right into some hot-as-hell sex. It'd been awhile since Cody had done anything with another guy, and Dawson had only just bottomed for the first time. So it was a pretty big deal for both of them to be paired up with another stud, and assuring some real chemistry was extremely important to me, as well as them, no doubt.
   Thankfully, it worked out great. The guys clicked pretty quick, once they each realized that they were in the company of someone they really had a lot in common with – not just the affection for sportsbikes, but always being on the hunt for hot chicks, equally into body building and weight lifting.
   It worked out so well, in fact, that Cody caught me off guard with how eager he was. He's really come out of his shell since he first started showing himself off for us, and I think he's come to genuinely appreciate just how good another guy can make you feel. Certainly, Dawson's also come to really appreciate that, and both of these ripped hotties jumped right into having at one another.
   Tons of hot muscle worship, sucking, licking and rimming take place… and they're still in the garage! Filming this made me wish I was a sportsbike, with Dawson sprawled over me while receiving a royal tongueing from Cody. Could the whole set up have possibly oozed more testosterone, two muscular studs going at it all over a powerful motorcycle?
   By now, we just had to get these scene up into the bedroom. With both Dawson and Cody so boned and rearin' to go, I gave my super-skilled directorial commands, perfected through years of filming young studs having at one another: "Just FUCK!"
   And that's exactly what they did, practically ignoring the fact that I was in the room at all and getting into it so fast and so eagerly that they proceeded to do something that has never, ever been done on CF before. It blew me away while I stood there holding the camera, and I – more than I've ever been since starting this site – was completely blown away.
   You'll have to check it out to know what I mean, but I'm sure your eyes will pop out of your head just as mine did!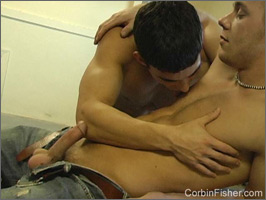 TO VIEW THIS NOW… GO TO: CORBIN FISHER