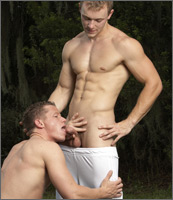 Studio: AmateurCollegeMen.com
Directed by: Corbin Fisher
Year of Production / Release: 2008
Country of Production: U.S.A.

CAST:
Cooper
Dawson
ADDITIONAL COMMENTS:
On-Line Only Presentation with Full Photography Galleries.
Members Can Download the Film Presentation.
INFORMATION FROM CORBIN FISHER:
I'd hoped that Cooper would come to really enjoy having sex with another guy, and this video with Dawson is really the one where he clearly finds himself more into it than I think he ever suspected he'd be!
   If there's one thing a lot of these straight guys definitely share, it's an appreciation for one another's physiques. For many of them, sex with another guy would never even cross their minds. Despite that, however, I think they can often look at another good-looking, buff guy and recognize the fact that they're built, hot, and impressive physically. That's evident at the outset of this video, as Cooper seems truly fascinated by Dawson's muscles. Right at the start of the video, Cooper clearly wants to touch, kiss, and feel up Dawson's biceps. The look on his face is pretty priceless, as he just can't seem to look away from or let go of them!
   Both Dawson and Cooper seem to have a lot of fun with each other's bodies. Their hands are all over one another, they kiss, they lick, and they flex a bit here and there to not only show off a bit, but also get one another to flex as well.
   The fact that they're so into one another's bodies is evident in a more obvious way, as well! Both of these guys are soon as hard as I think I've ever seen them! As they rub their dicks together and do a bit of sword fighting, they're as turned on as can be!
   Dawson manages to amp things up even more as he turns Cooper around and starts to prep his hole with his tongue. If there's one thing straight studs need to have the privilege of experiencing more often, it's getting rimmed! Dawson's tongue really does the trick and when it comes time for him to slide his dick in to Cooper, Cooper's as ready as could be!
   The hard-ons don't let up at this point, either! If I thought Cooper was hard earlier while he and Dawson were rubbing their dicks together, he was really hard while on his back and getting fucked! Sometimes, when a guy is getting fucked, I'm standing there filming it and thinking to myself, "I wonder if he's going to be able to cum like that." In the case of Cooper in this video, though, I was standing there thinking, "He is absolutely, totally going to blow his load soon!" Sure enough, he does just that! Further, Dawson continues to treat Cooper to some hot fucking even after Cooper's shot his load! Cooper's ass must have felt great, too, as Dawson ends up firing off a load that totally drenches Cooper's abs in cum!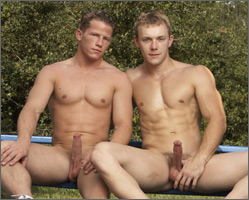 TO VIEW THIS NOW… GO TO: CORBIN FISHER