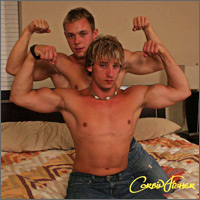 Studio: AmateurCollegeMen.com
Directed by: Corbin Fisher
Year of Production / Release: 2006
Country of Production: U.S.A.

ADDITIONAL COMMENTS:
On-Line Only Presentation with Full Photography Galleries.
Members Can Download the Film Presentation.
INFORMATION FROM CORBIN FISHER:
Well you knew this one was coming! After round 1 of what could very well be called "CF's Clash of the Titans" when Lucas fucked Dawson after their motorbike fun, it would simply not have been fair to either of them, all of us, or karma in general to not have Dawson fuck Lucas!
   One of the many things I absolutely love about these guys is that they're both so insanely hot to look at, yet also really know how to put on a great show and have fun. Their appeal goes way beyond just looks, as in the sack they're intense, expressive, and really go at what they're doing with endless energy and enthusiasm.
   This video is no exception as the guys start off on the bed making out and feeling each other up. Both guys are completely turned on by being paired up with another guy whose body is as chiseled and flawless as their own, and each of them are fully aware of just how much fun they had the first time they were teamed up together. Dawson has Lucas moaning, groaning and writhing around the bed as he sucks his cock, works the head, and then tongues and fingers his tight hole. I was sure to get up close and personal for some hot shots of Dawson's finger sliding into Lucas' tight ass. You can see just how tight it is and can't help but wonder just how Dawson's dick is going to fit in there! It's been awhile since Lucas has been fucked, and so Dawson makes sure he spends plenty of time prepping that hole and getting Lucas really eager for it!
   Lucas' noises and expressions while having his hole prepped for Dawson's cock are priceless, but they're nothing compared to the noises he makes and his facial expressions once Dawson's hot cock slides into his ass! Lucas is rock hard while on his back, legs up, with Dawson slowly sliding his dick in deep! I was scrambling around the bed holding the camera every which way to make sure I was getting shots not only of Dawson's cock stretching that ass, but also of the guys' facial expressions throughout it all! There were countless points during this video where I thought to myself "Ok… THIS will be the image that makes the viewers shoot their loads!"
   As Dawson drills Lucas on his back, then on his side, then lies back to have Lucas ride his cock, the interaction between both of these studs is so incredibly hot! Wrapping their limbs around one another, kissing and licking each other over and over, and each one leaving no doubt with the expressions on their faces that it all feels so incredible has the mercury shooting through the roof.
   Finally, Lucas can't hold back any longer and while sitting on Dawson's cock, is driven over the edge to a powerful orgasm. His muscles were contracting so tight and his body stiffened up so much as he approached climax that Dawson's cock gets pushed out of his ass when Lucas fires off his load! And Dawson's orgasm? Wow. Sitting back against Lucas' ripped chest, with Lucas' strong arms stroking Dawson's steel hard dick, Dawson shoots a huge load that seems like it's never going to quit! He's spurting cum every which way at the hands of Lucas' expert hand job. And as if they hadn't cranked the hotness factor up enough as it was, even the image of the two of them, soaking in that post-orgasmic bliss, Dawson leaning back against Lucas, is painfully hot in and of itself! These two young studs are a pair of CF's finest, and they most certainly don't disappoint!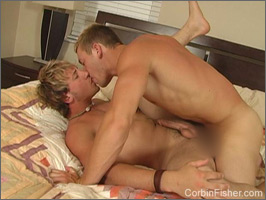 TO VIEW THIS NOW… GO TO: CORBIN FISHER