Studio: Falcon Studios
Directed by:
Year of Production / Release: 2010
Country of Production: U.S.A.

CAST:
Jake Austin
Robert Axel
Rod Daily
Topher DiMaggio
A.J. Irons / AJ Irons
Brandon Lewis
Parker London
Tucker Scott
SCENE 1: Parker London fucks Jake Austin
SCENE 2: Topher DiMaggio fucks AJ Irons
SCENE 3: Brandon Lewis fucks Tucker Scott
SCENE 4: Robert Axel fucks Rod Daily
ADDITIONAL COMMENTS:
Falcon Members can watch scenes from this Release anytime online.
DVD Releases debut online prior to DVD Release.

THIS PREVIEW CONTAINS ADULT SEXUAL CONTENT


FROM THE FALCON WEB SITE:
Swimming in oceans of macho bravado leaves these 8 horny studs dripping with a lot more than they bargained for. They quickly find that it's hard coming up for air when they're hungrily diving through testosterone-filled waves of virility and happily drowning in each other's muscled flesh. No timid minnows nibbling about with this crowd; but real fierce sharks showing how tough and rewarding manlove can be.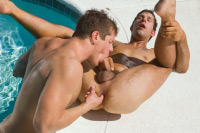 SCENE 1: Parker London fucks Jake Austin
Stretched out and soakin' up the sun, Jake Austin is rousted from relaxing, targetted by hunky Parker London who playfully spritzes him with a water gun. They both burst into smiles as Parker douses his buddy's crotch to reveal the big salami screamin' to surface from the snug wet briefs keeping it down. And Jake's pretty much impressed with the equally hefty bulge Parker's sportin'. He fishes it out and sucks it down hungrily. Then the big guy takes his turn tootin' on Jake's meat whistle. He also plays with the brunet's asshole, rimming and poking a couple of fingers inside to prep it for the big fuck he's got planned. First laying back with his legs spread wide apart and then while standing up and bent forward, Jake moans and groans as Parker drills his ass relentlessly. They finish with Jake riding Parker's porker until both men explode with geysers of cum.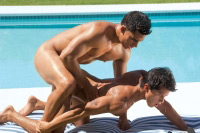 SCENE 2: Topher DiMaggio fucks AJ Irons
Topher DiMaggio drifts in a pool of clear blue water, lost in dreamland, as AJ Irons watches from the side. AJ is so smitten with the sexy seagod that he dives in and swims towards the rubber float. He immediately pays homage by wrapping his lips around Topher's thunderstick and sucks away. Then the two trade roles with AJ relaxing poolside and exposing his cock for Topher to guzzle down. Topher's got AJ crooning and sighing as he plays with his pal's bunghole, sliding a couple of fingers inside to prime it for action. AJ declares his hole is hungry and crying to be fed and Topher complies, slamming his cock in hard and fast. After a steady series of thrusts inside AJ's wrinkled crinkly, both guys step back and stroke themselves off to finally climax and cum.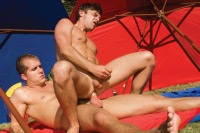 SCENE 3: Brandon Lewis fucks Tucker Scott
Brandon Lewis and Tucker Scott are dripping wet as they scamper through the sprinklers. They get real frisky once they start sucking face and Brandon ratchets up the action by quickly sucking his sidekick's cock. Brandon feels Tucker's 'lil fucker growing to its full erection as he nurses on it; it excites him so much that when they trade off, his prick is already thick and engorged. Tucker almost gags on Brandon's big banana but manages to suck it up like a real man. Then young Tucker spreads Brandon's sweet cheeks apart so he can jab his tongue deep inside the bunghole to rim it good. He next plants himself atop Brandon and skewers himself onto his stiff cock. They both grunt with pleasure as they fuck non-stop in a series of different poses. Soon neither can hold back any longer and they both finally ejaculate all over.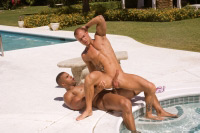 SCENE 4: Robert Axel fucks Rod Daily
Robert Axel is a mountain of a man anyone would want on their lips and lucky Rod Daily gets first crack at the bronzed behemoth. Soaking in their pool of love, the two studs make out. Rod opens wide and goes on to feed on Robert's meaty axle, letting his lips slide over the mushroom tip and up and down the thick shaft. Then he bathes the hunk's asshole with lingering tongue laps. Robert gets his chance to play with Rod's big rod, sucking on its solid hardness. He next shows how good a rump ranger he is as he fucks Rod up the ass. They rock back and forth, pole in hole, until they switch roles and Rod turns into an equally eager ass puncher, ripping up Robert's tight manhole. Ready to bust their nuts, Rod sucks Robert's cock one last time until the big guy oozes jism all over; and Rod follows up with his own milky shower of cum.

WATCH IT OR GET IT NOW AT: FALCON STUDIOS