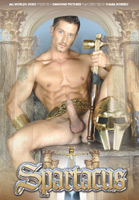 Studio: All Worlds / Diamond Pictures
Directed by: Csaba Borbely
Year of Production / Release: 2005
Country of Production: Hungary

CAST:
Claudio Antonelli
Kevin Cage
Marco Sanchez [Marko Hansom]
Dick James
Antonio Martinelli
Rogerio Mateo
Mario McCabe
Helmut Müller
Gerry Preston
Evan Rochelle
Austin Rogers
Glenn Santoro [Glen Santoro]
FROM THE LINER NOTES:
As gladiators fight for their life in the arena they have the time of their lives fucking, sucking and worshiping each other's well trained bodies in the catacombs beneath the arena.
   Glenn Santoro as Galius and Kevin Cage as Cirxus return from a fight in the arena knowing that the life of a Gladiator is a short one and they decide to indulge in one another's massive muscular bodies. The two studs worship one another's hard cocks until Glenn gives up his ass for Kevin to impale with his rock hard cock.
   All of the fucking wakes up Marco Sanchez as Ramon who decides he wants a shot at Glenn's ass when Kevin has finished fucking him. Glenn is still horny and decides to start things off sucking Marco. After exchanging hot blow jobs Glenn throws his legs in the air to show off his freshly worked over hole. Marco teases it with a finger before burying his cock deep inside Glenn, pounding him over and over until the boy nut.
   In another part of the underground catacombs beneath the arena, Cornelius Lucius (Austin Rogers), who was banished by Caesar finds a way to keep himself busy my servicing three masked guards. The guards take turns feeding Cornelius' voracious appetite for cock until they blow their loads all over him.
   In their cells Marco Sanchez as Ramon, Garry Preston as Gannicus and Rogerio Mateo as Pollymus are restless. Marco and Garry start things off sucking one another in their cells and when Rogerio gets turned on by the action Marco backs his ass up so Rogerio can fuck in through the cell with his long thick cock. Before the three way is over Garry gets a chance to pound the cum out of Marco as well.
   Meanwhile Dick James as Draba is getting serviced by Evan Rochelle as Marcellus and Mario McCabe as Maecenus. Helmut Muller as Varinius sees the hot action and decided to get in on it. The guys end up pairing off with Dick and Evan fucking Mario and Helmut until all four of them unleash massive loads on one another.
   In the end Claudio Antonelli as Spartacus is joined by Antonio Martinelli as Darius waiting for their time in the arena. Claudio proves he is the toughest of all of the gladiators as he surrenders his body to Antonio who has his way with him fucking him in all kinds of positions until Claudio explodes from all of the pressure built up inside of him.

GO TO: CHANNEL 1 / ALL WOLRDS
WATCH IT NOW AT: MalePPV / AEBN