Studio: Falcon International
Directed by: Rolf Hammerschmidt
Year of Production / Release: 2008
Country of Production: Czech Republic

CAST:
Tommy Adon
Enzo Bloom
Jacques Brière
Sascha Chaykin
Kurt Diesel
Dario Dolce
Kevin Elola
Jerry Harris
Jason Knightley
Marlon Moreno
Boris Sacharov
Marek Schneider / Phil Sardou
Paul Valery
Mark Vernon
ADDITIONAL COMMENTS:
Falcon Members can watch scenes from this Release anytime online.
FROM FALCON STUDIOS:
The street is dark; the night promises excitement; and the hungry young men are out prowling for fun – a perfect setting for the choreography to begin. Slyly and confidently they perform their ritual mating dance looking for the right partners, the right chemistry – just to get laid. What a thrill to catch someone's eye, someone's fancy; someone receptive to indecent proposals.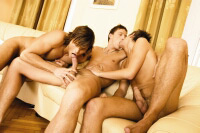 SCENE 1:
Manuel (Sascha Chaykin) treats Mischa (Kevin Elola) and Kevin (Jacques Briere) to a bottle of champagne. It's big, bubbly and ready to pop – just like the three of them. The boys smother each other with tender kisses, intense cocksucking, assplay and two-on-one fucking – pulling out all the stops until they finally pop their wads.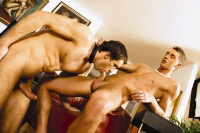 SCENE 2:
Marcel (Enzo Bloom) is excited making an online connection for hot manaction and Didi (Phil Sardou) responds accepting his proposal for a sure thing. He arrives and the two immediately jump each other and carry out the promised transaction, sucking cock, fucking assholes, and eating each other's jism.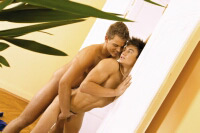 SCENE 3:
Kurt (Kurt Diesel) travels the sensuous terrain of Didi's (Dario Dolce) body with grabby hands and tongue before fucking his hole. The action gets hotter as Didi sucks Kurt's rod and swallows his cum. This scene is beautifully shot and the split screens highlight the intense manplay, offering different angles of two men in ecstasy.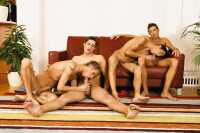 SCENE 4:
Harry (Paul Valery), Frank (Jason Knightley), Henry (Marlon Moreno), and Claudio (Tommy Adon) are so horny they can't wait to get things started. Intense cocksucking leads to a game of rock-paper-scissors to determine who's gonna get fucked. They partner up and screw hard and fast. Then they switch and fuck some more until taking turns to shoot their loads.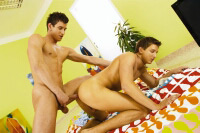 SCENE 5:
Karol (Jerry Harris) and Lukas (Mark Vernon) are drowning in a sea of mansex with non-stop fucking and sucking. The passion is so hot, it's palpable; the tension so fierce, it's breathtaking. Every move is recorded and televised on screen, doubling the visual pleasure and intensifying the action of two men awash in wave after wave of ecstasy.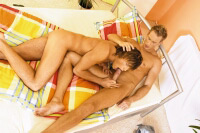 SCENE 6:
Kevin (Jacques Briere) propositions Marco (Boris Sacharov) with the promise of a wild ride. He gobbles up his cock, nurses on the rigid stick like a suckling pig, then offers his hole for him to fuck. He takes Marco's load, swallowing the mancream and then Marco reciprocates by sucking Kevin off and eating his cum with gusto.

WATCH IT NOW AT: FALCON STUDIOS