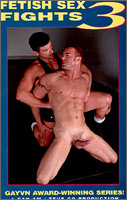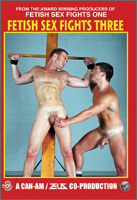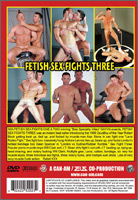 Studio: Zeus Studios
Directed by: Daddy Zeus
Country of Production: U.S.A.
Year of Production / Release: 2000

CAST:
Robert Black
Will Clark
Andrew Lennox
J.T. Sloan
Dean Spencer
Alex Stone
ADDITIONAL COMMENTS:
ZV1098: FETISH SEX FIGHTS 3
INFORMATION FROM ZEUS STUDIOS / CAN-AM PRODUCTIONS:
With FETISH SEX FIGHTS ONE & TWO winning "Best Specialty Video" GAYVN awards, FETISH SEX FIGHTS THREE was an instant best seller introducing the 1999 Zeusboy of the Year Robert Black getting beat up, tied up, and fucked by muscleman Alex Stone in sex fight one "Levis Rodeo Fight." Sex fight two: massively hung Andrew Lennox ties up, beats up, and fucks London's hottest bondage boy Dean Spencer in "London vs Sydner/Rubber Rumble." Sex Fight Three: Popular porno muscleboys Will Clark and J.T. Sloan dirty fight it out with J.T. beating up, tieing up, head shaving, and victory fucking Will Clark. Multiple gear, Levis, rubber, bondage, six very hot muscle studs, three individual sex fights, three victory fucks, and multiple cum shots. Lots of very sexy muscle hunk action.
TLA REVIEW:
I must say this is the best offering I've seen from Can Am/Zeus, and should please both the fetish and hardcore sets of fans (not to mention the GayVN judges, who awarded the first entry). They've come a long way since those cockamamie blue-clamshell packaged releases starring third rate, borderline roid-retards with 80's hairdon's.
   Here we've got a great A-list porno cast of hot, and buffed (all-white) guys grapplin, rasslin' and going all the way.
A match between juicy-dicked Lennox and Spencer leads the way, both donning sexy latex duds and work boots. After a brief bit of restraint action (is that a contradiction?), the two match up, hit the floor in a rassle and proceed with some pec slapping, ass eating, cock sucking, and a crownin' fuck.
   Our second couple – Sloan and Clark – get physical, donning gym-themed outfits and white sneakers. They work out (and work out and work out judging from their present builds), rassle, and then out come the buzz clippers. Following a haircut, an ass is reamed.
   More goodness follows with our final pairing, a butch clone segment (tank tops, jeans, and shit-kickin' boots) involving rope and a whole lot of roughhousing. Bonus points go to the filmmakers for eroticizing condoms and safer sex, not to mention leaving out stupid music once the action starts.
   It's good to be bad – especially with this talent and at over 100 minutes!

AVAILABLE FROM: TLA VIDEO
GO TO: ZEUS STUDIOS / CAN-AM