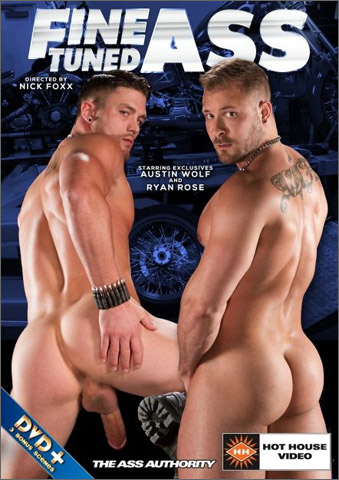 Studio: Hot House Entertainment
Directed by: Nick Foxx
Year of Production / Release: 2015
Country of Production: U.S.A.

CAST:
Chris Bines
Armando De Armas
Chris Harder
Aaron Reese
Colt Rivers
Ryan Rose
Austin Wolf
INFORMATION FROM HOT HOUSE:
The 'FINE TUNED ASS' at this motorcycle shop gets revved up by the hot mechanics and sexy customers. All of them want something powerful between their legs, and in 'FINE TUNED ASS' director Nick Foxx directs eight amazing studs who deliver on all cylinders. These horny, sweaty men with big boy toys go all-out at the chop shop and fulfill their desires with hot sopping blowjobs, supercharged rim jobs and ride after ride on rock hard hot rods. Mechanic Austin Wolf services Ryan Rose's ass-of-perfection and pumps his pistons hard. Armando De Armas takes Chris Bines asshole on a ride it will surely never forget. Aaron Reese finds some special tools and toys to finely tune Colt River's intake and prep his fine ass for a high-RPM pounding. Chop shop customer Chris Harder comes in right at closing time and gets filled up by Armando De Armas, who delivers his uncut crank shaft into Chris relentlessly. 'FINE TUNED ASS' comes at you full speed, and it will have you wanting to jump on a hot rod, ride it hard and cum big.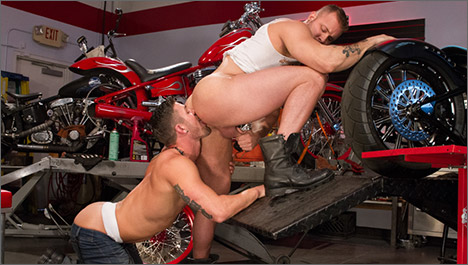 SCENE 1: Austin Wolf fucks Ryan Rose
Hot House Video Working at the motorcycle shop, handsome stud Austin Wolf is distracted by stunning Ryan Rose's tasty bubble butt. Ryan's tempts Austin while he's bent over working on a bike, and Austin wants it! With a bulging hard on, Austin can't hold back any longer. He seizes the opportunity, moving over to grab more than a handful of Ryan's delicious ass. The look on Austin's face lets Ryan know he's in charge. Taking the cue, Ryan slurps up Austin's cock into his hot wet mouth, swallowing deep and servicing Austin fully. Austin wants Ryan to have some of his amazing ass too, and he guides Ryan's head to deliver Ryan's tongue deep into his hot hole. Revved up from the oral prowess of Ryan, Austin returns the favor by laying Ryan across a workbench and devouring his juicy center, lubing it up for a hard hammering. With an intense need to drill Ryan, Austin slides his throbbing cock into Ryan's tight, eager ass. They work each other hard, finding the best ways to satisfy each other ending up with Austin railing Ryan hard until he shoots a load all over his gleaming abs. Head back and twisting on his wired nipples, Austin finishes himself off with a warm load covering Ryan's smiling face.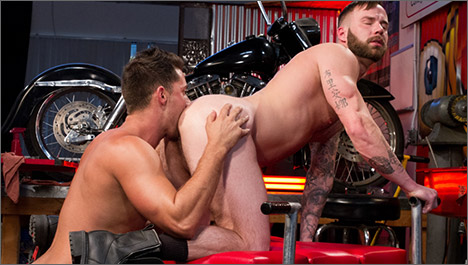 SCENE 2: Armando De Armas fucks Chris Bines
Hot House Video No time is wasted when stunning Armando De Armas walks in on athletic Chris Bines cleaning his hot rod. Chris immediately falls to his knees and enthusiastically sucks Armando's thick beefy cock while he spreads Armando's cheeks far apart playing with his hole. Unable to contain himself, Armando bends Chris over so he can get at Chris' hairy ass and hot hole. Armando continues to tease and heat it up, as if he was daring Chris to beg for his dick. It's not long before Armando is deeply probing his cock in Chris' ass, and Chris is loving it. Greedily willing to take every last inch of Armando's hard, uncut cock, Chris wants more. Armando vigorously fucks Chris' tight ass all over the shop until Chris oozes his juices out onto the floor, which revs up Armando to shoot his load onto Chris' bare and stretched hole.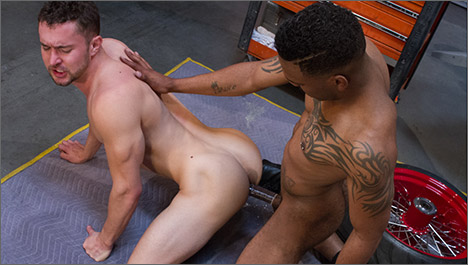 SCENE 3: Aaron Reese fucks Colt Rivers
Hot House Video Colt Rivers is busy tuning up his bike, but Aaron Reese wants to take him for a different kind of ride. Sucking Aaron's hung uncut cock and playing with his own asshole is only the beginning for Colt. Aaron finds a few nice tools in the shop that are a perfect fit for Colt's eager ass. After that, it's game on! These grease monkeys get grimy as Aaron fucks Colt on the chop shop floor in every position that hits Colt's spot. With Aaron's entire huge cock sliding in and out of him, Colt can't hold back any longer and squirts his cum all over his smooth ripped stomach. Fully satisfied, Colt offers up his face as a target for Aaron to shoot his massive thick load!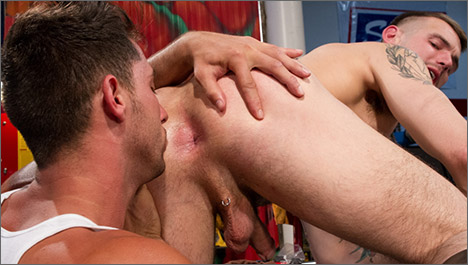 SCENE 4: Armando De Armas fucks Chris Harder
Hot House Video Armando De Armas is cleaning his tools and closing up shop when power bottom, Chris Harder walks in. The work on Chris' bike isn't done, so he wants Armando to work on something else. Eagerly descending down on his knees, Chris offers his throat for a messy, wet blowjob while Armando fingers his tight pink ass and pierced taint. Rimming is taken to another level when Armando pushes Chris' legs up past his head to give him a heated rim job with plenty of spit for lube. Unable to resist the teasing from Armando's tongue and fingers, Chris lays back, props a leg up on Armando's shoulder, and takes every last inch of Armando's thick, uncut cock as he pounds him. Loving the pounding he's taking, Chris rides Armando's dick and has his built up load literally fucked out of his throbbing rod. After he shoots, he falls to his knees again and begs Armando 'give it to me' letting him shoot a hefty, spunky load into his mouth.
Categories: Anal Sex, Ass Shot, Big Cock, Buttplay, Cumshot, Hairy, Interracial, Jockstrap, Kissing, Muscle Men

WATCH IT NOW / MORE INFO AT:
HOT HOUSE & HOT HOUSE BACKROOM
Hot House Backroom Members can see this film anytime online.
With extensive additional photography from every scene.