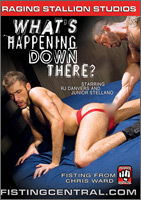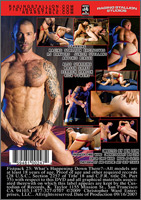 Studio: Raging Stallion / Fisting Central
Directed by: Ben Leon
Year of Production / Release: 2009
Country of Production: U.S.A.

CAST:
Antonio Biaggi
R.J. Danvers
Mason Garet
Derrick Hanson
Rick Powers
Junior Stellano
INFORMATION FROM RAGING STALLION:
Chris Ward here, President of Raging Stallion Studios. I am really excited to announce the release of a great new fisting film entitled "What's Happening Down There?" It was directed by our very own award- winning director, Ben Leon. This movie is an excellent addition to our library of uncensored, controversial ass-play movies and it boasts some of the best men and finest footage we have ever filmed.
   I am releasing this movie directly to our mailing list before we send it to the general market because it's a limited release DVD. Because of the recession, we are only going to produce a limited number of discs, so when they are gone you will no longer be able to get this film in DVD format (you will eventually be able to see some of the scenes on our website, FistingCentral.com in mid-2011). This offer is your best chance to get this movie this year.
   It's hard to know where to begin to describe this film. I guess the best place to start is with the scene between RSS exclusives Junior Stellano and RJ Danvers. Many of you have seen RJ in some of our mainstream movies (he really shined in To The Last Man). The other day RJ came by my office and said "I got a surprise for you!" He let me know that he had turned into a power fisting bottom virtually overnight! Guys, I have to tell you that RJ follows in the footsteps of one of my all time favorite fisting actors, Mark Evrett (who I saw yesterday on the street! He says hello to all of his fans.). Like Mark was when he first did porn, RJ is in his early 20s, hairy, and his whole life is focused on his ass. The line of fisting tops is long at RJ's house, and he lives to have his ass stretched and pounded. Junior Stellano, one of the hottest men in America, also loves ass, but from the "top" perspective. He takes control and gives RJ a royal workout fitting for the first fisting scene for Mr. Danvers. The bottom line this–RJ Danvers is the fisting "discovery" of the year. He is Raging Stallion's top new fisting superstar!
   Next up is a fine scene between Mason Garet and Derrick Hanson, which takes place on a camping trip out in the country. Mason has an itch deep up in his ass–the kind that really needs some serious scratching. Hunting around for something to fist on, they come across a boat on a trailer. What this means for you the viewer, is that they are up off the ground several feet, which makes for excellent angles for our cameras to see every last detail of one of the best fisting scenes of the past several years. There is deep penetration and hardcore punch fisting as these two sexperts show what fine sex is all about. Both Mason and Derrick are exhibitionists in real life and they get off showing you their fisting talents. Scenes are always better when you have real exhibitionists as actors–they are not just here for the money; they are filming for you because they get off on the fact that you are getting off watching them. It's a real connection between viewer and actor and it leads to some of the best sex we film. As Derrick says, "It's like I am having sex with everyone who is watching!" The best thing about this scene is Mason's orgasm. It goes on so long and so intensely, the sperm driven from his heavy balls by a masterful punch fucking that must be seen to be believed! You must see this cum shot
   Finally we get to Antonio "11 inch" Biaggi and appropriately named Rick Powers. We shot this scene in Arizona up on the ranch when we were filming To The Last Man. To the best of my knowledge, this is one of the only cowboy fisting scenes ever filmed. We just hope no one gets too excited about the horses in the back of the scene!
   Speaking of horses (from a "size" perspective), Antonio really enjoys ass play. Carrying around a giant cock all his life has its drawbacks–it's heavy, it demands constant attention, it gets wet when he sits on the toilet, and he has trouble finding studs who can take his tool. You cannot believe how many times Antonio has been frustrated by having a huge cock that no one can take. So of course he gravitates to men who are on the prowl for giant things to stick up their asses. This means that Antonio has gotten a lot of experience with fisting bottoms as they are the only men who he can truly fuck. Rick Powers fits the bill–he can take just about anything and when he saw Antonio up on the shoot, he begged me to put together a scene for the two of them. That is how this footage came to be.
   And it's great stuff — deep fisting that also shows a deep connection between these men. It's a fine fisting scene, shot in a beautiful location.

GO TO: RAGING STALLION'S FILM PAGE FOR THIS RELEASE
GO TO: RAGING STALLION