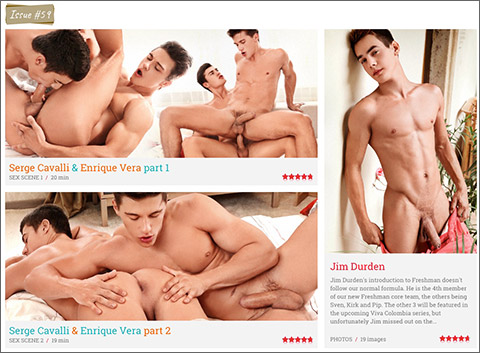 Studio: BelAmi / Freshmen
Year of Production / Release: 2017
Country of Production: Czech Republic

CAST:
Serge Cavalli
Jim Durden
Enrique Vera
INFORMATION FROM BEL AMI:
Serge Cavalli & Enrique Vera – Part 1 & 2
At Bel Ami we often try to pair more experienced models with our Freshmen. In this flip-flop scene Serge and Enrique force us to re-think that practice as they demonstrate that passion, lust and enthusiasm more than compensates for lack of experience. This scene has a genuine sexual drive and both boys give us first-class performances as tops and also as bottoms. Marty, who filmed this scene, was particularly thrilled with the results.
PHOTOS: Jim Durden
Jim Durden's introduction to Freshman doesn't follow our normal formula. He is the 4th member of our new Freshman core team, the others being Sven, Kirk and Pip. The other 3 will be featured in the upcoming Viva Colombia series, but unfortunately Jim missed out on the trip. Today is our 1st look at Jimand you will get to see more of him early next year.

WATCH IT / DOWNLOAD IT NOW AT:
BEL AMI'S FRESHMEN
Downloadable Presentations, with extensive Photo Galleries
One of the Highest Quality Mega sites.