Studio: Lucas Entertainment
Directed by: Adam Killian
Year of Production / Release: 2014
Country of Production: U.S.A.

CAST:
Jed Athens
Alex Greene
Marcus Isaacs
Lucas Knight
Michael Lucas
Derek Parker
BJ Rhubarb
FX Rios
Nova Rubio
Drew Sumrok


INFORMATION FROM LUCAS ENTERTAINMENT:
You know the business meeting just got real when there's full-on "BAREBACKING IN THE BOARDROOM" to consummate a corporate deal! Just ask Lucas Knight, FX Rios, Alexander Greene, and Michael Lucas: all four of these blockbuster porn stars take raw fucking in suits to the next level. And don't forget about Nova Rubio, Drew Sumrok, and Jed Athens: they show the sex-charged hijinks that happen when three hot men are fighting for the same job. Meanwhile, Derek Parker is in charge of an office full of cum-dripping double penetration and bareback ass-fucking with his subordinates Marcus Isaacs, BJ Rhubarb, Nigel Banks, and Comrad Blu!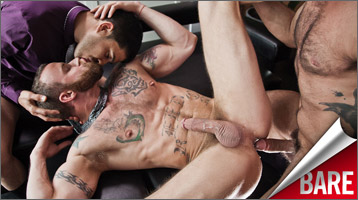 SCENE 1: Derek Parker, Marcus Isaacs, and BJ Rhubarb Fuck Bareback After a Meeting
It's probably hard to get anything done around the office when the guys there look like Derek Parker, Marcus Isaacs, and BJ Rhubarb. Sure, they make sure the office functions good enough, but with someone like Derek Parker in charge, trouble always begins when the day winds down, especially when he grabs BJ's hand and rubs it on his hard-on through his slacks. Derek whips out his cock for BJ and Marcus to suck, and the hotter the action gets the faster their work clothes come off. Rest assured, everyone gets their ass fucked with raw cock, but Derek (the man in power during work hours) gets his banged bareback with two cocks at the same time. Derek sandwiches himself between Marcus and BJ and gets his huge ass pumped without mercy!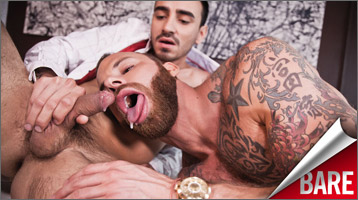 SCENE 2: Derek Parker Fucks Comrad Blu and Nigel Banks Bareback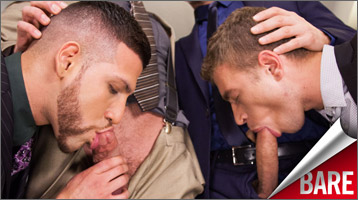 SCENE 3 – RAW BOARDROOM SEX: Michael Lucas, Alexander Greene, FX Rios, & Lucas Knight: Raw Boardroom Sex
This is a meeting that requires all parties present so they can sign on the dotted line. Michael Lucas is in charge of the proceedings, followed by Lucas Knight, FX Rios, and Alexander Greene. Once everyone has signed, it's time to consummate the deal, and that means the subordinates baring their asses for a fucking! FX and Alexander are the clear bottoms in the scene, where Michael and Lucas Knight are on top. Lucas's massive hard-on is a lot to take, but Alex loves bareback sex so he's willing to try anything! But if there's one guy Lucas Knight will bottom for in a gay bareback sex scene, it's Michael Lucas, and he certainly takes it like a champion!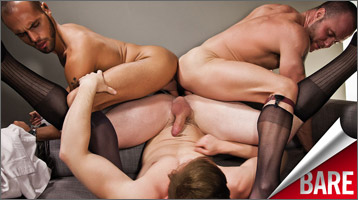 SCENE 4 – BAREBACK DOUBLE PENETRATION: Jed Athens, Drew Sumrok and Nova Rubio
Nova Rubio, Drew Sumrok, and Jed Athens are all fighting for the same white-collar job. Drew is playing it cool but can't help watching Nova and Jed, who say "fuck it" about the job and instead go down on each other. Drew's willpower eventually breaks and he joins in with the fun, sucking off Jed Athens and Nova Rubio, and he certainly gives his jaw a workout in the process. It doesn't take long for the suits to get stripped off and Nova positions himself as the top in the scenario. Jed and Drew are hungry to get their asses fucked with raw cock, but Jed wants a special treat: to take both Drew and Nova's cocks at the same time. And he does — the gay bareback double penetration is not to be missed in this scene!

SEE THIS NOW / MORE INFO:
LUCAS ENTERTAINMENT
Scenes Premier online prior to DVD release and are available to view anytime in the Members Area.
Members can watch scenes from all Lucas Entertainment releases anytime online.