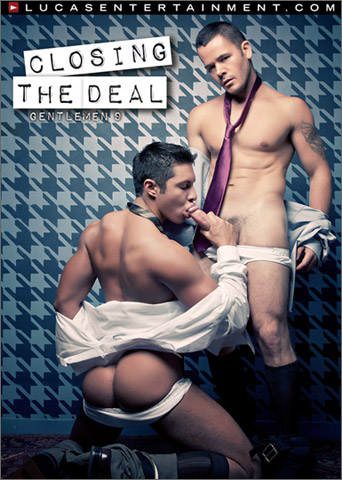 Studio: Lucas Entertainment
Directed by: Christopher Crisco, Adam Killian
Year of Production / Release: 2013
Country of Production: U.S.A.

CAST:
Colden Armstrong
Hans Berlin
Rafael Carreras
Trent Davis
Armando De Armas
Vito Gallo
Angelo Marconi
Valentin Petrov
Sebastian Rossi
Seth Santoro
Sean XL


INFORMATION FROM LUCAS ENTERTAINMENT:
"CLOSING THE DEAL" at Lucas Entertainment means one thing: signing on the dotted line with a pearly white string of hot cum! Valentin Petrov takes advantage of Seth Treston in the boss' office. Trent Davis needs to put in some overtime on Sean Xavier's massive black cock if he's going to earn his promotion. Vito Gallo and Rafael Carreras invade Angelo Marconi's ass after a hard day at work. Sebastian Rossi takes Latin cock from Armando De Armas during his job interview. Sean Xavier and Hans Berlin share the task of training Colden Armstrong. If "Closing the Deal" means sleeping your way through all of the Lucas Men, then who wouldn't want to sign on the dotted line?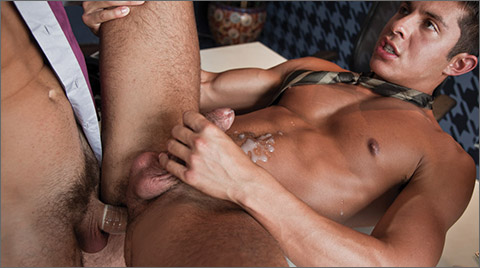 SCENE 1: Valentin Petrov Tops Seth Treston
Seth Treston has traveled all the way from Seattle, Washington to New York City for the internship of his life at a large law firm located in Midtown Manhattan. He's interning for the big boss, Valentin Petrov, and is assigned as many menial tasks as possible. At lunchtime Seth brings Mr. Petrov menus for him to select his lunch, but it's actually Seth who is on the menu. Mr. Petrov pulls down his pants so Seth and eat up his massive, throbbing uncut cock as an appetizer. It's Mr. Petrov's libido that's hungry, not his stomach, so he bends Seth over to eat out his ass before slipping on a condom and fucks the sexy intern deep in his ass!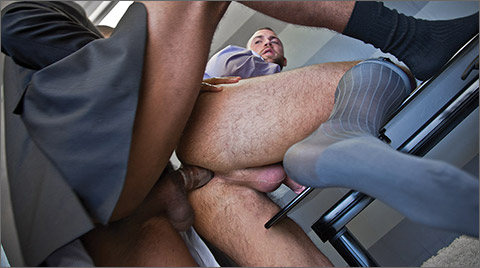 SCENE 2: Trent Davis Services Sean Xavier's Black Cock
Sean Xavier has worked long and hard to earn his position. Being a young and handsome black man, he used all of his assets to earn his position. And now he has Trent Davis to test his corporate power out on. Trent is hungry to be successful, and if that means taking care of all of Sean's needs, he's going to do it. And when Trent sees the massive — and it truly is massive — black dick between Sean's legs, he knows he has a challenge unlike anything he's ever undertaken before. Sean expects expert oral sex follower by an ass that can handle a pounding from his cock. And is Trent is going to make it in life, this is his first true test!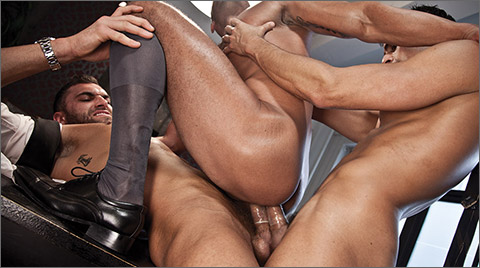 SCENE 3: Vito Gallo and Rafael Carreras Invade Angelo Marconi's Ass
Angelo Marconi and Rafael Carreras traveled all the way to New York City from South America in order to make a business deal with Vito Gallo that will make them all a fortune. But Angelo is a horny son of a bitch who turns the deal into a sexual fantasy by telling the sex-crazed Rafael Carreras that Vito wants to close the deal with some steamy man sex! Vito is taken off guard, but it also doesn't take him much to go with the flow in the end. Angelo and Rafael move in on the tall, sexy Italian top! There's only one problem — Rafael and Vito are both tops and Angelo is all bottom. Okay, maybe it's not such a problem when Rafael and Vito find out they can both fit their cocks inside Angelo at the same time!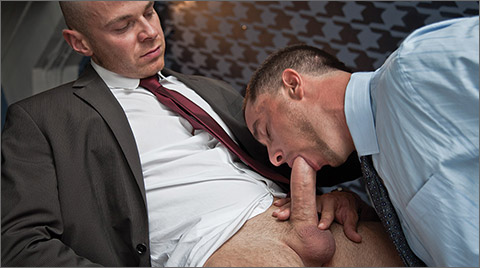 SCENE 4: Sebastian Rossi Rides Armando de Armas' Dick
Armando de Armas is always able to turn a situation to his advantage, and that's even the situation when he traveled to the United States to land a new job. It's no wonder why — he's one of the hottest Latin men we've ever set eyes on! Sebastian Rossi can't keep his eyes off of Armando when he steps into his office, and Sebastian is the guy in charge! Armando needs to win Sebastian over, and he seduces him quickly with his good looks. A business meeting turns into Sebastian sucking Armando's cock before he takes off his slacks and gets on his back. What's Armando to do except grab his legs, slip his cock inside Sebastian, and pump him until he blows his load'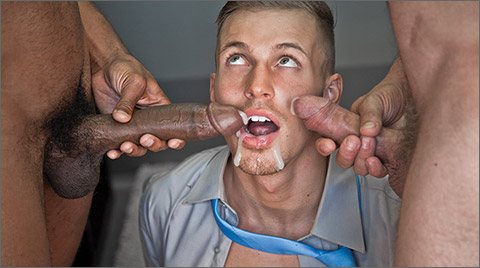 SCENE 5: Sean Xavier and Hans Berlin Train Colden Armstrong's Ass
Sean Xavier returns with his business partner Hans Berlin so they can both use their power over a hapless young man looking for a job by the name of Colden Armstrong. But when Colden realizes what he has to do, he's not upset but excited! Sean has one of the biggest — if not the biggest — cock ever to be scene by the businessmen of Lucas Entertainment, and Hans has a strong body and hot uncut cock that he needs serviced. Sean and Hans both take advantage of Colden and fuck his throat and ass until they shoot their cum!

SEE THIS NOW / MORE INFO:
LUCAS ENTERTAINMENT
Scenes Premier online prior to DVD release and are available to view anytime in the Members Area.
Members can watch scenes from all Lucas Entertainment releases anytime online.
INFORMATION FROM LUCAS ENTERTAINMENT: \u201cCLOSING THE DEAL\u201d at Lucas Entertainment...","image":{"@type":"ImageObject","url":"http:\/\/films.gayeroticarchives.com\/wp-content\/uploads\/2013\/10\/LVP159_2D_front.jpg","width":342,"height":480},"Review":{"@type":"Review","name":"GENTLEMEN 9: CLOSING THE DEAL","reviewBody":"Studio: Lucas Entertainment\nDirected by: Christopher Crisco, Adam Killian\nYear of Production \/ Release: 2013\nCountry of Production: U.S.A. \n\nCAST:\nColden Armstrong\nHans Berlin\nRafael Carreras\nTrent Davis\nArmando De Armas\nVito Gallo\nAngelo Marconi\nValentin Petrov\nSebastian Rossi\nSeth Santoro\nSean XL\n\n\n\nINFORMATION FROM LUCAS ENTERTAINMENT:\n\u201cCLOSING THE DEAL\u201d at Lucas Entertainment means one thing: signing on the dotted line with a pearly white string of hot cum! Valentin Petrov takes advantage of Seth Treston in the boss\u2019 office. Trent Davis needs to put in some overtime on Sean Xavier\u2019s massive black cock if he\u2019s going to earn his promotion. Vito Gallo and Rafael Carreras invade Angelo Marconi\u2019s ass after a hard day at work. Sebastian Rossi takes Latin cock from Armando De Armas during his job interview. Sean Xavier and Hans Berlin share the task of training Colden Armstrong. If \u201cClosing the Deal\u201d means sleeping your way through all of the Lucas Men, then who wouldn\u2019t want to sign on the dotted line?\n\nSCENE 1: Valentin Petrov Tops Seth Treston\nSeth Treston has traveled all the way from Seattle, Washington to New York City for the internship of his life at a large law firm located in Midtown Manhattan. He\u2019s interning for the big boss, Valentin Petrov, and is assigned as many menial tasks as possible. At lunchtime Seth brings Mr. Petrov menus for him to select his lunch, but it\u2019s actually Seth who is on the menu. Mr. Petrov pulls down his pants so Seth and eat up his massive, throbbing uncut cock as an appetizer. It\u2019s Mr. Petrov\u2019s libido that\u2019s hungry, not his stomach, so he bends Seth over to eat out his ass before slipping on a condom and fucks the sexy intern deep in his ass! \n\nSCENE 2: Trent Davis Services Sean Xavier's Black Cock\nSean Xavier has worked long and hard to earn his position. Being a young and handsome black man, he used all of his assets to earn his position. And now he has Trent Davis to test his corporate power out on. Trent is hungry to be successful, and if that means taking care of all of Sean's needs, he's going to do it. And when Trent sees the massive — and it truly is massive — black dick between Sean's legs, he knows he has a challenge unlike anything he's ever undertaken before. Sean expects expert oral sex follower by an ass that can handle a pounding from his cock. And is Trent is going to make it in life, this is his first true test!\n\nSCENE 3: Vito Gallo and Rafael Carreras Invade Angelo Marconi's Ass\nAngelo Marconi and Rafael Carreras traveled all the way to New York City from South America in order to make a business deal with Vito Gallo that will make them all a fortune. But Angelo is a horny son of a bitch who turns the deal into a sexual fantasy by telling the sex-crazed Rafael Carreras that Vito wants to close the deal with some steamy man sex! Vito is taken off guard, but it also doesn't take him much to go with the flow in the end. Angelo and Rafael move in on the tall, sexy Italian top! There's only one problem — Rafael and Vito are both tops and Angelo is all bottom. Okay, maybe it's not such a problem when Rafael and Vito find out they can both fit their cocks inside Angelo at the same time!\n\nSCENE 4: Sebastian Rossi Rides Armando de Armas' Dick\nArmando de Armas is always able to turn a situation to his advantage, and that's even the situation when he traveled to the United States to land a new job. It's no wonder why — he's one of the hottest Latin men we've ever set eyes on! Sebastian Rossi can't keep his eyes off of Armando when he steps into his office, and Sebastian is the guy in charge! Armando needs to win Sebastian over, and he seduces him quickly with his good looks. A business meeting turns into Sebastian sucking Armando's cock before he takes off his slacks and gets on his back. What's Armando to do except grab his legs, slip his cock inside Sebastian, and pump him until he blows his load'\n\nSCENE 5: Sean Xavier and Hans Berlin Train Colden Armstrong's Ass\nSean Xavier returns with his business partner Hans Berlin so they can both use their power over a hapless young man looking for a job by the name of Colden Armstrong. But when Colden realizes what he has to do, he's not upset but excited! Sean has one of the biggest — if not the biggest — cock ever to be scene by the businessmen of Lucas Entertainment, and Hans has a strong body and hot uncut cock that he needs serviced. Sean and Hans both take advantage of Colden and fuck his throat and ass until they shoot their cum!\n\nSEE THIS NOW \/ MORE INFO:\nLUCAS ENTERTAINMENT\nScenes Premier online prior to DVD release and are available to view anytime in the Members Area.\nMembers can watch scenes from all Lucas Entertainment releases anytime online.","author":{"@type":"Person","name":"smutjunkies"},"datePublished":"2013-10-30T17:07:52-07:00","dateModified":"2017-04-23T11:19:08-07:00","reviewRating":{"@type":"Rating","ratingValue":"4.3","bestRating":5,"worstRating":1},"publisher":{"@type":"Organization","name":"","logo":{"@type":"ImageObject","url":"","width":0,"height":0}}},"aggregateRating":{"@type":"AggregateRating","ratingValue":3.29999999999999982236431605997495353221893310546875,"ratingCount":3,"bestRating":5,"worstRating":1},"brand":"","sku":"","":""}