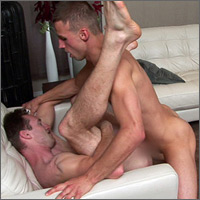 Studio: SeanCody.com
Directed by: Sean Cody
Year of Production / Release: 2007
Country of Production: U.S.A.

CAST:
Harley [Simon Dexter]
Cole
ADDITIONAL COMMENTS:
On-Line Only Presentation. Members can Download.
SEAN CODY COMMENTS:
Pre-shoot conversations are usually quite interesting. It's a time when you really get to know a model and find out what his boundaries are. I know it sounds funny, but I've found that guys are most honest just before they're about to take a dick up the butt!
   While we were waiting for Harley to arrive, Cole and I sat down and talked about the upcoming shoot. I'd only worked with him once before, and he's a quiet guy anyway, so I had some questions for him.
   I already knew he was OK with bottoming, so I skipped that question.
   "Are you OK with giving head?" I asked.
   "Yes," he replied.
   "Are you OK with having him finger your ass?
   "Yes."
   "Are you OK with taking his load in your mouth?
   "Yes."
   "And cleaning his dick off with your tongue afterward."
   "Yes."
   And there we had it. For a curious straight guy with a wife he was certainly open minded.
   Then, in walks Harley with a big smile on his face, flashing his perfect white teeth.
   "My man!" I said in a straight-guy way. "Your cock ready to fuck Cole's ass?" He just smiled… and damn, he looked hot.
   I could tell by the way that Cole was looking at Harley that this was going to be a good shoot.
   They started out with some kissing and led into one helluva ass pounding. Cole had a smile on his face the whole time and Harley's nuts were slapping Cole's ass so hard I was surprised they didn't get bruised!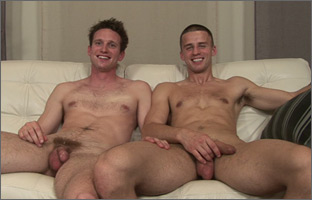 GO TO: SEAN CODY