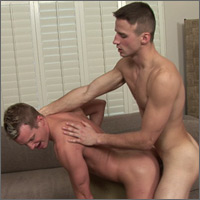 Studio: SeanCody.com
Directed by: Sean Cody
Year of Production / Release: 2008
Country of Production: U.S.A.

CAST:
Harley [Simon Dexter]
Emory
ADDITIONAL COMMENTS:
On-Line Only Presentation. Members can Download.
SEAN CODY COMMENTS:
Emory is a fan of the website. He'd contacted us a while back and the thing that impressed me the most about him was his enthusiasm.
   He likes to be submissive and he likes to get fucked. Hard.
   "I'm a little nervous," he told me the first time we met. "This is my first time on film."
   He was, however, very excited to be with Harley. He confided that he's had a crush on Harley since he first appeared on the site.
   Like other viewers, he had lots of questions about Harley. But one of them stood out more than the others:
   "Do you think he can be aggressive with me?" he asked.
   "Yeah, I'm sure he can," I replied. "What did you have in mind?"
   Well, he wanted his hair grabbed, for starters, and he wanted Harley to slap his ass while he fucked him.
   Harley's up for (almost) anything, so I knew it wouldn't be problem.
   "I'm always having a good time here," Harley said after they finally met. They were hitting it off pretty well, joking and kidding around.
   We got them to talk about what they like.
   "I actually kind of like eating ass," Emory said, "the most, honestly."
   Always direct and ready to start fucking, Harley said, "I want a blow job and a little ass eating."
   From the start, Emory said he wanted to be fucked hard. Harley did just that — hard, deep, and long.
   I don't think I've ever seen a bottom have so much fun!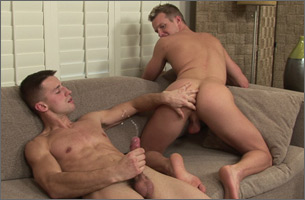 GO TO: SEAN CODY