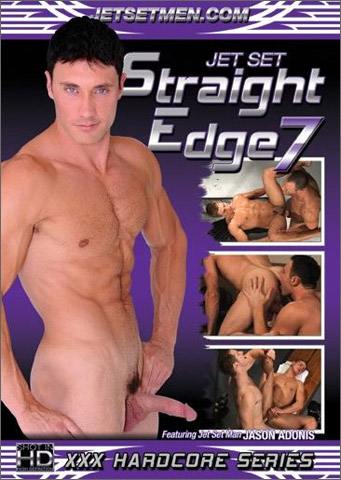 Studio: Jet Set
Directed by: Chris Steele
Year of Production / Release: 2010
Country of Production: U.S.A.

CAST:
Jason Adonis
Berke Banks
Andy Blue / Andrew Blue
Greg Handel / Hayden Stephens
Tristan Jaxx
Dylan Roberts
Marcus Mojo
Jake Steel
Spencer Whitman
INFORMATION FROM JET SET:
When the sexual urge hits and surges to the surface, whether you're alone or with a "soon-to-be significant other", you need to go for it. Get it on, and get it off. In Jet Set's Straight Edge 7, 9 hot, muscular, well-hung guys respond to this urge and give it their all in 7 sizzling sex scenes, over 2 hours of orgiastic action. Long-time porn favorite Jason Adonis makes 2 appearances, as do Jet Set Exclusives Andrew Blue (a star of Jersey Score) and Landon Mycles (so hot in Pizza Boy Gangbang and Getting Levi's Johnson). Berke Banks (the hairy stud in Car Jackers), Jet Set Exclusive Hayden Stephens, Spencer Whitman, Tristan Jaxx and Dylan Roberts all contribute their considerable talents to the action.


SCENE 1: Jason Adonis & Landon Mycles
At the top of the scene, two muscular bodies, naked except for shorts, are revealed standing motionless on a photographer's seamless roll. The camera pans back and forth over their hard pecs and down their muscular bodies. It finally reveals their faces, and Jason and Landon come together to kiss. They open their mouths and go for deep tongue action. And then Landon slowly engages Jason, already showing an erection in his shorts, in foreplay. He slowly licks each of his nipples, one at a time, kisses his biceps, abs and nipples again. They kiss some more. Then Jason licks Landon's neck, down to his nipples and then from his waist, up his abs to his mouth. His exceptionally long tongue goes to work once more on Landon's nipples. Landon then licks down to Jason's crotch, working his hard cock through his shorts, which he slowly pulls down. Jason's cock pops out and up, and Landon licks his big balls, his crotch area, and the head of his dick. Finally he goes down on the whole cock, making it grow and harden even more as he does so. After they kiss some more, Jason now goes down on Landon, who's shorts have disappeared. Landon bends over to suck some more on Jason, as Jason massages and squeezes Landon's butt in hot anticipation of fucking his hole. A thigh-high leather-upholstered platform is suddenly revealed mid-stage. Landon bends over it and holds on to the edges, knowing full-well what Jason can't wait for. Jason enters him from the rear, slowing inserting his raging hard-on. He moves in an out slowly at first and then increases his speed. Moans from Landon provide him with all the encouragement he needs to push in more and fuck him all the harder. Landon finally flips over on his back, so that Jason can pound him even deeper. When he can't hold it any longer, Jason pulls out and shoots his load over Landon. Then Landon pops his own creamy jizz on top of Jason's, and they kiss some more.


SCENE 2: Berke Banks & Andrew Blue
Super-handsome Jet Set Exclusive Andrew Blue, his muscular body stripped to the waist, saunters into the glory hole area of a sex club, looking for some hot action. The hard dick he sees being shoved through one of the holes belongs to Berke. Andrew checks his dick out, but moves on. Berke has other ideas and pokes his head out to stop him. Andrew likes what he sees and returns, dropping to his knees to suck on Berke's big hard cock. As he works on it, he unzips his fly and pulls his own big hard-on out to stroke it. He chokes a bit on Berke's big cock, but on he goes. Finally, Berke comes around the wall separating them to join Andrew in person, and the sparks begin to fly. Berke leans back on a nearby platform, and Andrew continues to suck and stroke him. From time to time, Berke forces Andrew's head deep down on his cock. Berke wants to fuck, so he lies back on the platform, and Andrew eagerly mounts his big hard dick for a joy ride. "Oh fuck me", Andrew moans, as the hairy stud pounds up into his hole in long rapid thrusts. Then Andrew gets down and leans over the table, one knee raised up and his dick and balls pushed against it, so that Berke can pound him hard from the rear. "Oh fuck me, yeah, just like that", he continues to beg, as Berke rams his smooth white ass. Andrew flips over on his back, and Berke, holding his legs spread wide apart, continues to hammer him. Then as Andrew holds one leg aloft, he shoots a thick load on his abs. Berke takes the cue, pulls his throbbing dick out and sends a stream of cum up Andrew's muscular body. Finished, Berke heads off with a "Catch you later" shot back at Andrew. One can only hope.


SCENE 3: Jake Steel Solo
Tall, athletic, scruffy-faced Jake has been ordered to an empty classroom to write over and over on the blackboard "I WILL NOT JACK OFF IN CLASS". He finishes his task and sits back on the teacher's desk to contemplate it. But his mind goes off in the other direction. He moves to a seat and starts massaging his dick through his jeans. He quickly shoves them down, stroking his cock now through his jockeys. Pulling his beautiful big dick out to really jack off, he massages his chest with his spare hand. Getting more and more into it, he stands, takes his shirt off and drops his shorts. Wanting more action, lanky Jake sits again and throws his left foot up on the adjoining desk to be able to spread his legs and access his ass, working a finger in as he goes. A quick suck on his finger, and he pushes it in even further. Then he grabs a dildo, conveniently stashed in his bag, and shoves it up his ass. Now lying back on the teacher's desk, he works both the dildo and his dick at the same time. Pushing the dildo in and out slowly, he continues to stroke himself until he shoots a thick load on his abs.


SCENE 4: Jason Adonis & Hayden Stephens
Jason returns with Jet Set Exclusive Hayden to their empty high school classroom to seek revenge on a disliked former teacher. Jerking off over his desk leads them both to acknowledge their mutual attraction to one another. They quickly strip, and Hayden drops to his knees for some hungry cock sucking. Jason goes for some hot hole licking of Hayden's ass which leads him to slide his glistening dick up Hayden's tight butt as he kneels on the desk. Pounding him first doggie-style, Jason then rams Hayden on his back and eventually on his side. "Fuckin' good!" The two stand and shoot loads over the desk, rubbing the cum in like it was wax, saying,"That'll teach him."


SCENE 5: Landon Mycles & Spencer Whitman
Jock Spencer is stripping down in a locker room when Jet Set Exclusive Landon Mycles enters to undress, down to his jock strap. Spencer's been eying Landon's hot ass, so when Landon straddles a bench and lies down, exposing his butt hole to view, Spencer goes for it, licking and fingering it. He works two fingers in and around, and eats out Landon's hole as he moans in ecstasy. Both guys drop what little clothes they still have on, and, as Spencer lies back on the bench, Landon jumps on his big dick to go down on it, sucking his big uncut cock to the point of choking on it. There are repeated shots of Landon's hole thrust out, just begging to be fucked. Then Landon slides forward to settle his ass on Spencer's face, which he happily eats while he stroking his own dick. Landon next straddles the bench and lies forward, so that Spencer can slide his big cock up his ass and fuck him. Landon, his leg in the air, loves it. "Faster, faster," he orders, and Spencer obeys, his dick getting bigger and bigger. Then Landon squats down over the bench to allow Spencer to pound him all the harder. Finally Landon sits on Spencer's face again, as both guys jack off. Spencer shoots, and then Landon spews a fountain down Spencer's chest.


SCENE 6: Andrew Blue Solo
One would guess that even the great looking, well-hung Andrew doesn't always connect with a trick in a sex club. But that doesn't stop him from getting off. One hand searches the holes for a cock to play with while the other massages his crotch. Eventually, he gets his dick out and takes matters into his own hands. He opens his jeans, pushes his tank top up to reveal his muscular torso and works his dick. It makes you wish you were there to help him out. He jacks it, strokes it backwards and forward, drops some spit on it, slaps it around and keeps on going. No one shows up, so he takes his shirt, pants and shoes off and sits on the platform to continue stroking himself. Eventually, he leans down on the platform and thrusts his beautiful butt at the camera, pulling his dick in a downward motion. He spreads his ass cheeks and fingers his hole. This guy wants to get fucked, but he settles for jacking himself to an orgasm, depositing his thick cum on the platform.


SCENE 7: Tristan Jaxx & Dylan Roberts
Dylan is discovered shirtless in the glory hole area of a sex club. He is searching the holes for a cock to grab onto with one hand and massaging his crotch with the other. Tristan, another shirtless dude, cruises by and stops to give Dylan a chance to respond. But Dylan doesn't quite get him, so he quickly vanishes. And then as Dylan once again searches the holes, a big dick sails into view. He plays with this newly found treasure for a while, and impressed by its size, drops to his knees to go down on it. It's long and thick, so he licks and sucks on it for all he's worth, groping himself at the same time. This cock just gets bigger and bigger, definitely one he'd like to get fucked by, take up his ass. And so, he pushes his pants down and eases his ass in its direction. He works it around, teasing his hole with its head and finally backs down on it. He pulls his cheeks wide apart and in it goes. He fucks himself with it and works it in and out. We catch a glimpse of the dick's owner and realize it's the same Tristan, the guy he had just rejected. Tristan suddenly pounds Dylan's ass hard and says, "That's what you get for fuckin' turning me down!" Obviously, Dylan sees him in a new light, because in the next shot, he's on his back on a platform, legs in the air, his lubed and used hole exposed. Tristan fingers it and rubs around the rim. He then drops to the floor to lick and tongue-fuck it, in preparation for reinserting his stiff dick. Soon, he's inside again and ramming his ass, with Dylan moaning all the way. It's either hurting or turning him totally on – maybe both at the same time. Tristan pounds his ass harder and harder until he's ready to blow. They both jack off, and Dylan shoots first, followed by his new-found friend, who cums all over him. They both got what they wanted, and Tristan speeds quickly away. "See ya!"