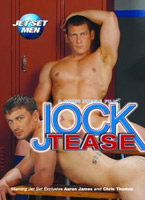 Studio: Jet Set
Directed by: Chris Steele
Year of Production / Release: 2008
Country of Production: U.S.A.

CAST:
David Dakota
Shawn Hunter
Aaron James
Lucas Knowles
Derrick Long
Mason Ross
Zackary Ryan
Jack Ryan
Brent Steele
Chris Thomas
William West
Dylan Wood
SCENE 1: Lucas Knowles fucks the cum out of William West
SCENE 2: Brent Steele and Dylan Wood fuck Aaron James
SCENE 3: Derrick Long fucks Jack Ryan
SCENE 4: Aaron James fucks Mason Ross; Shawn Hunter sucks off Zach Ryan
SCENE 5: Chris Thomas fucks the cum out of David Dakota
INFORMATION FROM JET SET:
Coming September 1, 2008
CREDITS
Director: Chris Steele
Studio: Jet Set Men
Country: USA
Release Date: 09/01/2008
Writer: John Tegan & Chris Steele
Music: Joe Wilson
Editor: Joe Wilson
Camera: Nick Stevens
SYNOPSIS: Hot men, sweat dripping off great muscular bodies, and intimate contact! What are we talking about here – sports or man-on-man sex? Well, in the case of JOCK TEASE, the new DVD from Jet Set Men – both! In any sport, there's always a teasing give and take among teammates, but where does the teasing stop and the serious sex begin? In five sizzling scenes with twelve muscular, well-hung, athletic studs, director Chris Steele shows what a lot of jocks really want from their fellow players. And it's NOT a joke or a slap on the back. Marina Pacific is the distributor.
SCENE 1 – "SOCCER" with LUCAS KNOWLES & WILLIAM WEST
The game is over. But THE game is just beginning. It's obvious from the start that soccer Coach Lucas thinks his star player William would be great sex, hot to fuck. But he rejects the idea until William (whoops!) drops the towel he was wearing on the floor in the Coach's office, and bending over to pick it up, gives the Coach a good look at his naked ass and pink pucker hole – what he's missing out on. William heads for the showers, but Lucas is not far behind. Immediately, they're both naked with erections. They come together and kiss passionately. William drops to his knees to give Coach Lucas a great blow job that builds quickly into face fucking. The two take advantage of some discarded towels on the floor to lie down and 69, with each sucking deeply on the other. William sends Lucas to heaven by rimming his ass, sucking his dick some more and finally sitting down on his Coach's face. The Coach takes full advantage of William's ass, rimming and sucking it, eventually bending his legs up in the air to lick more deeply. Before long, they're into the main event, fucking missionary-style with William still on his back. The Coach plunges his big dick so far up William's ass it's a wonder he can't feel it in his throat. They then switch to fucking doggie-style, with William on his knees and the Coach eventually standing for more thrust. Again on his back, William takes the pounding. He jacks off as the Coach fucks even harder, until he shoots his load, splattering his jizz well up above his nipples. Then the Coach lets loose over his player.
SCENE 2 – "FOOTBALL" with DYLAN WOOD, AARON JAMES & BRENT STEELE
In the locker room after the game, the teammates are grappling and horsing around. Arguing about who's going to fuck whom, and who's going to be whose bitch, Aaron pipes up saying, "I'll be the bitch! Fuck me first!" Dylan and Brent struggle with Aaron and strip his pants off. Before you know it, everyone's naked, and Aaron is the object of their lust. Brent and Dylan take turns sucking on Aaron, with Brent kissing him when he isn't sucking. Dylan pulls Aaron's legs back like a frog's, so Brent can lick his ass open. Aaron sucks Brent's long dick and then goes for Dylan's hot ass. Brent licks it too, as Aaron holds it open for easy access. Then Brent and Aaron work on Dylan's dick, until Aaron switches to Brent's. But it's time for Aaron to be the bitch he said he'd be. Brent fucks him on his back, legs in the air, and Dylan kisses him. Aaron jacks off and cums, and Brent cums kneeling next to him. Finally, Dylan shoots his load.
SCENE 3 – "BASKETBALL" with JACK RYAN & DERRICK LONG
Jack and Derrick are playing on the same team, in more ways than one. After a long sweaty game, Derrick and Jack return to the locker room and banter about Derrick's balls and what he could do with them. They head off to the steam room to pursue that idea further. Jack drops to his knees and sucks on Derrick's chokingly big dick. It is one huge tool. Jack strokes himself, as he laps him up. Derrick then returns the favor and sucks on Jack, as he sits on a bench with his trunks down. What's uppermost in one's mind looking at Derrick's erection is the possibility of Jack getting fucked. Derrick shoves it up Jack's naked ass and fucks him as he lies on his back, and then standing. Jack shoots as Derrick rams his ass, and then Derrick cums himself on Jack's back.
SCENE 4 – "WRESTLING" with SHAWN HUNTER, AARON JAMES, MASON ROSS & ZACKARY RYAN
Wrestling is so close to sex, it probably shouldn't even qualify as a sport. Four teammates, two in blue and two in red, are practicing. Aaron and Shawn (in blue) try out a few moves, grappling with each other, trying to take the other down. Mason and Zackary (in red) are standing on the sidelines. Then Aaron switches to Mason for a serious match, but they no sooner hit the mat than Aaron's tank top drops down below his waist, and Mason jumps right to sucking his hard dick. Shawn turns his attention to sucking on Zackary. The four guys are single minded in their lust. Then Aaron goes down on Mason. From there it becomes an orgy, with Aaron fucking the more than willing Mason's ass. He, in turn, licks and eats Shawn and Zachary's holes as they kneel on a bench. This becomes a long fucking and rimming session. Then Mason flips over to get his butt pounded by Aaron as Shawn and Zack jack off over him. The four all end up shooting their loads on Mason.
SCENE 5 – "BASEBALL" with CHRIS THOMAS & DAVID DAKOTA
Chris and David look amazingly like the hot pro-ball players they are depicting. David lets it be known that he'd like to fuck Chris's ass. Chris hunts him down and finds him changing out of his uniform. "What's all this about you fucking me in the ass," Chris wants to know? David responds by teasing, "You know you want it." They face off, but instead of getting into a fight, they end up in a clinch – kissing. They pull their shirts off and embrace more, with David licking and sucking on Chris's nipples. Chris sits on a nearby table so that David can go down on him and give him an intense blow job and rimming. Chris reciprocates and sucks on David. But suddenly it seems that it's David who wants his ass fucked as he sits down on his friend and shoves Chris's big dick up his ass. He rides Chris's dick as he fucks him from behind and then from the front. Leaning over a table, David takes Chris's pounding standing and then flipped over, legs in the air on his back. David jacks off and cums being fucked, followed by Chris jacking off and shooting his creamy load over him.

GO TO: JET SET