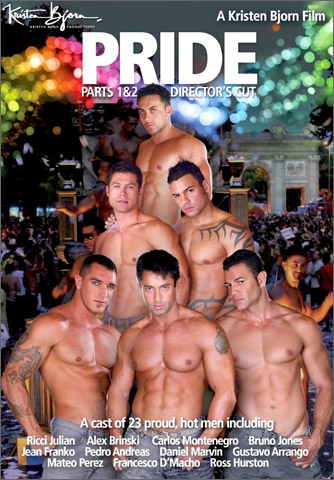 Studio: Kristen Bjorn presents
Directed by: Kristen Bjorn
Year of Production / Release: 2009
Country of Production: Spain

CAST:
Pedro Andreas
Gustavo Arrango
Alex Brinsky
John Cemax
Julio Cesar
Francesco D'Macho
Dennis D'Nello
Armando Del Toro
David Dirdam
Jean Franko
Arthur Gordon
Ross Hurston
Bruno Jones
Ricci Julian
Lucas Lucky
Daniel Marvin
Jesus Moreno
Freddy Navas / Carlos Montenegro
Andreu Perez
Mateo Perez
Luciano Prado
Marco Salgueiro [Marcos Salguiero]
Dany Vargas
INFORMATION FROM KRISTEN BJORN WEB SITE:
One Summer day in Madrid, over two million people gathered to watch the Gay Pride parade, making it the biggest Gay Pride event in European history. The Kristen Bjorn float was in that parade, loaded with the world´s hottest men! Climb aboard with us and witness the thrills and all the dazzling sexual encounters that lead up to the day of the parade. Don't miss the boiling hot action as 23 of the hottest men ever assembled performing over seven hours of the most riveting sex ever filmed! This mega sex extravaganza by Kristen Bjorn is guaranteed to blow you away… Over and over again!
SCENE BY SCENE WITH MANNET REVIEW EXCERPTS:
DISC 1 / PART 1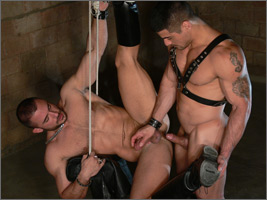 SCENE 1: Daniel Marvin fucks Pedro Andreas
Following that titillating footage, one of the most watchable ever couples in gay porn, Pedro Andreas and Daniel Marvin, find a secluded stable (appropriate) to work out their sexual tensions, which includes a riveting 69 and rimjob, and ends with Daniel sucking Daniel's load right out of his dick. The scene gets even better when Daniel fucks Pedro in a sling, Daniel pulling out of Pedro's ass just at the moment of truth, when the cum explodes from his cock. Daniel pushes back in, his load clings to Pedro's balls, while Pedro strokes out a big load as well.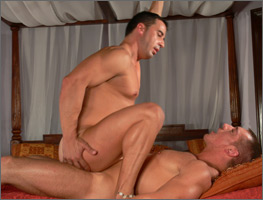 SCENE 2: Francesco D'Macho fucks Armando Del Toro
We find ourselves in the countryside, where two incredibly hot sheep farmers leave their flock and go inside to take a bath together. The farmers are the sensational Francesco D'Macho and stunner Armando del Toro, and they both beautiful with water streaming over their muscled forms, Francesco's dick in Armando's mouth. Armando shoots while he's sucking Francesco, then Francesco blows his load and eats it off Armando's smooth pecs. Armando then delivers a stream of his own, his piss, aimed at Francesco's waiting mouth. They end with a hot fuck, Armando sitting on Francesco until both dudes have shot big again.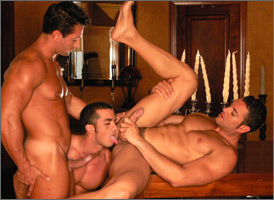 SCENE 3: Carlos Montenegro, Mateo Perez, Marco Salgueiro
   • Carlos Montenegro fucks Marco Salgueiro
   • Marco Salgueiro fucks Mateo Perez
   • Mateo Perez fucks Carlos Montenegro
Hardly a gay man on earth who would turn down Carlos Montenegro, so when Mateo Perez and Marco Salguiero meet him on a charming cobblestoned street, you know there's a hot three-way in the offing. And, no surprise, this is one of the most toe-curling scenes included. From the way these three guys suck, rim and fuck — versatility throughout — to the fact that there are so many cum-shots I lost count, this three-way is destined for the Hall of Fame. But for my money, nothing is better than the sight of muscle stud Carlos riding a hot cock, spreading his taut glutes wide so that it can go in as deep as possible.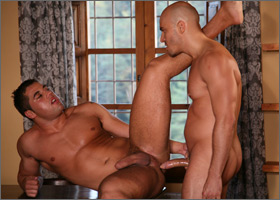 SCENE 4: Jesus Moreno and Julio Cesar flip-fuck
It's back to the pastoral realm, where a hot woodsman (actually carrying wood, like, from a tree) meets up with a hot stud hanging out the window of a stone villa. The man in the villa is Julio Cesar, the wood-cutter Jesus Moreno, and Jesus gets his cock slobbered over first, but then Julio's comes out and it's a thick, juicy piece of meat that pretty much eclipses everything else. From the wet load Julio splats on Jesus' face to the fuck later, on a desk, with Jesus' legs held wide apart so that Julio can long-dick his ass, to the surprising turnaround, where Julio bottoms for Jesus, this scene is entertaining from beginning to end.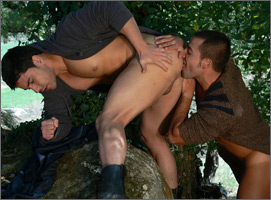 SCENE 5: David Dirdam fucks Lucas Lucky
Deeper in the countryside, David Dirham and Lucas Lucky get almost naked for a hot suck and fuck. When the fuck sequence begins, the more intimate location for the earlier oral action is given up for a beautiful, broad vista that almost (but not quite) upstages the action onscreen. Romance is the focus, both dudes playing it to perfection.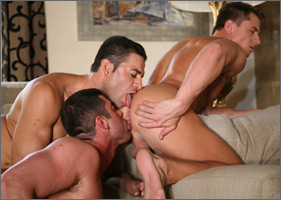 SCENE 6: Alex Brinsky, Luciano Prado and Marco Salgueiro
   • Luciano Prado fucks Alex Brinsky while fucking Marco Salgueiro
Blond Alex Brinsky catches the eye of handsome pair Luciano Prado and Marco Salgueiro in a narrow lane, and the trio goes to a warmly sunlit room to do an eye-popping three-way suck. Alex has two almost identically thick pieces of meat in his face, and he feasts on them hungrily. Later, Alex gets in the middle for a daisy-chain fuck that is filmed expertly, showing off the action in profile and from underneath, all the way until the dripping cum-shots at the end.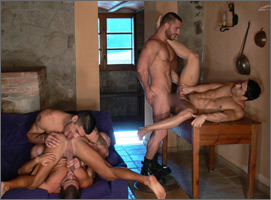 SCENE 7: David Dirdam, Lucas Lucky, Daniel Marvin, and Pedro Andreas
   • Pedro Andreas fucks Lucas Lucky
   • Pedro Andreas and Daniel Marvin DP (double penetrate) David Dirdam
David, Lucas, Daniel and Pedro show up again for an alfresco four-man orgy, with Lucas going down on his knees for the other studs, sucking them in tandem. The acrobatics really get underway later, with David sucking his own cock while Daniel tongue-fucks him, and then David (again stealing the show) taking a double-penetration from Daniel and Pedro.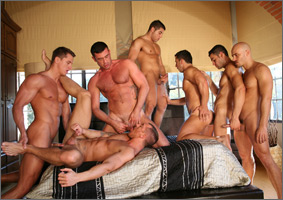 SCENE 8 – SEVEN MEN ORGY: Francesco D'Macho, Alex Brinsky, Luciano Prado, Marco Salgueiro, Armando Del Toro, Julio Cesar, and Jesus Moreno
   • Julio Cesar and Marco Salgueiro fuck Armando Del Toro
   • Luciano Prado and Alex Brinsky tag-team fuck Francesco D'Macho
The next scene is one of those well-choreographed Bjorn extravaganzas, a seven-man orgy (Francesco, Alex, Luciano, Marco, Armando and Julio) that is almost too much a feast for the eyes. The suck sequence alone is over-the-top, but when the scene changes and the men start to fuck, it reaches the stratosphere. Francesco's hot, muscle ass takes on Luciano and Alex, and Marco and Julio switch of sliding into Armando. This is an orgy of Olympian proportions, and the men in the cast are so well-directed by Mr. Bjorn that each shines in his own way, right up to the multiple cum-shots and kisses finale.
DISC 2 / PART 2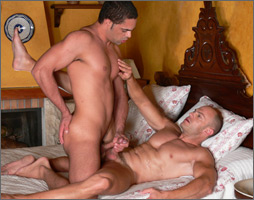 SCENE 9a: Dennis D'Nello fucks John Cemax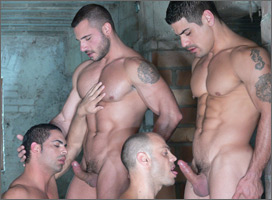 SCENE 9b: John Cemax fucks Dennis D'Nello while Pedro Andreas fucks Daniel Marvin
An early-morning hardon workout with boyfriends Dennis D'Nello and John Cemax is next, and these two get right down to the main event: fucking without even a suck warm-up, and it's an unexpected and welcome change. Dennis fucks like a champ, and his boyfriend cums buckets at the end. Then, Dennis and John wander outside to work on their farm, and who should they encounter but Daniel and Pedro. Apparently the Spanish countryside has more hunks per square hectare than any other place in the world. Dennis and John treat their guests right, blowing Daniel and Pedro until all four studs have spewed, and then the lovers return to their partners (Pedro topping Daniel, John topping Dennis) and fuck side-by-side on huge bales of hay.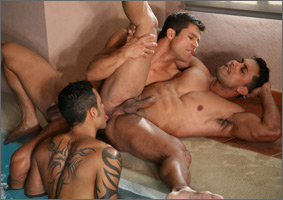 SCENE 10: Ricci Julian, Arthur Gordon, and Gustavo Arrango
   • Ricci Julian and Arthur Gordon tag-team fuck Gustavo Arrango
   • Arthur Gordon fucks Ricci Julian
At a spa, Ricci Julian and Arthur Gordon are treated to a very attentive suckjob from Gustavo Arrango, who gets a face full of spunk from Arthur for all his good work. Then, Gustavo gets topped by his buddies one-by-one, followed closely by Ricci taking it from Arthur, until Arthur creams the side of Ricci's ass.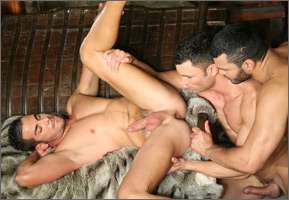 SCENE 11: Jean Franko and Bruno Jones fuck Dany Vargas
Back on the streets, Jean Franko and Bruno Jones run into Dany Vargas, but later it's Dany's ass that gets encountered, by both his huge-dicked tricks. First, though, Dany sucks the cream out of the two studs, getting a double-facial at the end.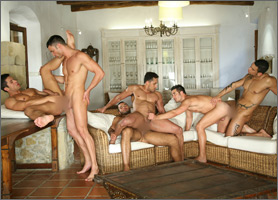 SCENE 12: Bruno Jones, Arthur Gordon, Jean Franko, Gustavo Arrango, Ricci Julian, and Dany Vargas
   • Ricci Julian fucks Dany Vargas
   • Jean Franko fucks Gustavo Arrango
   • Bruno Jones fucks Arthur Gordon
   • Arthur Gordon fucks Jean Franko
   • Ricci Julian fucks Bruno Jones
Jean, Bruno and Dany also appear in the orgy scene that follows, and they are joined by Ricci, Arthur and Gustavo. The hungry suck-a-thon that gets things rolling ends with loads blasted with loud cries all over the room. Next, the sextet moves on to fucking, which is done with a kind of passion that only Kristen Bjorn can seem to elicit from his cast. This scene is so hot it should be used for lube commercials — because, believe me, a lot of it had to be used for these guys to get where they're going, and to take them through the many varieties of ass play they explore getting there.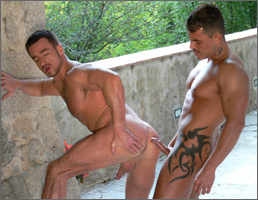 SCENE 13: Andreu Perez and Ross Hurston flip-fuck
Andreu Perez and Ross Hurston do a scintillating duo scene in the countryside, taking turns blowing each other then performing a versatile fuck that is out of this world. Andreu spreading his legs and riding Ross' meat is especially hot, and it is during this action that John and Dennis reappear, watching from above and getting understandably turned on by what they're seeing.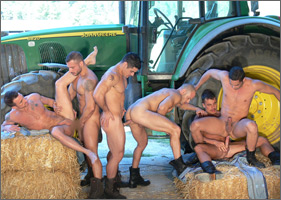 SCENE 14: Andreu Perez, Ross Hurston, Dennis D'Nello, John Cemax, Pedro Andreas, Daniel Marvin
   • Pedro Andreas fucks Ross Hurston
   • Daniel Marvin fucks John Cemax
   • Andreu Perez fucks Dennis D'Nello
This leads to the big finale, in which Daniel and Pedro also join in, delivering a dynamite six-man suckfest with a big tractor as the background. The studs then move on to a group ass-rimming sequence, followed by yet another stunner of an orgy fuck, Pedro fucking Ross, Daniel in John, and Dennis impaling himself on Andreu. Again, multiple hot loads are delivered just before the scene fades back to the Madrid Pride parade, where it is now night, but the Bjorn float is still going strong.

GO TO: KRISTEN BJORN