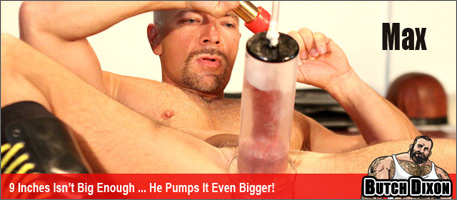 Studio: Butch Dixon / Jonno Films
Directed by: Jonno / James & James
Year of Production / Release: 2009
Country of Production: Great Britain

CAST:
Max Dunhill
INFORMATION FROM BUTCH DIXON / UK NAKED MEN:
Max already has an awesome cock. At 9-inches long, it's a whopper. But sitting alone in a leather gear workroom, Max decides to have some fun with a cock pump. He opens this cock pumping video completely naked except for the knee-high leather boots. And after lubing up his huge dick, Max slides it inside the cock pump and starts working the plunger. Max's dick swells to monstrous proportions as the pressure inside the pump grows. Throughout this session, Max releases his dick from the cock pump to show us how big and swollen it's becoming. Then he pumps some more. He loves the feeling of the pressure on his cock, and sometimes he shakes the tube so his huge, stump of a dick is flopping back and forth hitting the sides of the pumping tube. I love the thumping noise his cock makes. But eventually, after several minutes of pumping his cock, Max starts working on that load of cum that's surging up from his balls. And holy shit! What a load! The first burst lands on his belly, but the second flies with a force I've never seen before, and splats right onto Max's face. It's awesome! Check out the companion cock pumping gallery.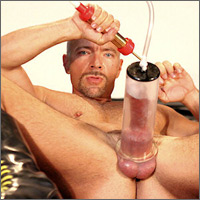 WATCH OR DOWNLOAD IT NOW AT: BUTCH DIXON
On-Line Presentation, Members can Download.
Excellent and extensive photography of most scenes and models.
Huge Library of Films for members to download.