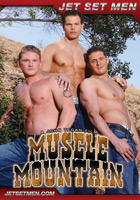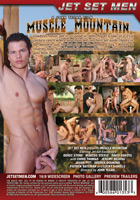 Studio: Jet Set
Directed by: John Tegan
Year of Production / Release: 2008
Country of Production: U.S.A.

CAST:
Patrick Bateman
Jeremy Bilding
David Dakota
Lucky Daniels
Derrek Diamond
Jason Pitt
Marcus Steele
Derec Stone
Chris Thomas
SCENE 1: Marcus Steele and Patrick Bateman fuck Derek Diamond; Patrick Bateman then fucks the cum out of Marcus Steele
SCENE 2: Derec Stone and Jeremy Bilding tag-team fuck Chris Thomas
SCENE 3: David Dakota fucks Jason Pitt
SCENE 4: Derec Stone fucks Lucky Daniels
INFORMATION FROM JET SET:
Release Date: 11/10/2008
Video Length: 1 Hr. 45 Min.
Cowboys never get so good in John Teagan's tale of a 21st centuryranch, where nine muscled ranchers set aside chores in the Western sun for hot play in the barnyard hay.Watch as rivalries fade, love blossoms in unexpected places and everyone gets their man.
SCENE 1 – MARCUS STEELE, DERREK DIAMOND & PATRICK BATEMAN
Early morning at the house, Marcus Steele is fixing bacon and eggs on an outdoor grill. But before he gets to eat, scruffy-faced stud Derrek Diamond comes by to get his cock sucked – their version of early morning exercises. Marcus complains that he didn't get any sleep due to Derrek pounding his butt all night, but he goes down on him anyway. Patrick is dozing on a lounge a few steps down in another part of the large open patio. He sees what the two are up to and likes what he sees. He pushes his shorts down to play with his own stiffening dick and jacks off as he watches. Marcus continues sucking on Derrek while stroking his own meat as well. Marcus notices Patrick watching them and goes over to give him a little head as well. Derrek, not one to be deserted, is right behind him, and jacks off while watching Marcus go down on Patrick. Derrek's hard-on has done nothing but grow huge, so Marcus goes back to him again, now leaving Patrick to watch and jack off some more. Marcus pulls down his shorts, so that Derrek can service him as well. After a while, Derrek switches to sucking on Patrick, then back to Marcus, once again to Patrick and then back again to Marcus. Marcus indulges in a bit of payback for Derrek's activity the night before by getting him to kneel on an ottoman and letting him pound his ass. Patrick gets up to watch this and jack off. It's his turn next to fuck Derrek, while Derrek sucks on Marcus. Derrek then flips over to take Patrick missionary-style up his ass and at the same time suck on Marcus from below – his head thrust back. Derrek grabs Marcus's hot ass and pulls his dick into his throat, effectively 'spit-roasting' himself. Suddenly Marcus wants to get fucked again, so Patrick switches condoms and goes up his butt to accommodate him. Derrek, taking it all in, jacks off. Marcus shoots, then Derrek shoots on Marcus, leaving Patrick to propel a long shot over Marcus.
SCENE 2 – DEREC STONE, JEREMY BILDING & CHRIS THOMAS
It's now later that morning and the three are out under a tree. Derec is watering again (in his hands, a spraying garden hose becomes a sexual turn on), Jeremy is in the hammock and Chris is weeding. Lucky is back peeking over the fence, so Derec sends his hands off to catch him, but he gets away. Derec tells his boys they gave it a good try and offers them a beer. Derec is wielding a baseball bat threateningly, but says that, next time, he will give Lucky what he really wants and grabs his crotch. The guys say that they'll take some of that! They put their beers back on ice and get down to suck on Derec's tasty big dick. First, Chris takes him and then Jeremy, finally both together work on his beautiful cock and balls. They truly deserve worshipping – the balls, the head and the shaft are a work of art. Then they share a 3-way oral session of kissing and licking. Derec pours a beer over his body, which they immediately lick off and go back to sharing his dick. Chris sucks on Derec's nipples as Jeremy concentrates on his cock. Then Jeremy kisses him, takes his own shirt off and gets his dick out. Chris goes to work on him as well. Chris says, "I don't need a raise, I just need your big dick." Derec now fucks Chris who is still sucking on Jeremy across the hammock. "You do what you're told, don't you", says Derec? Chris jacks himself off while sucking on Jeremy and being fucked by Derec. A quick transition finds Jeremy now fucking Chris who is now sucking on Derec. There's an old tire swinging from a tree nearby which Chris lays through to get fucked and sucked some more. Finally, Derec shoots on Chris with Jeremy following suit. Chris finishes it all off by cumming on himself.
SCENE 3 – DAVID DAKOTA & JASON PITT
It's early afternoon, and over at the ranch gym David Dakota is lifting weights and working out. Blond, shaggy-haired Jason Pitt, a new ranch hand, comes by to work out. David is immediately attracted the slim new arrival, and is eager to give him some instruction. The attraction is mutual. David gets Jason's shirt off, and they start to do some deep knee bends. David grabs him from behind and tells him to push his butt back into his crotch. "You gotta take your shorts off, too, if you want to fit in around here." He does so and David grabs him to kiss him. They kiss and kiss, as David massages his hot ass. Jason sucks David's nipples and then works his way down to his beautiful big balls and dick, stroking his own all the while. David then goes to work on his new friend, sucking his dick and then eating his ass. David then shoves his dick into Jason's tight hole, fucking him doggie-style. After a long time in that position, Jason sits on David for a stiff ride. Eventually, they drop to the floor, so that David can fuck him from the rear, with one of Jason's legs high in the air. To get Jason to shoot his load, David reaches through Jason's legs to massage his balls as he fucks him into cumming. Then David kneels to jack off and, with a little assist from Jason's left hand, shoots over his chest.
SCENE 4 – DEREC STONE & LUCKY DANIELS
It's now late in the day, and Derec is alone, finishing up work at the stables. He's moving some bales of hay around, when Lucky reappears. Derec feels his presence and sneaks around behind him to finally have it out with him. "Came to check me out like you came to check my boys out earlier?," Derec asks? They scuffle and Derec threatens to hurt him physically, but Lucky confess he'd enjoy it too much. Derec tries to maintain his stern behavior, but at this, he breaks down and smiles. They both smile and share that kiss that was elusive in the movie's prologue. Derec's shirt is off and lucky sucks his nipples and licks his chest. Lucky gets Derec's pants down as he sits on a hay bale, and then his shorts, so that he can suck on his big dick. Lucky's shirt is now off and he sucks more, tweaking Derec's nipples at the same time. Derec reaches for his butt. "Want to fuck that ass," he says. One gets the distinct feeling that Derec realize just what a hot body Lucky had. Lucky is more than ready to take anything Derec has to offer, and soon they are going at it doggie-style. Lucky moans, "Fuck me harder", and we get to see Derec pounding his ass from the side and underneath. Lucky turns over to jack off and take Derec fucking missionary-style, his boots held high in the air. Derec finally shoots a big thick, creamy load over him, followed by Lucky jacking off and cumming as well. Afterwards, the two ranchers watch the sun set as Derec playfully whispers, "Guess today's my 'lucky' day. Welcome to the mountain!"
INFORMATION FROM JOHN TEGAN:
FIRST TIME DIRECTOR JOHN TEGAN WRAPS ON TOP OF MUSCLE MOUNTAIN!
New West Tale of 9 Hot Cowboys Cums Your Way This November.
For 2 years now, I've produced nearly all of Jet Set's movies. Earlier this year, I wrote my first script for Hung Country for Young Men, following that with a script collaboration with Chris Steele on Jock Tease, just releasing now.
   So, it was with lots of excitement and anticipation (and a few jumbled nerves) that I took the Director's chair late in August to film our November release, Muscle Mountain, which I also wrote.
   PEOPLE!
   Let me tell you, there are worse ways to spend a late August weekend than getting "stuck" watching 9 hot, hunky and hung guys suck and fuck in front of you, performing in various combinations and doing various sexual acts, all at your command!
   Talk about a power trip!
   And it was way fun to make!
   For my directorial debut, we assembled a cast of nine masculine, all-American guys, including Jet Set Exclusive David Dakota as well as new Jet Set favorites Derec Stone and Marcus Steele, and brought them all to a spectacular ranch in Sun Valley, California where they donned cowboy hats, chopped wood, and trudged dusty mountain paths, all to make your wet western dreams cum true.
   Muscle Mountain is the story of rancher (Derec Stone) who gets into a dispute with a rival rancher played by Lucky Daniels, a voyeuristic "jack rabbit" who spies on Derec's handsome staff of seven hunky ranch hands and ends up getting a lot more than he bargained for in the process. Derec and Lucky have an amazing final scene in the movie that we shot just as the sun was setting.
   Indeed, shot entirely in HD, Muscle Mountain, will, if nothing else, look sensational. And, based on what I saw before me on our brand new HD monitor, you will be hard pressed (pun intended) to keep it in your pants once you start watching. Muscle Mountain comes out in November.
   One down, and (hopefully) many more to come!
   Until next time, enjoy!

AVAILABLE FROM: JET SET
GALLERIES FROM THIS FILM AT THE: JET SET WEB SITE

FILM REVIEW: MANNET