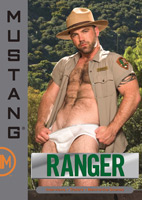 Studio: Falcon Studios / Mustang
Directed by: John Bruno
Country of Production: U.S.A.
Year of Production: 2006

CAST:
Jake Dakota
Derek Foster
Ken Mack
Dak Ramsey
Brad Rock
Brad Star
Duncan Stone
Ryann Wood
Jessie Zane
FALCON SALES INFO:
Get ready for some hot sex in the great outdoors.
Just don't let the Rangers catch you.
As the sun rises, four Forest Rangers — Mustang Exclusive Jake Dakota, Ryann Wood, Derek Foster and Duncan Stone — are given their assignments from Head Ranger Brad Rock.
Jake and Duncan set out to warn camper Jessie Dane of a big-dicked pervert on the loose in the park. They just pique his interest. When the perv comes around, Jessie pumps his tight ass — inviting him to take it, which he promptly does.
Meanwhile Brad is showing new Ranger Ryann the ropes. Watching the young recruit bending over to pack the truck with supplies gets Brad all worked up. Ryann falls to his knees and services Brad's huge cock as soon as he whips it out.
In the forest, Derek find two campers — Brad Star and Ken Mack — drunk from the night before, making a ruckus. He tries to quiet them down, but he's out numbered — two against one — and they take him down and have their way with the man in the uniform.
As the day draws to an end, Jake Duncan and Brad Rock are kicking back after a long day at the Ranger Station. When Brad tells his men about breaking in the new Ranger, they no sooner are whipping out their cocks and getting on each other.

GO TO: FALCON STUDIOS