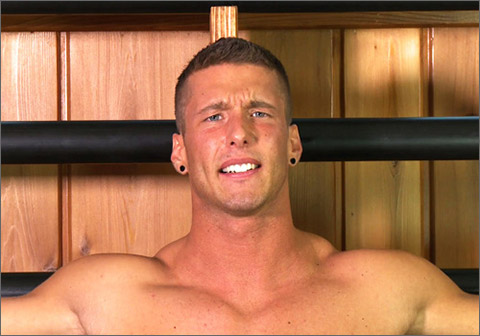 Studio: Roped Studs / Kenneth Benjamin Media
Directed by: Kenneth Benjamin
Year of Production / Release: 2015
Country of Production: U.S.A.

CAST:
Neill
INFORMATION FROM KENNETH BENJAMIN / ROPED STUDS:
Age: 24
Height: 5′ 11″ (1.8 m)
Weight: 178 lbs (80.7 kg)
Waist: 31″ (76.2 cm)
Chest: 43″ (109.2 cm)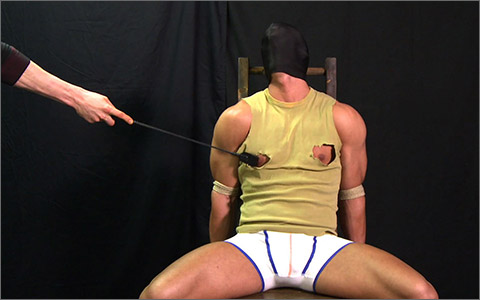 PART 1:
Muscle stud Neill is back – and better than ever! This time our rope men have him expertly bound to the bondage chair with beautiful hemp rope, arms at his side, legs spread wide, wearing tight briefs and a sleeveless T. (Yeah, we know you like to be teased!) This kid is solid muscle, from head to toe. Rope man J.J. enters and feels up his prize then cuts holes in Neill's shirt just big enough to reveal his gorgeous nipples. Then, swack!, the crop lands right on a nipple. Neill screams and buckles against the tight ropes as J.J. beats his nipples. Now it's time to get a look at that cock. Yeah, we know you want to see more – but you're just gonna have to wait!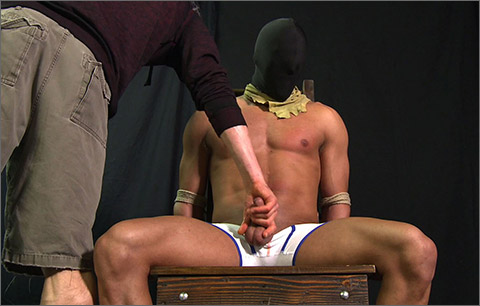 PART 2:
Neill feels both clothed and totally naked at the same time. He's wearing a T-shirt and boxer briefs and an elastic hood keeps him in complete darkness. His fat cock has been pulled out over the top of his brief and holes have been cut over his nipples. Neill is completely vulnerable and exposed when the man who tied him up – rope man J.J. – silently creeps up and fondles his cock and balls – then beats them and his nipples with a crop. Then J.J. rips off his muscle stud's shirt and rings his pecs with clothespins. Oh, what the hell, let's put some pins on his balls, too.

PART 3:
We like to make macho gym studs like Neill suffer more than any other boy we get our hands on. Like all of them, Neill is full of himself, with his whitened teeth, perfect tan and sculpted flesh. Our rope guys not only have him tightly – and painfully – roped to the bondage chair; they have his pecs and balls covered with dozens of biting clothespins – with an extra nasty clamp right on the tip of his cock. Neill's moans turn into screams when rope man J.J. slaps those pins, making the damaged nerve-endings just under the stud's skin come to life. Then J.J. pulls the pins off Neill's nipples – and smacks them with his crop! Then he does the same to Neill's pecs and cock. The stud literally shakes with pain – and looks amazing.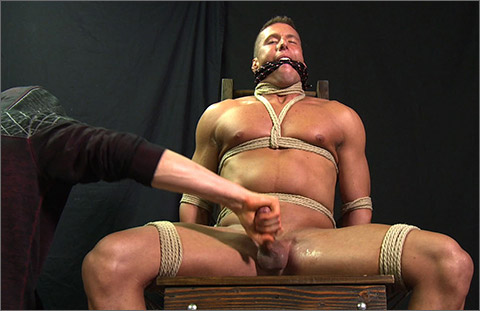 PART 4:
Muscle stud Neill is roped to the bondage chair with layer after layer of tight hemp rope. What a sight to behold. Even his mouth is gagged with rope – a nice black nylon. The only thing that would make Neill even more desirable would be seeing his fat cock bust a load of cum. Your wish is our command. Rope man J.J. jerks off the helpless stud and then, as a final little touch, hoods him and leaves him bound to the chair overnight in complete darkness, covered in his own cum. Arrogant studs like Neill need to suffer, even off camera.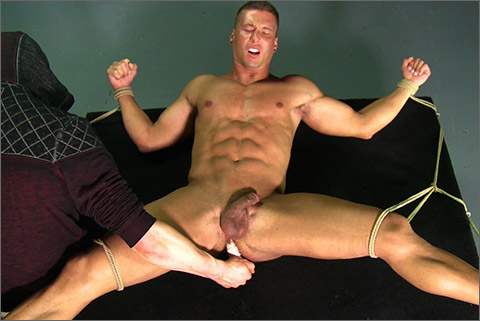 PART 5:
If you like amazing muscles tied with amazing rope work, this episode of Neill is for you. The ripped body-builder is roped on his back, fully exposed, displayed like a hunk of prime beef – a slab of meat that needs tenderizing. Rope man J.J. strokes and feels up his prize, then lays into him with the flogger, whipping everything from the bottom of his feet to his rippling abs. Then he fucks the big dumb stud's brains out. Neill screams and moans, violated like a helpless bitch. He's never looked – or sounded – better.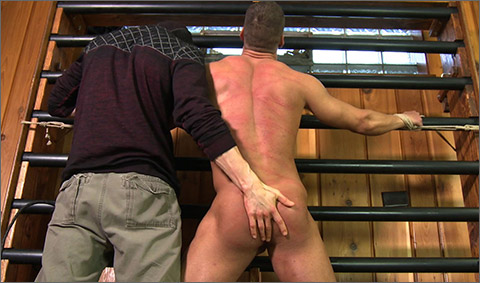 PART 6:
Muscle stud Neill, wearing nothing but his skin-tight Teamm8's, is roped spread-eagled on his feet to the upright bed frame with just enough slack to let him flex and struggle. Rope man J.J. gropes his prized piece of meat, then decides to "tenderize" him – with a horse whip. Pretty soon the stud's impressive back muscles are striped red. Now it's time to tenderize that ass with the same whip. Jeez, this stud looks amazing naked, roped and covered with deep red welts.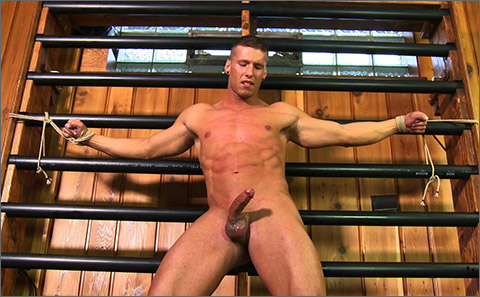 PART 7:
Weight lifter Neill, totally naked, roped to the upright bed frame, displayed like a side of beef, which is exactly what he is, muscle from head to toe. Rope man J.J. strokes and slaps his stud, grabbing and squeezing his balls till he squeals. Neill is so vain, shaving his body hair and pubes and spending a couple hours a week in the tanning booth. J.J. decides the stud's perfect skin needs a few flaws – in the form of deep welts courtesy of his single-tail whip. Our boy god looks amazing, his rippling muscles tanned and striped by the whip, his fat cock hard.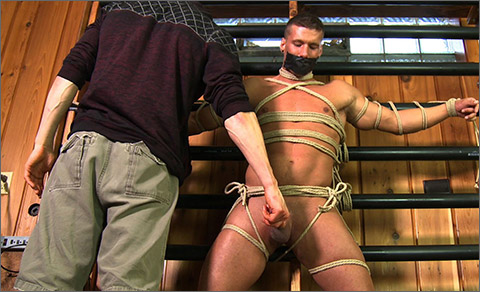 PART 8:
Our favorite body builder, Neill, is roped to the upright bed frame in a complex web of hemp, his naked body displayed to perfection. Rope man J.J. is enjoying the show, but one thing is missing: He strokes his prize Neill's cock until he's rock hard. Now that is roped stud perfection: Helpless muscle and an erect cock! When the stud's dick drops, rope man Anthony gets pissed and punishes Neill by roping the base of his cock and balls with a tight noose. Neill shakes violently against his bonds as Anthony yanks on the red rope. We love the stud's wide-eyed look of fear as his ball sack is painfully stretched. There is nothing he can do but take it.

WATCH OR DOWNLOAD IT NOW AT:
ROPED STUDS
On-Line Presentation, Members can Download.
Extensive photography of most scenes and models.