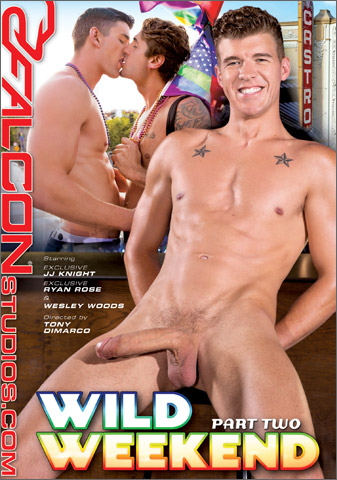 Studio: Falcon Studios
Directed by: Tony Dimarco
Year of Production / Release: 2016
Country of Production: U.S.A.

CAST:
Kyler Ash
Paul Canon
Colton Grey
JJ Knight
Ken Rodeo
Ryan Rose
Wesley Woods
FROM FALCON STUDIOS:
Ready for a sexual adventure? Get onboard with this international group of horny, hunky Falcon guys who meet up in the Bay Area for a 'WILD WEEKEND' enjoying San Francisco gay pride, summer weather, and uninhibited sex! They've arrived in California ready to let loose, celebrate their sexuality and share it with each other. Get your front row seat and an up-close-and-personal view in the two-part, steamy Falcon event, 'WILD WEEKEND.'
In 'WILD WEEKEND, PART 2,' the action heats up even more when the guys return to San Francisco from their Russian River retreat. Pride is in full swing, and everybody is horny! JJ Knight starts his day by shoving his cock down Ken Rodeo's throat and plowing Ken's ass. Finishing his morning run, world-famous underwear model Ryan Rose comes back to shower and finds JJ toweling off. JJ and Ryan reminisce about "the old days" when they were college roommates, but they're interrupted by JJ's roommate, Wesley Woods. Out at the Pride Parade, all the guys take off in different directions. Paul Canon hits it off with hottie Colton Grey on the street, and they beat it back to the hotel room to go all the way. JJ goes to Beaux in the Castro and instantly gets lucky with fellow club-goer Kyle Ash: they take over a bathroom stall and JJ pumps his cock in and out of Kyle's ass in rhythm with the pumping beats coming from the dance floor. Wesley sneaks a peek over the stall wall and gets a glimpse of JJ having a good time. Heading back out onto the streets of the Castro, Wesley spontaneously meets up with Ryan Rose. Wesley has been crushing on Ryan all weekend, but Ryan seemed more interested in JJ's European cousin. This time, something clicks, and Ryan and Wesley head back to the house for explosive sex! Afterwards, they go up to the roof and make out high above the Castro. Looking up from the street below, JJ sees his two best friends and cheers them on: "Yes! I knew it!" They all laugh as Wesley exclaims, "Oh my god, I love Pride!" It's the perfect ending to their 'WILD WEEKEND' of hot hookups and uninhibited action!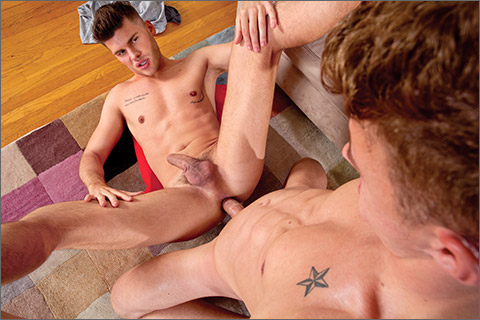 SCENE 1: JJ Knight fucks Ken Rodeo
After their adventures up at the Russian River, the guys are back in San Francisco and gearing up for the big Pride celebration. JJ Knight fixes himself a cup of morning coffee and sits down on the couch. Ken Rodeo is crashed out on JJ's living room floor, and something stirs in JJ's pants as he admires Ken's bare ass. Rolling over, Ken wakes up and is more than happy to swallow JJ's immense cock. Jumping up on the couch, Ken spreads his ass and invites JJ to dive in tongue first. With his hole slick with spit, Ken is eager to get filled up by JJ's massive meat. JJ sits on the couch and Ken lowers himself down onto JJ's cock. Ken's back flexes and his firm ass cheeks ripple as he rides JJ hard. After wearing out the couch, Ken reclines on the floor and throws a leg over JJ's shoulder. JJ thrusts his huge dick back inside Ken's hole and pounds him with fast, deep strokes. As JJ pummels Ken's hole, Ken jerks his cock and unleashes a gusher of cum across his smooth torso. Rising to his knees, Ken opens his mouth and makes his face a target for JJ's load. Huge, white globs of cum explode from JJ's cock and drench Ken's stubbled chin. Taking JJ's cock in his mouth, Ken sucks out the final drops as JJ sighs with satisfaction.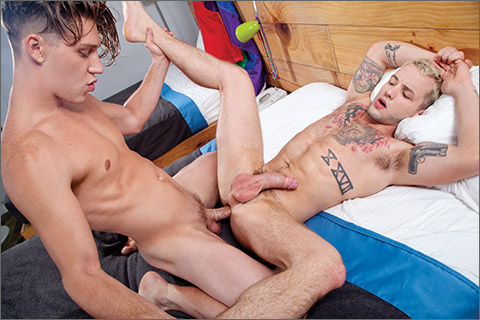 SCENE 2: Paul Canon fucks Colton Grey
It's the day of the San Francisco Pride parade, and the guys are out having fun all over the city. Paul Canon makes eyes with a hot stud on the street, Colton Grey, and gives him some beads. They hit it off instantly, and they seize the moment to have some sexy fun. They beat it back to the hotel room and kiss passionately, burying their tongues in each other's mouths. Colton quickly moves down to service Paul's rock hard dick. Colton fucks Paul's face, his balls swinging into Paul's chin. With plenty of spit, Paul services Colton's cock, then focuses on Colton's hot, hairy ass. He spreads Colton's cheeks and uses his tongue to reach deep down Colton's hole. Mounting Colton doggy style, Paul thrusts his meat inside with firm, vigorous strokes. His nuts slap against Colton's ass as they pick up speed and intensity. Flipping on his back, Colton jerks his cock as Paul pummels his hole. A sheen of sweat glistens across their hard bodies as things heat up. Reaching the edge, Colton unleashes massive spurts of cum that arc over his body, and Paul immediately ads his own thick, juicy load. They kiss, reveling in their afterglow, as their cum and sweat mix.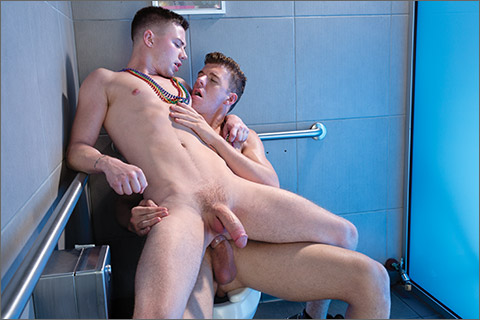 SCENE 3: JJ Knight fucks Kyle Ash
In the Castro, the bars are slammed with Pride party-goers, and the scene at Beaux is filled with hot, gorgeous guys raring to fuck. JJ Knight gets lucky right away with fellow Pride-goer Kyle Ash. They duck into the bathroom stall and start making out as the music pounds away. As Kyle starts blowing JJ's monster meat, JJ's friend and roommate Wesley Woods sneaks a peek over the stall wall, but JJ and Kyle are having too much fun to notice Wesley. JJ starts thrusting his hips as Kyle slurps on JJ's massive tool. JJ has always been an ass man, and Kyle's perfect butt is too delicious to resist. JJ parts Kyle's cheeks and dives in with his tongue, wetting Kyle's asshole in preparation for an intense fucking. With Kyle's hole lubed and ready, JJ slides in his hard dick. Gasping, Kyle feels his hole stretch wide to accommodate JJ's super thick girth. Picking up speed, JJ pounds Kyle deeper and harder, and Kyle loves every minute of it. They move to a sit-fuck, and Kyle's cock bounces in the air as he rides JJ's meat. Grabbing his dick, Kyle jerks out a huge load while bucking up and down on JJ's meat, then kneels on the ground and gets JJ's cum blasted right in his face.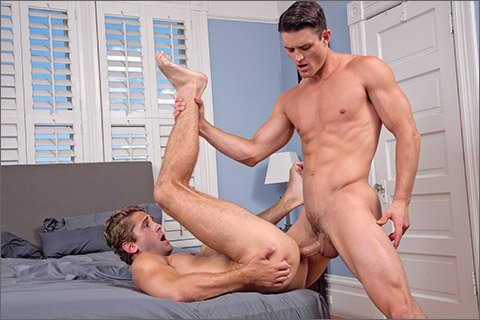 SCENE 4: Ryan Rose fucks Wesley Woods
Wesley Woods has been pining for superstar underwear model Ryan Rose all weekend long, but the whole time it seemed like Ryan was more interested in Euro studs Ken Rodeo and Brute. After several hours of partying and reveling in the spectacle of San Francisco Pride, Wesley and Ryan suddenly bump into each other on the street, and something clicks. Ryan reaches out and pulls Wesley close for a kiss, and they quickly head back to the house to go all the way! They make out passionately, and their throbbing boners burst out of their tight briefs. Ryan falls backwards on the bed and Wesley eagerly deepthroats Ryan's huge, stiff cock. Ryan's incredible washboard abs flex as Wesley bathes Ryan's cock in spit. Rising up on his knees, Wesley enjoys expert oral pleasure as Ryan returns the favor. Before long, Wesley has his ass in the air with Ryan's face buried in his tasty ass. After teasing Wesley by rubbing his cock along Wesley's crack, Ryan finally slides his huge dick into Wesley's hole. Wesley's dick swings in the air as he rides Ryan reverse cowboy style. Ryan thrusts up from below, then puts Wesley on his side for intensely deep penetration. Pulling Wesley to the edge of the bed, Ryan stands and unleashes the full power of his pounding, delivering an intense fuck that brings Wesley to an immense orgasm. Pulling out, Ryan jerks his cock and blasts a massive, spurting load directly into Wesley's face. Afterwards, they go up to the roof and make out high above the Castro. Looking up from the street below, JJ sees his two best friends and cheers them on: "Yes! I knew it!" They all laugh as Wesley exclaims, "Oh my god, I love Pride!"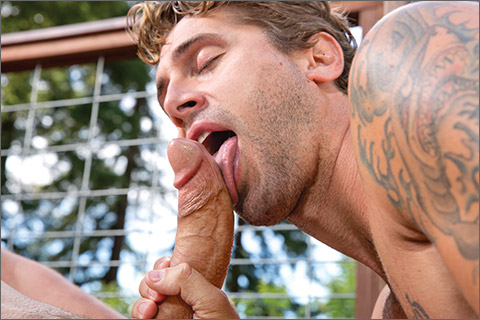 BONUS SCENE 5: JJ Knight & Wesley Woods (all oral)
JJ Knight and Wesley Woods make out on a wooden deck with a sweeping view of the Russian River wilderness. Peeling off their clothes, they run their hands over each other's ripped, muscular bodies. JJ sinks to his knees and expertly services Wesley's throbbing boner, licking the sensitive tip with his tongue and swallowing the entire humongous shaft all the way down his throat. JJ grips Wesley's cock and strokes while sucking on Wesley's sensitive cock head. Returning the favor, Wesley starts working over JJ's massive member. It's so huge that Wesley can wrap both hands around the shaft and still have plenty of length to suck on with his mouth. Spit drips as Wesley struggles to get every last inch of JJ's dick. The intense oral worship gets JJ ready to blow, and he shoots a huge wad that spurts upwards and splashes across Wesley's face. Cum drips from Wesley's lips as he slurps the last drops from JJ's incredible cock. Standing up, Wesley milks his own load out of his cock and splatters JJ's muscular chest. They press their lips together one more time, enjoying the taste and smell of sweat, spit, and cum.

WATCH THE SCENES NOW AT:
FALCON STUDIOS
Falcon Members can watch scenes from this Release anytime online.
DVD Releases debut online prior to DVD Release.