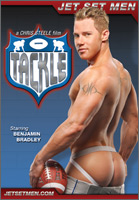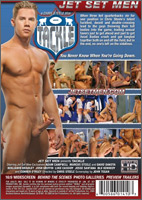 Studio: Jet Set
Directed by: Matthew Moore
Year of Production / Release: 2009
Country of Production: U.S.A.

CAST:
Benjamin Bradley
Adam Campbell
Luke Cassidy
David Dakota
Josh Griffin
Blu Kennedy
Conner O'Riley [Conner O'Reily]
Jesse Santana
Marcus Steele
INFORMATION FROM JET SET:
When three hot quarterbacks vie for one position in Chris Steele's latest fuckfest, deceit and double-crossing lead to guys throwing their full bodies into the game, trading sexual favors just to get ahead and just to get head. Bodies crash and get tangled together both on and off the field, but in the end, no one's left on the sidelines. TACKLE stars Benjamin Bradley with Jet Set Exclusives Marcus Steele, David Dakota and Adam Campbell. Also starring Josh Griffin, Blu Kennedy, Connor O'Riley, Luke Cassidy and the return of Jesse Santana! PLUS! Adam Campbell gives up his straight ass in the final scene! Directed by Chris Steele from a John Tegan script.


SCENE 1: Bejamin Bradley & Jesse Santana
After Santana wins the job of starting quarterback, Bradley and Campbell—both hoping to get the starting job—conspire to derail him. When Bradley finds himself alone in the locker room with Santana and Santana starts coming onto him, Ben sees his chance. He plays along with the newly crowned QB1, getting to fuck him and get fucked by him. After they cum, Bradley puts the plan in motion by purposely knocking a stunned Santana to the floor. Never having seen it coming, Santana goes down and sprains his ankle, thereby ending his chances of starting, leaving Bradley and Campbell competing for the #1 spot.


SCENE 2: Josh Griffin, Adam Campbell, David Dakota, Luke Cassidy & Blu Kennedy
Fresh off a grueling practice, five player—Campbell, Dakota, Griffin, Kennedy and Murphy kick back in the locker room with a keg. Too much beer leads to lower inhibitions that lead to heavy petting. Off come the uniforms, and "up" go the dicks! From there, it's "straight" on to sucking and fucking as the guys mix and match and end up getting off all together.


SCENE 3: Marcus Steele & Connor O'Riley
Alone in his office, Coach Steele is getting chewed out on the phone by the college President as water boy Conner O'Reily taunts him, showing off his ass in the locker room next store to distract the horny coach. Coach ends the call and calls over O'Reily, whom he is quickly slapping in the butt. The muscular Coach takes total control over the boy, slam fucking him on the desk. Coach gets his boy every way he wants, including an incredible mid-air fuck that will have you gasping for breath.


SCENE 4: Benjamin Bradley & Adam Campbell
Bradley shows up at Campbell's door to gloat about their victory over Santana. When Campbell tells him that he (Campbell) is now the starting quarterback, Bradley demands his end of the bargain—Adam's tight virgin butthole. After kissing and some back and forth oral action, a reluctant Adam ends up being true to his word, giving up his ass for the shredded quarterback. Bradley pops Adam's cherry, slamming him hard and shooting his load everywhere. Adam joins in with his own white creamy shot, and the guys settle back, satisfied that their plan has worked in every way.

GO TO: JET SET