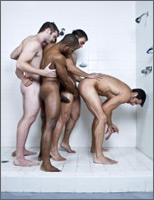 Studio: Randy Blue
Directed by: Randy Blue
Year of Production / Release: 2008
Country of Production: U.S.A.

CAST:
Lucky Daniels
Eddie Diaz
Leo Giamani
Colby Keller
Jeremy Walker
ADDITIONAL COMMENTS:
On-Line Only Presentation

THIS PREVIEW CONTAINS ADULT SEXUAL CONTENT


FROM RANDY BLUE:
We had so much fun putting together our recent circle jerk video with our new crop of Randy Blue all stars that I though, why not put together a group of the big guns for a real balls to the wall orgy. These guys are the ones everybody asks about. They've all done several videos, live shows and public events and each one has some special kind of hotness they bring to the table each time they do something. And when I put together an orgy, I think of it as a living thing. As if I were Dr. Frankenstein creating the perfect beast. Eddie Diaz is pure sex. The man walks into a room and you can almost hear the hard-ons popping up all around him. His adorable features, lean, tight, muscular body and monster dick make him quite a thing of beauty, but his passionate sexual energy make him the heart of any sexual encounter. And if Eddie is the heart, then Lucky Daniels is the personality. Aside from having an amazing body, when Lucky turns on the charm there's not a man around who can resist him. Watching him dancing at a local club event the other night you could see him holding the whole crowd in the palm of his hands. And if you have a heart and personality, you'll need brains. That's where Colby Keller comes in. Not to say he's your average brainy bookworm, but quite the contrary. Colby has a unique style all his own, with his handsome scruffy face and tall athletic body. He won't unleash a raw animal passion on you, but rather a well thought out plan of attack that will have you rock hard and on the verge of cumming before you even realize what's happening to you. And after brains comes brawn. Leo Giamani and Jeremy Walker could be Greek statues, their perfect bodies, muscles for days, handsome chiseled features and cocks that might scare away a novice bottom but would offer a welcome challenge to anyone that loves to get fucked. As much as I've wanted to I haven't had a chance to get these two gorgeous hunks of manmeat together so I'm thrilled that they could be the perfect muscle to round out this killer combo. So, once the beast was assembled all it took was to let it loose. These guys knew exactly what to do and what you will see will blow you away. Gym showers, glory holes, sucking and fucking, all with a group of the hottest Randy Blue models. Grab some lube and a cum towel, you're going to need it!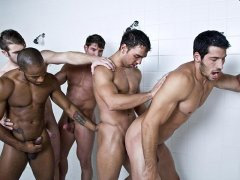 GO TO: RANDY BLUE
VIEW THE FILM
VIEW THE GALLERY