Studio: Titan Media
Directed by: Brian Mills
Year of Production / Release: 2008
Country of Production: U.S.A.

CAST:
Scott Alexander
Marco Blaze
Dean Flynn
Arthur Gordon
Dirk Jager
Coby Mitchell
Francois Sagat
Max Schutler
Victor Steele
Chris Thomas
Rick Van Sant
SCENE 1: Dean Flynn fucks Max Schutler
SCENE 2A: Dirk Jager, Marco Blaze and Francois Sagat orally service each other
SCENE 2B: Marco Blaze and Francois Sagat flip-fuck
SCENE 3: Scott Alexander, Arthur Gordon fuck/spit-roast Coby Mitchell; Scott Alexander fucks Arthur Gordon while fucking Coby Mitchell
SCENE 4: Dean Flynn and Victor Steele flip-fuck
SCENE 5A: Rick Van Sant with Max Schutler and Chris Thomas service themselves and each other
SCENE 5B: Rick Van Sant fucks the cum out of Max Schutler
SCENE 5C: Max Schutler fist fucks Rick Van Sant
INFORMATION FROM TITAN MEDIA:
Take the top off, grab the stick and thrust into high gear in the latest outdoor escapade from awardwinning director Brian Mills. A gunmetal grey convertible sees lots of action during its countryside travels as 11 hunks get wet and wild in the great outdoors. Get your hands on a hard body with TitanMen exclusives Marco Blaze, Dean Flynn, Dirk Jager, Francois Sagat and Rick van Sant. Rev it up and fuck in the fast lane as Overdrive takes you on the ride of your life! After cruising at the beach, Dean Flynn takes Max Schutler for a wild ride in (and on!) his car—and gets more then he bargained for.
   Watching Dirk Jager suck Marco Blaze is too much for Francois Sagat to handle, so he brings his own hose into the action. After some oral and piss fun leaves Marco drenched, he flip fucks with Francois. Beefy road worker Coby Mitchell has a close encounter with the convertible, and gets help from hunky tag-team tops Scott Alexander and Arthur Gordon. Dean Flynn roams the woods for clothes—and finds the super stiff cock of Victor Steele, who tops first in a memorable flip fuck. Max Schutler picks up Rick van Sant and drives to the woods, where sheriff Chris Thomas joins in the oral fun. Max later bends over for Rick—but later turns the tables in a hot fisting session.
(NOTE: Fisting and watersports only in DVD director's expanded edit and on Blu-ray™ edit, available at titanmen.com)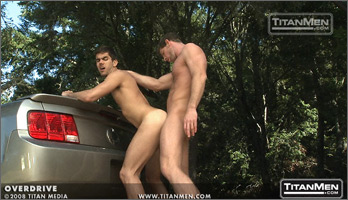 SCENE 1: Dean Flynn with Max Schutler
Handsome Dean Flynn spots Max Schutler on the beach, and soon whisks the toned stud off in his convertible. They arrive at a secluded spot in the woods, where Dean heads to the back seat, tells his bud to stand up and then feasts on Max's hard, uncut cock. The two rub and kiss each other during the hot oral opener, where Dean sucks deep and gets an impressive spit strand caught between his mouth and Max's dick—and then spits another wad on it. Max delivers a steady face fuck and then drops down to return the favor, deepthroating Dean's big boner. Max tugs on his own sac and stays stiff as he sucks, his excitement building with each slurp. The two then lean on the trunk as Dean offers his hole for a tongue bath. Max then bends over, opening his ass for a doggie-style pounding over the car. Dean holds on to Max's tight waist as he works, and a great low shot captures both of their boners in action. The two jack off on each other before Dean goes into the woods to relieve himself—leaving the mischievous Max all alone to steal Dean's wheels.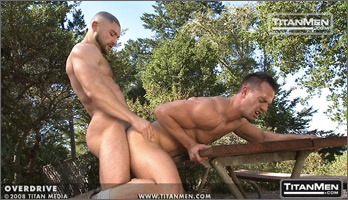 SCENE 2: Marco Blaze, Dirk Jager and Francois Sagat
Max drops off the car for a cleaning with muscle hunk Dirk Jager, who commands employee Marco Blaze to get to work—but not before kissing the smooth, muscular hunk. The two 5 o'clock-shadowed studs stare into each other's eyes before masculine Dirk drops to his knees and is soon eye to eye with Marco's huge (and super thick) uncut cock. Dirk opens his mouth wide and gets to work on Marco's massive meat, frequently gagging as he goes deeper during the long suck session. Marco delivers a steady face fuck, getting the spit to drip out of Dirk's mouth. Marco wipes it off of Dirk's lips and rubs it on himself, then beats Dirk's face with his massive tool before grabbing on to Dirk's dark hair and diving in again, soon feeding Dirk his fingers. Dirk holds on to Marco's balls and licks them, and soon the two are spotted by hairy hunk Francois Sagat—who strips down and joins the oral appetizer. The three take turns sucking each other, as Marco jacks off and whips his big cock around. The three cum on Marco, who is also soon drenched in Dirk's and Francois' piss.
   After Dirk leaves, Marco and Francois engage in some fun with a hose, soaking each other's muscular bodies and staring into each other's eyes before working their dicks up again. Marco begins by eating out Francois' hole, getting stiff as he tongues his bud. Marco then dives his dick inside, plowing Francois over the car's trunk with some forceful thrusts that get the bottom's forehead vein bulging. The two have amazing chemistry, and Marco rubs and licks Francois' body as he fucks him. The two then head to the picnic table and swap, as Marco gets eaten and fucked in two positions by Francois' meaty, uncut slab. The top's balls bounce away, and Marco's cock is hard as hell as he gets plowed. The scene ends with an unforgettable squirt from Francois that drenches Marco (including two huge streams on his right thigh), who rubs the hot cream all over himself. One of the hottest scenes you'll see all year!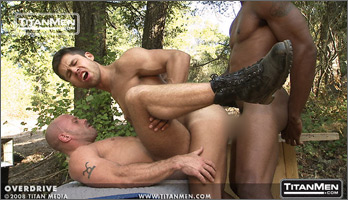 SCENE 3: Scott Alexander, Arthur Gordon and Coby Mitchell
Narrowly avoiding disaster with the speeding car, road worker Coby Mitchell falls into the woods. The beefy, shaved-head hunk is soon helped by fellow workers Scott Alexander and Arthur Gordon. The three start a rub-and-lick fest highlighted by an insane display of ripped abs—and are soon engaged in a suck chain with tall, dark and handsome Scott towering over his buds with his insanely chiseled bod and huge cock. Coby gets in deep, wet sucks on his buds, working up a sit strand and nibbling on Arthur's foreskin before deep throating Scott's schlong. The three fire off their first round of squirts, their muscular bodies tightening up as they release.
   The two tops then waste no time bending Coby over to admire his muscular ass. Arthur's shoulder and arm muscles get even bigger as he starts to eat out the bottom, who continues to deep suck Scott (whose huge cock is caught in beautiful side shots). Arthur then fucks Coby, whose cock bobs around as he gets pounded. The top then leans over to kiss Scott over the bottom's bod, the two smiling in delight before switching positions. Coby moans as he takes Scott's big shaft before they lay on top of a wooden construction spool, where Coby sits down on the giant rod again. Arthur then hops up to join them, sitting his hole on Scott's face and kissing Coby at the same time—an impressive balancing act that is one of the single hottest shots from any film. Arthur then stands up to fuck Coby's face before they hop off and he buttfucks Coby, now on his back. Scott gets in on the action, tonguing and plowing Arthur from behind. Scott and Arthur both takes turns thrusting in the amazing fuck chain (caught with beautiful low shots), as Arthur braces himself with his muscular arm while the vein on his neck bulges. Another round of squirts closes the amazing threesome.

SCENE 4: Dean Flynn with Victor Steele
Wandering the woods in search of clothes, Dean Flynn stumbles upon the cabin of gun-wielding Victor Steele, who drops his weapon and drops to his knees to feast on helpless Dean's cock. Victor's own throbbing knob peaks out of his jeans, bobbing in excitement as he slurps away. He stands up and Dean takes a turn on his knees, working up more strands of spit as he deepthroats the toned, light-bearded stud. Victor—his super-stiff cock throbbing up to the sky when released from Dean's mouth—beats his meat on Dean's face, then bends over as Dean takes a turn on his hole. Dean caresses Victor's boner from underneath as his long tongue gets to work. The two then jack off on each other's chests and kiss.
   Victor now bends Dean over and grinds his steel slab on the handsome stud's hole before sliding in for a deep fuck. Victor's toned bod gets even tighter as he thrusts, and the large vein on his arm pops off the screen. Dean then gets his crack at Victor's hole, pounding the stud—who stays stiff as he gets fucked. Victor squirts all over himself, the cum sliding down the side of his stomach, before Dean lets go of his second load all over Victor's silky skin.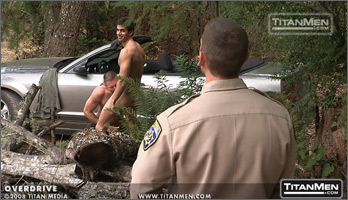 SCENE 5: Rick van Sant with Max Schutler and Chris Thomas
Max Schutler continues his joy ride by picking up friend Rick van Sant and heading to the woods for more scenic outdoor sex. The two kiss passionately before Max takes out Rick's huge, curvy cock, sucking the tall, hairy top as he rests his massive legs against the convertible. Max works up a slurpy mess, the spit sticking to his mouth and dripping down Rick's hard shaft and sac. The two smile at each other and kiss throughout, with spit later dripping from Max's mouth. The two are soon spotted by handsome park sheriff Chris Thomas, a uniformed hunk who rubs his bulge. He can't resist temptation for long, taking out his hard cock and joining the duo. Max sucks both studs as they smile at each other, with Chris's milky smooth, muscular body now on full display. The insatiable Max goes back and forth, rubbing his own spit into his foreskin while he sucks.
   After the two studs squirt on Max, Chris leaves and Max rises to kiss Rick. The bottom mounts the car's hood as Rick spreads and eats his hole, then fucks him from behind and rubs his back. Max then turns over to get plowed in a new position as Rick continues to deliver a steamy, steady fuck as the two look at each other. They dump their loads and kiss, but the fun isn't over. Now it's Rick's turn to get on his back as Max gloves up and lubes up the top's hole on the hood. The tight bottom takes control, starting with a three-finger slide before working his whole hand in. What follows is a hot lengthy fisting session that has both men excited. Max grinds his fist around, then takes turns sliding both of his hands in and out, alternating with fast and slow techniques as Rick moans "Make my ass sloppy!" Rick changes positions twice, ending on his back again as Max works his arm in close to the elbow, the two staring at each other before jacking off and kissing.

MORE INFO, PREVIEW OR WATCH RIGHT NOW:
TITAN MEDIA
Scenes Premier online prior to DVD release and are available to view anytime in the Member's Area.
Members can watch scenes from almost all Titan Media releases anytime online.