Studio: Titan Media / Titan Fresh
Directed by: Brian Mills
Year of Production / Release: 2007
Country of Production: Czech Republic

CAST:
Vilem Cage
Joe Donovan
Thomas Lee
Pavel Marek
Igor Martinek
Pavek Neumann
David Novak
Tadeusz Tesar
Olle Usmev
FROM TITAN MEDIA WEB SITE:
In his latest farm life fuck fantasy, Farm Hands, director Brian Mills brings you a cast of nine hot, clean-cut guys who fuck each other silly one fine spring day against a backdrop of the leafy forests and rolling fields of the Czech countryside.
   These studs come equipped with plenty of uncut cock that they love to swallow almost as much as the like pounding each other's beefy, muscular asses.
   Smooth, hard-bodied Pavek Neumann and Vilem Cage get naked with builtlike-a-bull Tadeusz Tesar. The guys are soon chewing on each other's juicy nipples, deep throating dick, and instead of plowing the fields, plowing each other. Lean, sexy Joe Donovan and his horse-dicked pal Pavel Marek take a break in the barn where Pavel demonstrates his amazing self sucking skills. The two young studs are swapping some intense throat fucking when in saunters muscle mountain Olle Usmev with his thick pecs and an ass that was made to be fucked. Handsome David Novak and hunky Igor Martinek find hot Thomas
Lee jerking off all by his lonesome and decide to join in the fun. David and Thomas take turns cramming Igor's meaty ass with cock, and they all slather each other with multiple loads.
   These butt-busting studs speak Czech, but they definitely grunt, growl and groan in the international language of lust – and they'll get you moaning and groaning right along with them!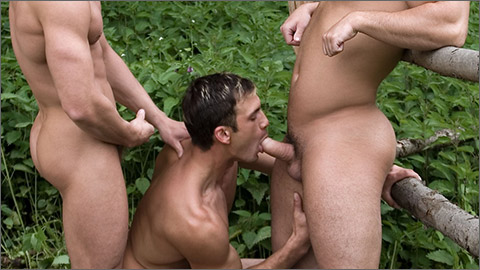 SCENE 1: Vilem Cage & Tadeusz Tesar fuck Pavek Neumann
Pavek Neumann, Vilem Cage and Tadeusz Tesar return from a hike and suck and jerk each other off, then fuck on some farm equipment. Lean, tight Pavek Neumann, smooth and hunky Vilem Cage and stocky muscled Tadeusz Tesar return from a hike shirtless and sweaty, playfully throwing punches into each others' thick chests and wrestling around like the young bucks they are. Taking a quick rest break by a paddock fence, the guys' horseplay quickly turns to lust. Tadeusz strokes Vilem's hefty bulge and pulls his jeans down while Pavek plays with Vilem's nipples; once they've got Vilem naked, Pavek starts stroking Vilem's uncut dick and Tadeusz sucks it down. Pavek and Vilem passionately kiss while Tadeusz deepthroats Vilem's cock. They switch, with Tadeusz tonguing Vilem's tantalizing pits while Vilem thrusts his stiff rod down Pavek's willing throat. Vilem and Pavek take turns pumping Tadeusz's handsome square-jawed mug, and Vilem bends over and gets a taste of Pavek's meaty dick, skillfully swallowing it down to the base. Vilem pumps 2 Tadeusz' face while Pavek jerks off with his arm around Vilem's broad shoulders, and groaning and moaning, they both bust a nut all over Tadeusz's massive pecs and thick beefy shoulders.
   Then it's Tadeusz's turn to get off. Vilem and Pavek peel Taseusz's jeans off, revealing an incredibly beefy ass and large piece of uncut meat, and push him forcefully up against the fence. Vilem relentlessly sucks and jerks Tadeusz until Tadeusz unleashes a torrent of jizz spilling out all over Vilem's hard smooth pecs.
   Hell bent on doing a deep exploration of each other's asses, the guys move over to an old cart, where Vilem and Tadeusz make out as they relentlessly shove their fingers deep up Pavek's hard musclebutt. Vilem mounts the willing Pavek, slowly sliding his cock in deep, then slamfucks his ass as he and Tadeusz kiss. Tadeusz hocks spit onto Vilem's stiff dick as it's plunging into and out of Pavek's beautiful butt, slicking it up for a good ride. Vilem sits on an old chair, providing the perfect position for Pavek to slide up and down on his cock while Tadeusz sucks down his thrusting, throbbing dick. Then Pavek leans against a ladder with one leg on the ground and one leg up a rung so that Pavek can get in even deeper as he fucks him from behind. Tadeusz takes a turn pumping Pavek's ass as Vilem climbs on the ladder to give Pavek a chance to suck him while getting banged from behind. Vilem dumps his cum load all over Pavek's shoulders and onto his back, and Tadeusz shoots his sperm on Pavek's muscled ass cheeks, coating them with creamy cum.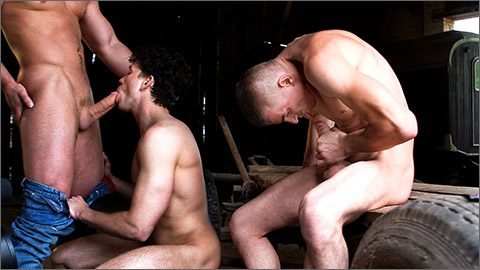 SCENE 2: Joe Donovan & Pavel Marek fuck Olle Usmev
After a 3-way suck fest, Joe Donovan and Pavel Marek fuck Olle Usmev. Sexy, curly-haired Joe Donovan and massively hung Pavel Marek discover another abandoned barn, where Joe unzips Pavel, wrestles his pants down and starts sucking down his enormous piece of meat, licking the head and paying special attention to his cum-filled balls. Pavel returns the favor, getting down on his knees and energetically sucking down Joe's dick like the sex demon he is.
   Beefy, muscular Olle Usmev discovers the pair and takes a turn on each, licking, stroking and sucking their massive cocks. While Joe plunges on Olle's thick meat, Pavel entertains himself for awhile stroking and licking the head of his own cock. Pavel and Joe both soak Olle's massive pecs with their creamy jizz as he strokes his thick cock, ultimately shooting his own spooge all over the barn floor.
   Olle's got an incredible hunk of a muscle butt that's begging to be probed, fingered and fucked; he climbs on a tractor trailer and offers it up so Pavel can rim and finger his hot hole while Joe hungrily swallows his thick cock. Then Joe 3 stands on the trailer so Olle can swallow his dick while Pavel plows Olle's meaty ass.
   Olle lies on the trailer and pulls his thick thighs back to expose his inviting asshole, and Joe mounts him like a bull as Olle moans and gasps for air with each deliberate stroke of Joe's thick pole. Olle clearly hasn't had enough cock up his ass yet, so Pavel takes a turn banging his butt with his massive tool while Joe shoves his cock into Olle's gaping mouth before spurting his spunk all over Olle's chest. Olle strokes his thick cock and shoots a huge sticky load all over his beefy torso, and after Pavel unloads his thick cream on Olle's abs, the guys share a group kiss and go off to do their chores.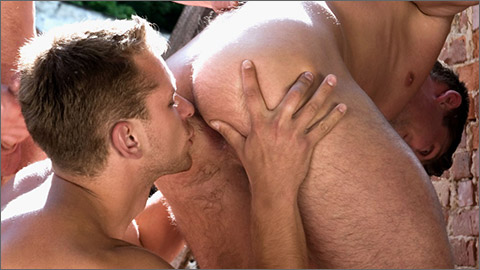 SCENE 3: Thomas Lee & David Novak fuck Igor Martinek
Thomas Lee, David Novak and Igor Martinek jerk on, suck, fuck and enjoy each other's hard bodies. Handsome, clean-cut Thomas Lee—with lube in hand—stumbles across a dilapidated farm house, pulls out his cock, lubes up and starts stroking away. He's soon discovered by sexy David Novak and big muscle man Igor Martinek who waste no time in horning in on the action. David sucks down Thomas, getting a hold of plenty of foreskin, while Igor massages Thomas' pecs, then David takes Igor's dick in hand and mouth while Thomas shoves his head down on Igor's dick. David swallows, licks and strokes both Thomas' and Igor's mighty cocks while Igor and Thomas suck face and massage each others pecs. Thomas bends over and swallows Igor's dick while David continues swallowing down Thomas' meaty shaft and licking his bulging balls.
   Igor gets behind Thomas and manhandles his pecs while David strokes and sucks them both. Finally, David leans back and offers up his hot body as a spooge sponge for his two buddies who both send a shower of hot jizz raining down on his sexy pecs and abs.
   The guys regroup for even more fun! Thomas and David pry Igor's meaty ass cheeks apart for each other as they take turns burying their faces in his crack and eating out his hole. David mounts eager Igor's ass from behind as Thomas feeds him dick from the other end. Then Thomas grabs Igor' bubble butt and bangs his brains loose, fucking him deep and slow while Igor gags on David's massive dick. Igor lies on an old table top, puts his muscular arms behind his head and David fucks him good and hard while horny Thomas strokes and watches. Thomas goes in for Igor's ass, holding one leg over his shoulder and rocking the table with his energetic thrusting while the cock-hungry Igor makes a meal of David's tasty cock. Moaning and groaning with lust and pleasure, Thomas dumps a load of jizz all over Igor's crotch as David, gasping and stroking his dick, explodes all over Igor's bulging chest.

MORE INFO, PREVIEW OR WATCH RIGHT NOW:
TITAN MEDIA
Scenes Premier online prior to DVD release and are available to view anytime in the Member's Area.
Members can watch scenes from almost all Titan Media releases anytime online.

VIDEO ON-DEMAND: TITANMEN FRESH @ AEBN SMUTJUNKIES THEATER
DVDs & ON-DEMAND: TITANMEN FRESH @ TLA VIDEO