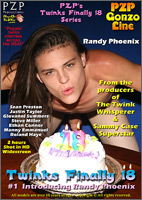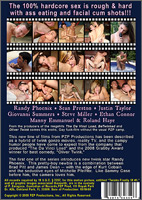 Studio: PZP Productions
Directed by: Peter Z. Pan
Year of Production / Release: 2009
Country of Production: U.S.A.

CAST:
Ethan Connor
Manny Emmanuel
Roland Haye
Randy Phoenix
Sean Preston
Steve Miller [Lee Stephens]
Giovanni Summers
Justin Taylor
INFORMATION FROM PZP PRODUCTIONS:
SCENE 1:
The Twinks Finally 18 crew introduces us to virgin twink Giovanni Summers on his 18th birthday. His scrumptious birthday gift — the studly Steve Miller ñ bursts out of his gift-wrapping and promises to "fuck him good." And he does in every which way imaginable. Grabbing the virgin boy by the head, the stud fucks his petite mouth with his fat dick, making him gag. He then makes the virgin service him like a fuck-doll, throwing his skinny body all over the room. Giovanni nuts big time while being fucked, then Steve feeds him his hot, tangy cum in a wet facial.
SCENE 2:
Coverboy newbie Randy Phoenix is introduced in the hottest scene in the movie. Randy's insatiable sexual appetite is apparent as he drains the life-force out of hunky Roland Haye, like a sexual vampire. After sucking face for a while, the boys ravenously devour each othersí bodies, proving they are really into each other. Randy sucks did like a pro, and then opens his legs wide, allowing Roland to buttfuck him like a nympho bitch. After shooting all over himself, Randy gulps down Roland's cum with gusto.
SCENE 3:
PZP favorite Sean Preston is the birthday gift for 18 year old virgin, Manny Emmanuel — making the lad smile from ear to ears, revealing his adorable braces. They are soon in the hot tub where Preston introduces an eager Manny to the many joys of Gay sex — including ass eating. Like horny animals, these two fuck around the pool area, sitting, and standing and on their backs. After shooting all over himself, the spent Manny allows Preston to cover his braces with his hot cum.
SCENE 4:
This scene features Randy Phoenix and his trusty dildo poolside, as a recovering (yet still horny) Manny watches on with bated breath. Randy knows he's being watched and, being an exhibitionist, he gives the young voyeur a steamy jack-off show. The cum shot is intense, proving why this new long-haired beauty is on the cover.
SCENE 5:
Shot the day before he did his first scene for a Chi Chi movie, we are introduced to the adorable Justin Taylor. Justin proves that great things come in small packages when he strips naked and feeds his huge ramrod to the virgin birthday boy, Ethan Connor. Still sticky from eating bithday cake, young Ethan gets even stickier from Justin's sweat, spit and cum. After sucking him dry, Ethan makes a meal out of Justin's juicy asshole. Like a Chihuahua buttfucking a Doberman, Justin fucks Ethan on the kitchen counter ñ reminding us of Rachel Ray stuffing a game hen. The climaxes are explosive as both boys eat each other's cum.
The Twinks Finally 18 Crew bids a fond farewell to the folks at home. Although the Fat Mime, Drag Queen, Perky Cameraman and Game Show Host from Hell are surreally hilarious, their bits are quick and they do not steal focus from the meat of the movie: the hot twinks who are finally 18.

GO TO: PZP PRODUCTIONS
AVAILABLE FROM: TLA VIDEO