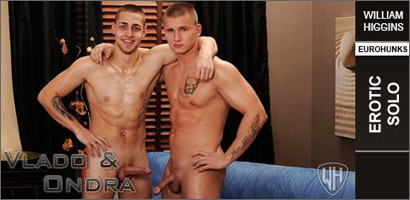 Studio: William Higgins Productions
Directed by: William Higgins & staff
Year of Production / Release: 2014
Country of Production: Czech Republic

CAST:
Ondra Radni
Vlado Tomek


INFORMATION FROM WILLIAM HIGGINS PRODUCTIONS:
Ondra Radni and Vlado Tomek are both aged 18 and they live in Ostrava. Vlado is a motor mechanic who enjoys fitness and Ondra, who is unemployed likes martial arts and boxing. They were at casting on the same day, so we paired them up for a shoot. Sitting on the sofa they do their interview. Then they stand and remove each other's tee-shirts so that we can see that they both have very good bodies. They stand and flex, to really show off their muscles. Then Vlado reaches and plays with Ondra's nipples a little. Ondra returns the favour before posing some more. Next they remove their pants, so that they are naked apart from the underwear. Vlado pulls Ondra's underwear off. Then Ondra does the same for Vlado, whose cock is semi hard as it happens. Vlado takes some oil and begins to oil Ondra's hot body. Then it is Ondra's turn to do the same and Vlado's cock seems to be responding as his body is coated in oil. They then wank themselves getting their cocks bigger. Standing side by side they gyrate, so the cocks flap around. After wanking some more the guys kneel on the sofa to show off their sexy asses. Then they sit and wank a while. With their cocks good and hard they lift their legs to show off their asses again. They reach and spread the cheeks, showing off their tight holes. Then, dropping the legs it is back to wanking those big cocks. With his balls tightening Ondra drops his cum all over one thigh, with Vlado looking on and wanking himself. Then he is ready too and he shoots his cum as well. Then it is off to the shower to clean all that cum and oil from their sexy bodies.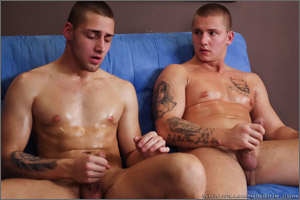 WATCH / DOWNLOAD THE SCENES AND IMAGES AT:
WILLIAM HIGGINS PRODUCTIONS
Members can download the High Definition and other versions of this film. Extensive Photosets are always offered to members as well.