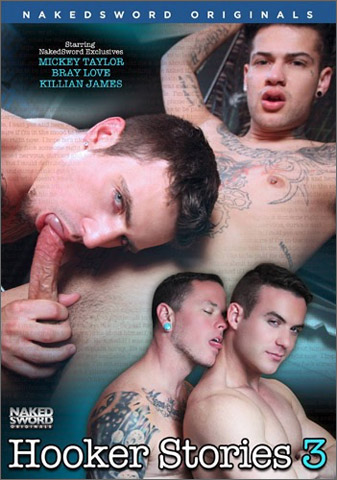 Studio: NakedSword Originals
Directed by: mr. Pam
Year of Production / Release: 2015
Country of Production: U.S.A.

CAST:
Max Cameron
Killian James
Sebastian Kross
Bray Love
Adam Ramzi
Colt Rivers
Mickey Taylor
INFORMATION FROM NAKEDSWORD:
NakedSword's most popular all-sex series returns with HOOKER STORIES 3! Join a whole new lineup of today's top escorts as they share real stories from their steamy adventures in the business of sex. Colt Rivers shows a new client the "ins-and-outs" of being an escort, NakedSword Exclusive Killian James shows you what happens when a client comes up short on cash, and Falcon Exclusive Sebastian Kross fulfills his fantasies in one of the most talked-about double penetration three-ways of all time! NakedSword Exclusive Mickey Taylor and NakedSword Exclusive Bray Love are available for the next three hours so grab your cock and get ready for smoking-hot nonstop action!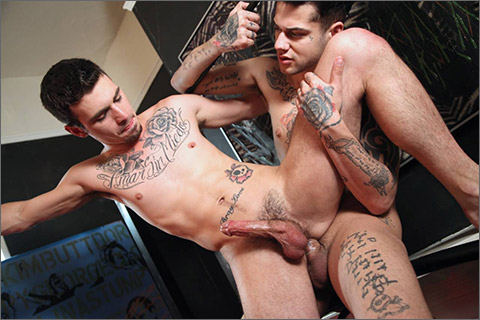 EPISODE 1 – STAY FOR MORE: Bray Love & Mickey Taylor flip-fuck
Mickey Taylor gets a call from a guy requesting two escorts at once so Mickey calls his new friend Bray Love. Both hookers expertly service their client but the whole time they can't take their eyes off each other. At the end of the hour the client pays and leaves… but Bray stays. The tattooed young studs dive on each other's hard cocks. Mickey shows off his deep throat skills then shoves his giant tool in Bray's ass. He fucks him doggy-style and flying squirrel-style, hanging off the frame of his covered bed. They fall in a heap where Bray flips the switch and fucks Mickey's bubble butt until he shoots a huge load that flies over his head. Bray hops up on Mickey's chest and shoots his load in Mickey's open mouth. Now that's a happy ending!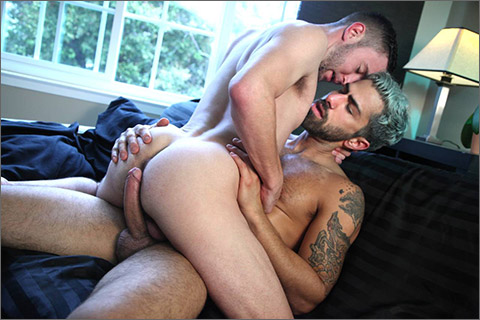 EPISODE 2 – NEXT TIME, I'M PAYIN': Adam Ramzi fucks Colt Rivers
Adam Ramzi gives him a call. Colt shows up at Adam's apartment and is shocked by his stunning good looks. Colt can't help himself and breaks one of the cardinal rules of escorting by asking Adam why he's paying for sex. Adam explains this is his first time; he's been busy with school, but also reveals that he's considering escorting himself. His training session begins when Colt strips them both out of their clothes and expertly goes down on Adam's fat cock. Adam flips him over and tongue-fucks Colt's fat bubble-butt, then shoves his rod deep in the hooker's ass. They continue to fuck in a wild reverse cowboy and end up missionary with Adam jerking Colt off until he cums. Adam feeds Colt his load and hands him a handful of $100 bills, winning the approval of Colt who says next time he's paying!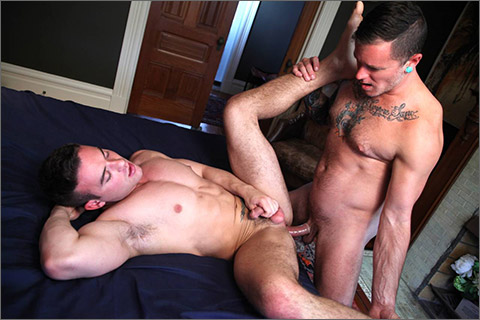 EPISODE 3 – GOODS FOR GOODS: Max Cameron fucks Killian James
New York super hooker Killian James rarely takes calls after midnight but rent is due tomorrow so he accepts an offer of $600 to see a couple downtown. As soon as Killian walks in he meets Max Cameron who excuses himself and begins to argue with his boyfriend in the next room about money. Max returns to explain but Killian takes over – no one is getting the better of him at 3am in the morning. Instead of cash Killian considers taking the couple's big screen TV and an expensive watch; but not before getting a taste of Max's big cock. Max fingers Killian's legendary hole and shoves his cock in, pounding him hard. Killian finally shoots while Max plays with this nipples then rolls over to cuddle Max while he jerks off. As he shoots Killian leans in to get a taste and spots Max's boyfriend's LV wallet on the bed table. Score!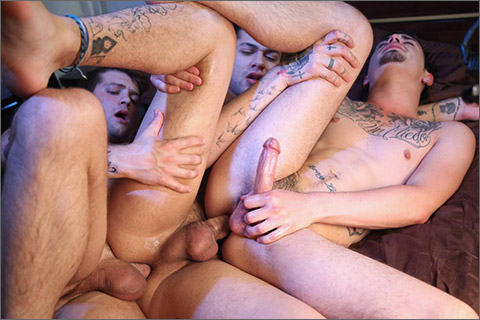 EPISODE 4 – MONEY WELL SPENT!: Bray Love & Sebastian Kross DP Mickey Taylor
San Francisco techies are hot, rich and sometimes like to hire a hooker to fulfill their fantasies like (Falcon Exclusive) Sebastian Kross. Kross hires Bray Love to come over, confessing he's always wanted two guys to suck his dick at the same time. Bray calls in his reliable buddy Mickey Taylor and they arrive ready to make dreams come true. The gorgeous threesome gets right down to business pulling a cock sucking train before Bray and Mickey both worship's Sebastian's huge cock. The muscular stud gets off on it and goes down with Bray to suck Mickey's giant tattooed dick. The cock sucking and ass eating continues until Sebastian can't stand it any longer. He plows into Mickey's asshole while Bray swings his dick around allowing both guys to suck him off. Next it's Bray's turn and another fantasy comes to life… Mickey's first double penetration! Bray shoves his massive meat into Mickey's hungry hole, followed by Sebastian who slides his hefty monster right alongside. The freeway train continues until all of them shoot their loads in each other's mouths — now that's money well spent!

WATCH THIS AND A HOST OF OTHER FILMS AT:
NAKEDSWORD
On-Line Presentation, exclusive to NAKEDSWORD
Members can watch this with a host of other films in the NakedSword Library.